Justice Mir is HC Acting Chief Justice
Shimla, November 27
Justice Mansoor Ahmad Mir assumed the charge of the office of the Acting Chief Justice of the Himachal Pradesh High Court today. He was administered the oath of office by Governor Urmila Singh at Raj Bhawan in Shimla.

Governor Urmila Singh administers the oath of office to Justice Mansoor Ahmad Mir as the Acting Chief Justice of the HP HC in Shimla on Wednesday; and (right) CM Virbhadra Singh with Leader of Opposition PK Dhumal at the oath ceremony. Photos: Amit Kanwar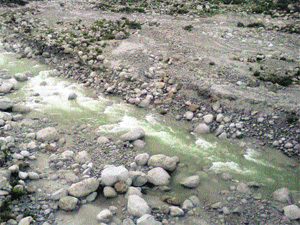 Illegal mining threat to water schemes
Palampur, November 27
Illegal mining in Kangra has posed a threat to over 100 irrigation and drinking water supply schemes which get water from small rivers of this district.





The water level of the Neugal river has gone down due to illegal mining. Photo by writer

'Agri techniques in tribal areas to be modernised'
Manali, November 27
Vice-chairperson of the National Commission for Scheduled Tribes (NCST) and Lahaul-Spiti MLA Ravi Thakur has said efforts would be made to modernise agriculture techniques in tribal areas of the country as tribals are dependent on agriculture and horticulture for their livelihood.
Taxi operators, govt depts on collision course
Shimla, November 27
Taxi operators' unions and the state Transport and Taxation Departments are on a collision course over the proposed passenger tax hike from Rs 1,350 per annum to Rs 15,000 per annum. The state government is eyeing a hike in passenger tax to double its collection of tax not revised since 1999.
Transport row: Society chief submits memo
Nurpur, November 27
The ongoing row between the Nurpur Tehsil Carriage-cum-Construction Cooperative Transport Society and the New Truck Operators Union at Jassur has been intensified with the threatening of the former to stage a dharna if the administration failed to stop the latter from operating in the area within one week.
Industries Dept to discuss vision document with stakeholders
Solan, November 27
The Industries Department will soon hold a meeting of stakeholders engaged in various horticultural and agricultural pursuits to discuss the recommendation of the vision document prepared for the centrally-sponsored National Mission on Food Processing (NMFP).
National integration camp from Dec 17
Bilaspur, November 27
A five-day inter-state camp on national integration will be organised at Kisan Bhawan here from December 17 to 21 under the aegis of the district Nehru Yuva Kendra (NYK).
CAB, not Ram Lal maintained Luhnu stadium: Office-bearers
Bilaspur, November 27
The Cricket Association of Bilaspur (CAB), headed by Anurag Thakur, state president of HPCA, has challenged the statement of Congress general secretary Ram Lal Thakur that he, as Sports Minister, had spent more than Rs 1.13 crore on Luhnu Cricket Stadium in 2006.
National Lok Adalat settles 1,493 cases
Bilaspur, November 27
District and Sessions Judge Rajiv Bhardwaj said the National Lok Adalat held under the aegis of the National Legal Services Authority and the State Legal Services Authority settled 1,493 cases out of the total 2,427 cases.
5-day Manali winter carnival from Jan 2
Manali, November 27
The five-day-long winter carnival will be celebrated in the tourist town of Manali between January 2 and 6 and arrangements are being made for its successful execution.
Minister lays stone of forest buildings in Chamba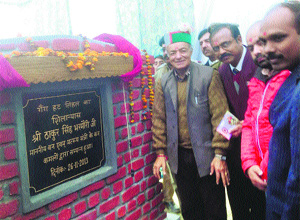 Chamba, November 27
To strengthen forest administration, create better infrastructure facilities and facilitate effective protection from smugglers, Forest Minister Thakur Singh Bharmouri laid the foundation stones of various buildings, including the forest block office-cum-residence at Batot and the forest fire gang hut at Lylh in upper Chamba range, both remote villages in Dharwala and Denali of Chamba district.

Forest Minister Thakur Singh Bharmouri lays the foundation stone of Lylh gang hut in Chamba on Wednesday.

Work of laying cables on reservoir halted
Sundernagar, November 27
Authorities at the Bhakra Beas Management Board (BBMS) today stopped the work of laying cables by the side of the Balancing Reservoir which was continuing for the past two days.
Give report on charges against CM: Delhi HC to CBI
New Delhi, November 27
The Delhi High Court (HC) today sought a status report from the CBI on the action taken by it regarding corruption allegations against Himachal Pradesh CM Virbhadra Singh after the agency said it was conducting an inquiry.
Driving made easy on tough terrain
Solan, November 27
Students and faculty of Waknaghat-based Bahra University have developed a mountain climbing car for difficult terrains in hilly areas.
With Centre releasing funds, RUSA to take off
Shimla, November 27
The condition of spending 2 per cent of the gross state domestic product (GSDP) on higher education will not come in the way of the Rashtriya Uchchatar Shiksha Abhiyan (RUSA) and its implementation will get under way with the Centre releasing the first instalment of funds to the state.
FCI to allocate 18,400 tonnes free rice for midday meal
Dharamsala, November 27
The Food Corporation of India (FCI) will allocate 18,400 metric tonnes free rice quota to Himachal Pradesh for running midday meal programme for Classes I to VIII in all state-owned schools.
SCA starts signature campaign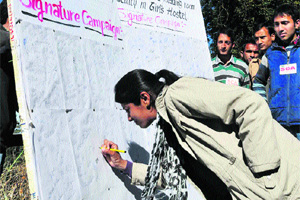 Shimla, November 27
The Students' Council Association (SCA) today launched a signature campaign against the university authorities on pending demands and facilities like the allotment of hostels and a full-time Controller of Examination (COE). The association termed the handing over of the COE's charge to SS Chauhan, Dean, Students Welfare (DSW), as a face-saving exercise, which came too late.

A girl signs during a signature campaign at HPU in Shimla on Wednesday. Photo: Amit Kanwar

Leopard kills pet dog in village
Bilaspur , November 27
A leopard attacked, killed and carried away a pet dog of lecturer Suneel Kumar of Lanjhta village under Bharaadi, gram panchayat, 65 km from here, this evening.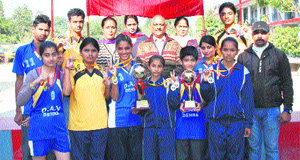 Dehra school champion in athletics meet
Kangra, November 27
Students of DAV Public School, Dehra, emerged champions at the DAV National Sports-2013 Athletics meet that concluded at Sundernagar on Sunday.

Principal GK Bhatnagar with students of DAV Public School, Dehra, on Sunday. Photo: Ashok Raina

All-women SBI branch opens in Solan
Solan, November 27
The Solan branch of the State Bank of India (SBI) was declared an all-women branch today. It was inaugurated by Dinesh Pruthi, SBI Regional Manager, RBO-III Shimla.
Pensioners' samaj elects office-bearers
Sundernagar, November 27
Hem Singh Thakur was elected president of the Sundernagar unit of the Himachal Pradesh Pensioners Samaj in the elections held here on Saturday under the chairmanship of AG Sheikh, senior vice-president of the state body of the samaj.
Tehsildar office sans vehicle, staff
Chamba, November 27
The non-availability of a vehicle at the local tehsil office is proving to be a major handicap in conducting relief and rescue operations in case of natural calamity in the region.
PCC chief hits out at Modi
Shimla, November 27
While hitting out at BJP's prime ministerial candidate Narendra Modi for snooping on a woman PCC chief, Sukhvinder Singh today asserted that the Congress would work towards ensuring safety and security of women and adequate representation to them in the party organisation. He was addressing a meeting of women party workers here. — TNS
Thieves decamp with temple idol
Shimla, November 27
Thieves broke into the Kamaksha Mata temple at Kiartu village in Theog and decamped with the idol of the goddess.
One held with 3 kg charas
Chamba, November 27
The police arrested a youth (20) with 3 kg of charas while travelling in an HRTC bus which was on its way from Chamba to Pathankot at Tunnuhatti barrier today.