M A I N N E W S
Article 370: As Modi, Omar spar, J&K not clear on women's status
Dinesh Manhotra
Tribune News Service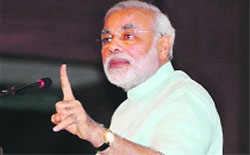 Jammu, December 2
Has Article 370 of the Constitution guaranteeing special status for Jammu and Kashmir discriminatory to the state's women as claimed by BJP's prime ministerial candidate Narendra Modi? Or is Chief Minister Omar Abdullah correct in contradicting Modi? While the jury is still out, it would appear both Modi and Omar may have made a point.
Modi, while addressing a rally at Jammu on Sunday, argued that women had not been given equal rights in the state unlike other parts of the country. Referring to the Chief Minister's family, he said, "If Omar Abdullah married outside Kashmir, his rights of being a citizen remain, whereas his sister Sara loses the right for the same."
Omar reacted: "It has no bearing in truth. Women do not lose their domicile right by marrying non-state subjects".
The barbs on social networking sites have sparked a national debate. The real situation is still vague. J&K's women who married outside the state do not lose their inheritance rights, but there is no clarity about constitutional rights of their children in the state.
Before October 7, 2002, there was a provision that a woman marrying outside the state would lose her citizenship rights in J&K. The J&K High Court gave a historical verdict on October 7, 2002, that "daughter of a permanent resident of the State of Jammu and Kashmir will not lose status as a permanent resident of the state on her marriage with a person, who is not a permanent resident of the state".
In 2004, the then Jammu and Kashmir government had tried to reverse the High Court judgment by bringing a Bill "The Jammu and Kashmir Permanent Resident (Disqualification) Bill 2004''. The Bill was passed by the Assembly unanimously within six minutes of being moved by then Law Minister Muzaffar Hussein Beigh on March 5, 2004.
Following national outcry against this "anti-women" Bill, the Congress, a part of the then coalition government in State, had blocked the Bill in the Upper House, where it was debated on March 11, 2004. Amid uproar, the then Chairman of the Legislative Council, Abdul Rashid Dar adjourned the House sine die.
Arch rivals — the PDP and National Conference —came together to ensure that Bill should be made a law but to no avail. Since the Legislative Council did not take any decision on the Bill, the move lapsed and later returned to the Assembly where it was again blocked.
No softening of stand: BJP
With Congress leaders working overtime to slam the BJP's shift in stance — "U-turn" as Manish Tewari christened it — the saffron party is already claiming victory. Senior BJP leader Sushma Swaraj on Monday asserted the BJP was not "going soft" on Article 370. "Modi has just asked if there has been any benefit from Article 370," she said. back page
Glad that after my call for a debate on Article 370, it is being widely debated among people and across TV, social media.

—Narendra Modi on Twitter