Foreign touch
There is a reason why Falguni and Shane Peacock are opening a store in New York, why Jai Parvesh travel across the US holding fashion and trunk shows, why Kanika Saluja shuttles so often between India and the West or why city based fashion designer duo, Suneet-Puneet, is flooded with orders from abroad during this season.
Bling factor: Niki Mahajan with Neha Dhupia
No pun intended
He cannot sit still--that's what his whats app status usually says. And he makes sure that he justifies his own status. Actor-singer Sippy Gill is a workaholic from the word go. Give him plenty, and he still longs for more.
Gold digger!
Jennifer Kotwal loves being herself in real and reel life. Her latest show Oh My Gold lets her do exactly that and more! This model-turned-actress not only gets to travel to three of India's most beautiful cities—Delhi, Kolkata and Bengaluru— but also shop to her heart's content…and shop for gold, a metal that most women are obsessed about.


TRENDSETTER
When glamour meets culture
A sense of fashion and the need to be trendy have struck all age groups and now we can spot even children donning designer wear. Our trendsetter, young Divya Ratra, a student of commerce is all for the trendy cultured looks.

Divya Ratra Photo: Himanshu Mahajan
Gearing up for the global taste
Confederation of Indian Industry (CII) and Indian Federation of Culinary Associations (IFCA) have come together for the first time to organise North India's biggest culinary extravaganza--CII International Chef Meet from December 5 at Parade Ground, Sector 17, Chandigarh.
Par Excellence
Get a good grip
A good grip should keep the club face square at impact, allow the hinging and unhinging of the wrists and the correct 'release' of the club. All these are controlled by the correct placement of the hands, the type of grip used and the grip pressure.
Weight watch
Beat it!
Menopause refers to the time of cessation of a woman's reproductive ability. At menopause, many women experience weight gain, particularly around the abdomen. Contributors to weight gain at menopause include declining estrogens levels, age-related loss of muscle tissue and lifestyle factors such as diet and lack of exercise.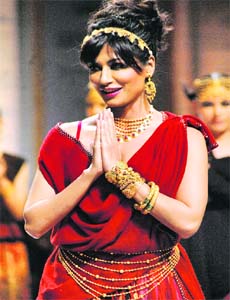 Red & gold: Bollywood actress Chitrangda Singh walks the ramp showcasing an outfit designed by Azva during the Aamby Valley India Bridal Fashion Week. Photo: PTI
Master Chef
Saucy seduction!
When I'm saddled with leftover bits of cake, I'm always inclined to give it a facelift. I like to serve them with a sauce, maybe some nuts and chopped seasonal fruit. I know a scoop of ice cream marries well with cake but that itself is ordinary fare, married to mediocre imagination.
Second innings
After completing the shoot of the first season of TV series 24, Anil Kapoor is set to soon start with the second season. The aim is to create a better product, says the actor-producer.
Violence is not cool
"Where are the soft, slightly unsure men with doubt and longing in their hearts?" asks filmmaker Sudhir Mishra, who feels men are not portrayed appropriately in Indian cinema.
Launch pad
Suneel Darshan is all set to launch his Son Shiv Darshan in Karle Pyar Karle. The successful filmmaker is all ready to produce a film again after a long time. This time, he is making a romantic comedy with his son as the lead.
No big fat wedding!
Actress Aditi Rao Hydari prefers an intimate marriage ceremony over a big fat wedding. Seen in films like RockStar, London Paris New York and Yeh Saali Zindagi, she said: "I love intimate ceremonies where all the loved ones come together and have fun."
Keep it original
Actor Tom Hanks is pleased with the way Disney handled his role in Saving Mr Banks. The 57-year-old actor said that he would not have played Walt Disney if the company had decided to 'sugar-coat' its founder.


For languages' sake
Using more than one language in a movie is not really a new thing. Blending two languages in one movie is now a regular fare in Bollywood. Hindi films are dubbed in various other languages to appeal to the local audiences in specific parts of the country. But the upcoming Dimple Kapadia starrer What The Fish has taken the importance of incorporating varied languages too literally.


Wait & watch: Dimple Kapadia in What The Fish
Hands full
Actor Rahul Bose, known for playing myriad roles in his almost two decades of association with filmdom, is currently busy working in four films. "Doing four films now: Zoya Akhtar's next; Jeene Do, a soulful love story; a Bengali detective film and the sequel to Mr and Mrs Iyer," Rahul shared during an interactive session with his fans on micro-blogging site Twitter.
Fast and Furious 7 is on
Paul Walker's death won't have an effect on the upcoming Fast and Furious 7 film, it has been revealed. According to a publication, Universal brass had held a meeting Sunday morning to discuss the fate of the film and the team behind the action film is facing a delay in the production after the 40-year-old actor's untimely death.