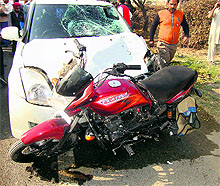 Couple killed in accident
Bathinda, December 7
A couple was killed in a road mishap on the Bathinda-Malout road near Kali Mata temple. The victims have been identified as 48-year-old Balwinder Singh and his wife 46-year-old, Manjit Kaur, residents of Gondara Basti.



The mangled remains of the motorcycle that the victims were riding on the Bathinda-Malout road on Saturday. A Tribune photograph

Mansa gears up for kabaddi matches
Bathinda, December 7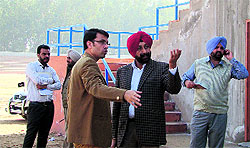 For the next four days, more than 80 senior officials from various departments of the district administration and the police will be busy with the preparations for organising four matches of the 4th World Cup Kabaddi in Mansa district.


Senior officials of the Mansa administration review the preparations for the kabaddi matches to be played in the district. A Tribune photograph

Floodlights remained lit days ahead of match
Bathinda, December 7
While Punjab is yet to become a power surplus state, the authorities here have been (mis) using the power to lit the stadium nine days before the World Cup Kabaddi matches.
Balkar Sidhu to perform during kabaddi semifinals
Bathinda, December 7
Punjabi singer, Balkar Sidhu, will present a cultural programme at the Multipurpose Sports Stadium in Bathinda on December 11 before the beginning of semifinal matches of the fourth World Cup Kabaddi at the stadium.
Education Minister calls upon Punjabis to popularise their mother tongue
Bathinda, Dece0mber 7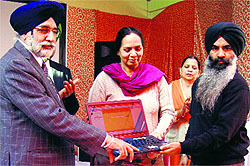 The Education Minister, Punjab, Sikander Singh Maluka has called upon all Punjabis to popularise their mother tongue. He said this while addressing a gathering during the concluding ceremony of the Punjabi Saptah being organised by the Language Department, Government of Punjab, at Rampura Phul.


Education Minister Sikander Singh Maluka felicitates a participant at the concluding ceremony of Punjabi Saptah organised by the Languages Department on Saturday. A Tribune photograph

Substitution Therapy Centre to be started for injectable drug users
Bathinda, December 7
The Bathinda Civil Hospital is all set to get an Opioid Substitution Therapy Centre (OST) meant for the injectable drug users (IDU) to help them quit drugs.
ASHA workers hold protest
Amritsar, December 7
The ASHA workers and ASHA facilitators held a protest here in support of their demands.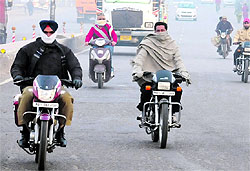 Biting chill:

Motorcyclists cover their faces to protect themselves from the cold while venturing out in Bathinda on a chilly winter morning. Tribune photo: Pawan Sharma

Purses snatched
Bathinda, December 7
Two snatching incidents were reported in the city here today. In the first incident, a resident of Muktsar, Seema Rani, reported that she had come to the city and was waiting to board a bus at the bus stand near the Sirhind canal. Suddenly, two motorcycle-borne men came and snatched her purse. The purse contained Rs 1,500 and a mobile phone.
CIA staff seize 32 grams of gold, two arrested
Bathinda, December 7
The CIA staff have arrested two people — a man and his would be mother-in-law — and recovered 32 grams of gold from their possession.
Silver Oaks student wins essay writing contest
Bathinda, December 7
Smile Garg, a student of class X of Silver Oaks School, Bathinda, bagged the first position in science essay writing competition organised by the Punjab State Council for Science and Technology. Her topic was 'Genetic Engineering in Food Production'.
College starts refresher course in literature
Amritsar, December 7
A refresher course in Indian and foreign languages, literature, translation and journalism started at the Academic Staff College, Guru Nanak Dev University (GNDU), here yesterday.
40 students take part in lawn tennis tournament
Bathinda, December 7
The lawn tennis championship organised by the Bathinda Lawn Tennis Association at Police Public School, Bathinda, was inaugurated today by the chief guest Gurpreet Singh Maluka, chairman of the Zila Parishad, Bathinda.