Ladakh succeeds in protecting snow leopard
Jammu, December 7
The Ladakh region of the state could become an example for the rest of the country when it comes to conservation of the endangered species. Its efforts to prevent the poaching of exotic snow leopard during the last two decades, though still at a critical stage, have met with success.
Rural poultry scheme secures livelihood of poor
Kupwara, December 7
Mumtaz Ahmad Poswal, a resident of north Kashmir's Kupwara district, is working hard to set up a poultry farm in his native Batpora village, thanks to government's Rural Backyard Poultry Development programme, which aims at providing nutrition and income to poor rural families.
NC demands apology from Modi
Jammu, December 7
National Conference leaders today sought an apology from BJP prime ministerial candidate and Gujarat Chief Minister Narendra Modi for belittling the people of the state and describing Jammu and Kashmir as a beggar state. They said such insensitivity demonstrated arrogance and lack of comprehension of a person aspiring to become the Prime Minister of India.
Mirwaiz castigates international community
Anantnag, December 7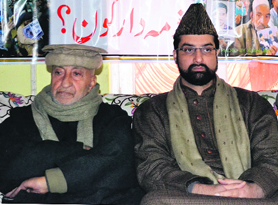 Chairman of the All Parties Hurriyat Conference (APHC) Mirwaiz Umar Farooq today accused the international community of maintaining criminal silence over the human rights violations in Kashmir. Mirwaiz was speaking during a seminar in Town Hall, Anantnag, organised by the APHC as part of its Human Rights Week.
Hurriyat Conference chairman Mirwaiz Umar Farooq along with party leader Prof Abdul Gani Bhat at a seminar in Anantnag on Saturday. Tribune Photo: Amin War

Light snowfall likely in upper reaches of Kashmir, Ladakh
Srinagar, December 7
While the sky remained overcast in the Valley today, the weatherman has forecast light snowfall in the upper reaches of the Kashmir and Ladakh regions during the next 24 hours. Director, Meteorological Department, Sonum Lotus said light snowfall was likely in the higher reaches of the Valley, especially in the north Kashmir areas, including Baramulla, Kupwara and Bandipora. He said light snowfall was also expected at Zojila on the Kashmir-Ladakh axis.
Political organisations express concern over unemployment
Srinagar, December 7
Expressing concern over the rising unemployment in Jammu and Kashmir, the State Committee of CPM and its allies have urged the government to expedite the process of recruitment so that the unemployed youth get benefited.
Governor for mobilising resources for Flag Day fund
Jammu, December 7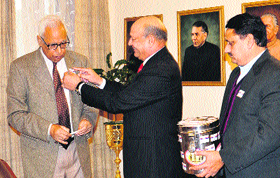 Governor NN Vohra stressed the need to enlarge the corpus of the Flag Day fund to enhance the welfare of soldiers, airmen and sailors in recognition of the sacrifices made to safeguard the honour, glory and safety of the motherland. The Governor was attending the annual Armed Forces Flag Day ceremony held at the Raj Bhawan, Jammu, today.
Armed forces' token flag being pinned onto the coat of Governor NN Vohra at the Raj Bhawan in Jammu on Saturday. A Tribune photo

Geelani postpones Srinagar rally
Srinagar, December 7
Hardline Hurriyat leader Syed Ali Shah Geelani, who continues to remain under detention since Wednesday, today postponed the "million march" rally, which was scheduled to be held here tomorrow. Geelani also urged people to refrain from marching to the venue. The rally was supposed to take place at a park in the city centre and would have been the last in a series of rallies addressed by the leader after his release from 236-day detention in October. "The rally has been postponed for now and a new date will be announced after Geelani's release," spokesperson of Geelani's hardline separatist faction said in a statement here. The statement added that several of its leaders have been detained in a government crackdown to scuttle the rally and appealed to the people to refrain from marching to the city. — TNS
Tributes paid to Mandela
Srinagar, December 7
Paying tributes to former South African President Nelson Mandela, who passed away yesterday, moderate Hurriyat chairman Mirwaiz Umar Farooq said the biggest tribute to the great leader would be that the international community sheds its double standards over human rights. Mirwaiz said this while addressing a seminar on human rights in south Kashmir's Anantnag town. Paying tributes to Mandela, Grand Mufti (chief cleric) Syed Basheer-ud-Din said Mandela was a "towering" national leader. "He underwent 27-year imprisonment just for the freedom of his nation from apartheid, racism and inequality," Mufti said, while adding that Mandela's life was an example for other struggling nations. — TNS
One killed in road accident
Srinagar, December 7
One person was killed and three were injured in different road accidents across the Valley. A car driver, Khurshid Ahmed Sheikh of Gopalpora, was killed in a road accident in south Kashmir yesterday. The police said the car overturned near Fategud Colony, Anantnag, resulting in the death of the driver. In another accident, two persons were injured in north Kashmir's Bandipore district when a tipper met with an accident. The injured were shifted to the Sub-District Hospital, Bandipora, for treatment. The police said a shopkeeper near the cremation ground, Srinagar, received a minor injury when a SRTC bus hit him. — TNS
Youth held for raping minor
Doda, December 7
A youth has been arrested for allegedly raping a hearing impaired girl in Gandho village of Doda district, police said. Following the complaint of the relatives of the minor, who is also hearing impaired, we have arrested said Shah Nawaz, said SHO, Gandho. He said a case had been registered and the girl was referred to the District Hospital, Doda, for medical examination. The officer, however, said that they were in the primary stage of investigation and it was very difficult to record the statement of the girl as she was not able to hear and speak. — OC
Army douses forest fire
Jammu, December 7
A major forest fire which started at Dagnari in Ramban last night was doused today by troops of the Rashtriya Rifles Battalion posted in the area. The fire had started to threaten the civilians, their cattle and property. Villagers approached the post Commander to help extinguish the fire. A team of jawans, led by a Non-Commissioned Officer, rushed to the spot and controlled the fire from spreading. — TNS