M A I N N E W S
BJP 4-0, Cong wiped out;AAP makes dream debut
State poll results show strong anti-Cong wave
Tribune news service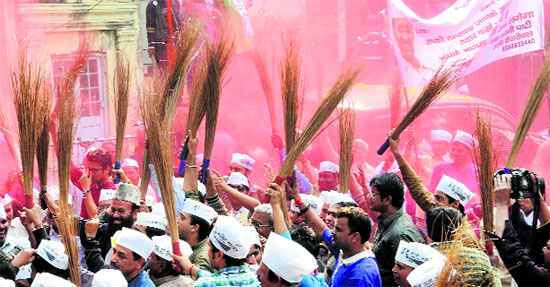 BROOM VROOM: AAP supporters hail party's stunning performance in the Delhi Assembly polls on Sunday. Tribune photo: Mukesh Aggarwal
New Delhi, December 8
Emerging triumphant in the assembly elections in the Madhya Pradesh and Rajasthan, the BJP, which nurses ambitions of wresting power at the Centre next year, managed to retain its hold in Chhattisgarh and the lustre of its 4-0 sweep dimmed by the nascent Aam Aadmi Party (AAP) that made a stunning debut by becoming the principal opposition party in the Delhi Assembly.
The Congress governments in Delhi and Rajasthan suffered humiliating defeats, failed to dislodge the Shivraj Singh Chauhan-led BJP regime in Madhya Pradesh and Raman Singh-led government in the neighbouring Chhattisgarh. It now awaits the verdict in Mizoram, the fifth State that went to polls during November-December, where the counting takes places on Monday.
Amid the results that came out today, those that came out of the national capital were the most significant where Arvind Kejriwal-led AAP mauled the 15-year uninterrupted run of the Congress and reducing it to single digit eight seats. In the process 45-year-old Kejriwal, a Tax Officer-turned-politician emerged a "giant-killer" defeating Chief Minister Sheila Dikshit in her traditional New Delhi constituency by a margin of over 25,000 votes.
The BJP that made late switch in projecting Dr Harsh Vardhan as its Chief Ministerial candidate managed to keep its head above by emerging as the single largest party with 32 seats but short of a simple majority in the 70-member House even after adding one seat of its ally, the SAD. The AAP won 28 seats, the Congress reduced to eight it held in the outgoing assembly with the Janata Dal (United) and Independent winning one seat each.
Rajasthan was the best where former BJP Chief Minister Vasundhara Raje proved her mettle by ousting the Ashok Gehlot-led Congress party by decimating it. The BJP won a landslide three-fourths majority bagging 162 seats out of 199. Election to Churu seat in the 200-strong Assembly was countermanded due to the death of a BSP candidate. The Congress could just manage 21 seats.
In Chhattisgarh, the Raman Singh-led BJP retained power by simple majority bagging 49 seats in the 90-member House and dashed the Congress hopes of endings his 10-year run in Raipur.
A better performance by the BJP came in Madhya Pradesh where Chauhan scored a hat-trick. The BJP bagging 164 seats, 21 more than the it held in the current House of 230. The Congress lost ground winning just 43, as many as 28 less than it won in 2008.