Pharmacist seeks panacea for social ills through folk music
Megha Mann
Tribune News Service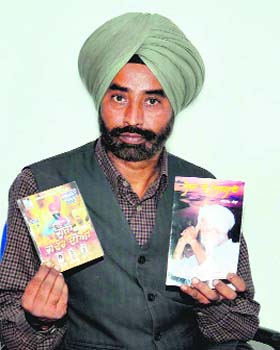 Bathinda, December 9
Government veterinary pharmacist, Jagsir Jeeda, and his Lok Sangeet Madli from Jeeda village in Bathinda are weaving social activism into the folk music raising issues of cancer in Malwa, female foeticide, unemployment, farm suicides, deplorable condition of farm hands et al.
A group of five people, the Lok Sangeet Mandli, had performed 136 shows in 2012 and 111 shows in 2013 so far. Working for the past three decades, Jagsir rides on the winds of change, infusing enthusiasm in the down trodden and encouraging them to fight for their rights.
Son of a farm labourer from Jeeda village, Jagsir has come a long way from being the rebellion shy village boy to an artiste who sets stage on fire with his dedicated group of four more people, including Gurdas Gursar, who plays tumbi, Gursewak, who plays dholki, Rajinder Singh, who plays electronic instruments, and Hari Narayan Kotbhai, who plays harmonium keyboard.
An ardent fan and follower of the doyen of Punjabi theatre, Bhai Gursharan Singh, Jagsir draws daily life inspiration from Bhaaji's writings. "Bhaaji had said that no incident should end up without leaving an impact on people like us. Unless and until we do not react, who will make changes in the society," reasons Jagsir.
With a concoction of Punjabi folklores, music from hinterland, topped with social activism, Jagsir and his party create own compositions.
Jagsir has performed from Akharas village to the Lalit Kala Academy at Sector 10 in Chandigarh. His performances span over states of Jharkhand, Haryana, Rajasthan, Delhi and Punjab. Be it urban or rural platform, when the Lok Sangeet Mandli performs people listen with rapt attention.
Not only Jagsir but his two sons and wife are also dedicated to the cause of propagating the art of reaching out to common man with his group. His elder son is pursuing MBBS from Adesh Medical College, while younger one is pursuing BTech from the Talwandi Sabo and his wife, Surinderpal Kaur, is a government teacher who did her graduation, two post graduation degrees and other courses after the marriage.
Jeeda has recently come up with a DVD, Gunjan Ghadar Dian, a project dedicated to centenary celebrations of the Ghadar Party. He has penned books namely, Lok Chetna and Sochan Da Sirnawan.
To the wannabe performing artiste, he has a message, "Stick to your dedication. People first oppose you, then encourage and then follow you."