M A I N N E W S
SC sees red over misuse of beacons
Legal Correspondent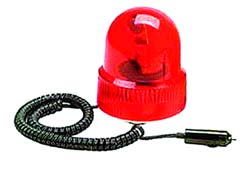 New Delhi, December 10
The Supreme Court today set a one-month deadline for the police across the country to remove the red lights and sirens from all unauthorised vehicles and allow their use only by the high dignitaries identified by the Centre and state governments.
A Bench comprising Justices GS Singhvi and C Nagappan also asked the Centre and the state governments to consider enhancing the penalty and impose "exemplary fine" on such violators to deter them from misusing red lights and sirens (multi-toned horns) which had come to be recognised as symbols of authority.
The failure of the police and authorities to crack down on such violators had led to a situation where "a large number of persons are using red lights on their vehicles for committing crimes in different parts of the country and they do so with impunity because the police officials are mostly scared of checking vehicles with red lights, what to say of imposing fine or penalty," the Bench observed in a 38-page order.
Under the order, red lights cannot be used by ambulances, fire tenders and police vehicles used as escorts or pilots or for enforcing law and order. These vehicles can have lights of other colours, the SC ruled.
The use of red lights would be restricted to 27 high dignitaries identified by the Centre in the January 11, 2002 notification as amended on July 28, 2005 and their equivalents in the states. Of the 27 dignitaries, only 12 can use the red light with a flasher. They are the President, Vice-President, Prime Minister, former Presidents, Deputy Prime Minister, Chief Justice of India, Lok Sabha Speaker, Union Cabinet ministers, Planning Commission Deputy Chairman, former Prime Ministers, Leaders of Opposition in the Lok Sabha and the Rajya Sabha and SC judges
"The red lights symbolise power and a stark differentiation between those who are allowed to use it and the ones who are not. A large number of those using vehicles with red lights have no respect for the laws of the country and they treat the ordinary citizens with contempt," the Bench held.
However, their use by holders of constitutional posts "will in no manner compromise with the dignity of other citizens and individuals or embolden them to think that they are superior to other people" as the facility was co-terminus with the tenure of their posts, the SC explained. The SC passed the order on a petition filed by Abhay Singh, a resident of Uttar Pradesh.
What the court said
Red lights can't be used by ambulances, fire tenders and police vehicles used as escorts or pilots or for enforcing law and order
The use of red lights would be restricted to 27 dignitaries identified by the Centre and their equivalents in the states
Of the 27 dignitaries, only 12 can use the red light with a flasher, including the President, Vice-President, PM, ex-Presidents, Deputy PM, CJI, LS Speaker, Cabinet ministers, ex-PMs, and SC judges