Bride & bravado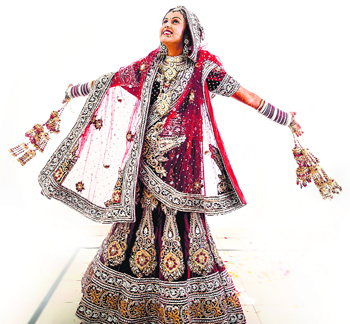 Gone are the days of the coy bride. The new-age girls have an attitude to boast of, which is more than evident in the photo-shoots…
The blushing bride is a bit of a misnomer. Bridezilla sounds more like it! When today's brats turn brides, there's likely to be a little shuffling. So the random guests take a backseat and the bride steps forward, with her head held high and the chin strictly up. Wedding photography gradually makes way for photo-shoots - a wedding album where the bride is neither shy nor coy. Rather she is winking at the guests, posing with the friends, giving thumbs up and having fun!
The sensible lines
Punjabi singer Guru, who is from Gurdaspur, says he puts in a lot of sense into his songs as well as the lyrics…
He selects his words carefully; the same attribute he applies to his songs, each word falling in line in a symmetrical order, pleasant to the ears and eyes as well. Punjabi singer Guru puts in a lot of sense into his songs. Guru got this small name from the rapper Bohemia, who would shorten Gursharanjot Singh Randhawa to 'Guru' on the stage. "This is my stage name now and this is how people know me," adds the young singer who comes from Gurdaspur.
High on talent
Mita Vashisht, in Chandigarh, says life comes to an end after the mid-thirties for women in the Indian glamour industry
She spent long years in the City Beautiful. Cycling around with her gang, watching English movies at KC theatre and hanging out at newly opened Hot Millions…Mita Vashisht remembers Chandigarh of the late seventies. "I have lived in Chandigarh before and after 1984. What fun it was before…we would go all over Punjab for youth festivals. And then, there was a sudden end to all that. Life started limping back, but it was never the same for us," says Mita, in Chandigarh, on Wednesday.
Astro turf
ARIES: Today love and travel figure prominently. You can put yourself in line for a promotion or salary increase. Strong feelings can overwhelm you and distort your sense of perspective. Tarot message: Don't reveal your plan of action to anyone. Lucky colour: Pink.
The year ahead
If your birthday is December 12...
You will be able to fulfill your aspirations and that will enhance happiness. Financial issues can end in your favour and fetch good gains. Relationship with your partner will be smooth and good. Health will be good for the whole year. Don't expect too much from your family or friends. Giving appropriate time to your family will bring harmony in your life. A hasty decision can cause some problem. Think calmly before taking any decision. Unexpected travel for some proves hectic and stressful. You'll be given a new responsibility and complete it successfully.
Fashion funda
Floral tribute
Ever since the first collection she presented at the WLIFW in 2009, Chandrani Singh Fllora made sure that her creations spelt comfort. After all these years, she has carved a niche for herself in the fashion industry. Making the fashion forecast for this season, she again emphasises on comfort factor and wearability.
CELEB POINT
Love thy animal
As I write this, my little pet, Sakhi, sleeps next to me, with her little paw on my arm, feeling secure…what innocence they have! All they seek is love and attention...like little babies. And they are so clear about what they want, unlike us humans, who have been so conditioned to manipulations that we do not anymore understand the concept of pure unadulterated emotions. We doubt when someone is genuine. We question the motives. What does he want from me? Why is a certain person so good to me? We question intentions. We work around ways to get our work done from others. In all that we have left good old basic pure emotions far behind...the ones these animals have.
Like a prayer
Dr Gopal Krishan brings out the significance of Sai Ram in his bhajans
Ekk Naam… Sai Raam is Dr Gopal Krishan's debut album. This 27-year-old is a multifaceted guy trained in homeopathy and law and keen on music. Being trained in music from the age of four, Dr Krishan has been learning music from different gurus—Pt Yashpal, Vinod Sood and OP Gupta. Bhajan is a favourite genre and he loves bhajans by Anup Jalota, Hariharan and Yesudas.
Chatter box
Served sizzling hot!
Food Food has had a 'sizzling' new makeover. And it's not just about the tagline. The Sanjeev Kapoor-promoted television channel has given a fresh tadka to its shows and hosts, including adding eleven new ones to the existing pack. He believes the channel has evolved from being Food Food- Khusiyon Ki Recipe to Food Food-India Ka Favourite TV channel and now Sizzling. Sanjeev Kapoor tells us more.
Meet the game changers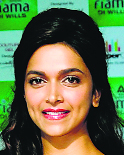 Formulas work in Bollywood but there are some people who have followed their own rules and changed the game. From Deepika Padukone to Rohit Shetty, read on...
Priyanka Chopra: She is the only Bollywood actress who has taken singing seriously and has made an international career out of it with singles like In My City with Will I Am and Exotic with Pitbull. She has also featured in a Guess campaign, becoming its first Indian face and lending her voice to Planes, a Disney movie. We bet there's no stopping this girl.
An image of The Villain
Sidharth Malhotra and Shraddha Kapoor who pair up for the first time in Balaji's The Villain, are looking spectacular together. We bring you the first official film picture of this new-age romantic duo that is sure to set hearts fluttering. As much as Shraddha was comfortable riding a bike and plans to buy one herself in the near future, she would loudly say, Jai Mata Di, every time the director said 'action' for her to ride her bike alone.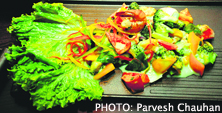 A befitting feast
More often than not, one craves for good food, to taste the exquisite. Something that breaks the monotony. As we enter Gourmet 9, we are greeted by the owner, Aditya Prabhu, who hails from the south of India. He starts with the new initiative of the restaurant, The Gourmet Feast.
Master Chef
Make chocolate less sinful
Aha, the goodness and flavour of the ever tempting chocolate! But what to do about the guilt that accompanies it? We have a solution for you. Why not combine it with the healthy yoghurt and a few nuts to give yourself a treat. It's simple and easy to make.