Served sizzling hot!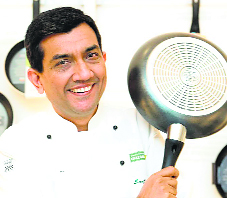 Food Food has had a 'sizzling' new makeover. And it's not just about the tagline. The Sanjeev Kapoor-promoted television channel has given a fresh tadka to its shows and hosts, including adding eleven new ones to the existing pack. He believes the channel has evolved from being Food Food- Khusiyon Ki Recipe to Food Food-India Ka Favourite TV channel and now Sizzling. Sanjeev Kapoor tells us more.
Was the tagline finalised after a lot of thinking?
Yes, it took 45 days of brainstorming for the in-house team and the audience to finalise the tagline. We have to be ahead of the curve and at the leading position at all times.
Why the term 'sizzling'?
Sizzling is a term that has personality; it can be related to food and is 'hot'. TV has a sense to it and today, the audience consumes television with a sense of sight and sound. When we started brainstorming, one thing that became clear was that the tagline had to be relevant to the senses. And 'sizzling' does that perfectly. 'Sizzling' is but a part of the series of changes the channel has undergone. Sizzling has the attitude. We wanted a personality to the tagline and 'sizzling' has it. The chefs as also the shows have all undergone a makeover. We have added more lifestyle shows, but the base is still food.
Will there be any new shows?
The channel has come up with new shows such as Sunny Side Up and Becoming, along with a couple of health shows. We will also be launching a new 'sizzling' show, starting January.
Has the name of your show also been changed?
Yes. So Sanjeev Kapoor's Kitchen is now renamed as Cook Smart. Likewise, other shows have undergone a change. Right from the sets to the chef's styling and the food, everything about the channel has changed along with the tagline.
What's this year looking like for Food Food?
Newer shows, more upscale positioning, better understanding of viewers and digital proliferation of content is our plan for 2014.
Agony uncle
Actor Manav Gohil, who is currently portraying the role of Anirudh Jaitely in Channel V India's The Buddy Project, is like an agony aunt to all the young actors on the sets. He says, "I'm their agony aunt, their buddy, their secret box, confidante; we have this amazing friendship going on between us. Our comfort levels are awesome. It's an amazing feeling."
Jaya on telly
Actress Jaya Bachchan is all to make her debut on the small screen with fiction show Vasundhara. Her husband Amitabh Bachchan says he is happy with her decision. The show, said to be based on a Gujarati novel, will trace the life of a single parent. To be produced by Endemol, it will be aired on Sony Entertainment Television.
Venting out
After a fight with him earlier this week, British actress-singer Sofia got evicted from the Bigg Boss house. Though she is surprised by her eviction, Sofia says that she is happy to be out of the show mainly because of her bad relations with Armaan Kohli. She has demanded strong punishment for him and even called him bad names. She says that she is angered enough to slap Armaan next time she meets him. Well Armaan, be careful!
Melody night
Actor Gautam Chaturvedi, who is best remembered as Gautam bhaiya from Kahani Ghar Ghar Ki, recently organised a ghazal evening for a NGO called Snehasadan. Like every year, this year also singer Kanak Chaturvedi was the vocalist and she paid a tribute to Manna De and Shamshad Begum. Actors present on the occasion included Manasi Verma, Sachin Verma, Akshay Sethi, Aniruddh Dave, Harshali Zine, Rajeev Bhardwaj, Rishina Kandhari, Ankush Bali and Mitika Sharma.
Fan following
Actor Saurabh Raaj Jain, who is currently seen as Lord Krishna in Siddharth Kumar Tewary's Mahabharat, has some relly ardent fans. Saurabh says, "Once when we were in the interiors of Gujarat, people came in to see me yelling, "Humko insaan nahi bhagwaan se milna hai (we want to meet God)." I was shooting and had to request them to be patient to meet me."