Celeb cut
Celebrities and fashion are usually synonymous. Moving a step ahead, some turn designers in their own right by launching their own clothing line…
John Abraham's career trajectory is a perfect success story waiting to be written about, especially after the exploits of his production house. Not a gifted actor though, the MBA, model-turned-actor, used his business acumen to kick-start his clothes label back in 2007, when fashion really didn't even feature in Bollywood's scheme of things. The very next year he went international with his label.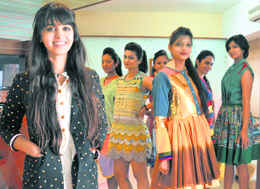 Wearing her attitude
Designer Karishma Shahani says she is more art-oriented than commercial. This is quite evident from her creations…
Karishma Shahani was assimilating her India experience, comprising all the colours and stark contrast of realities, documenting all the slums and festivities; rebelling against its perception outside. In the process, designing collections and brushing aside the constraints of commerce and industry.
HIGH DESIGN: Karishma Shahani. Photo: Pradeep Tewari
What's in store?
Do you want to know how the celestial stars are going to treat our Bollywood stars in 2014? Read on… It's that time of the year when most of us would be inquisitive to know how 2014 will treat us. A Bollywood fanatic and a movie buff will go even further and will be eager to know how 2014 will fare for our movie stars. Celebrity astro-numerologist Bhavikk Sangghvi tells us what 2014 has in store for a few popular Bollywood stars. Now read the predictions below to find out what 2014 holds for your favourite stars.
Evelyn to shake a leg with Arshad
Evelyn Sharma seems to have all the luck. From starting out as a fashionista and graduating to Bollywood success with super hits like Nautanki Saala! and the Ranbir Kapoor--starrer Yeh Jawaani Hai Deewani (YJHD), she's now turning a new leaf.
Fardeen Khan becomes a father!
Actor Fardeen Khan and his wife Natasha, who were expecting their first child, have been blessed with a baby girl on December 11. His cousin and jewellery designer Farah Khan Ali confirmed the news and tweeted: 'Woke up to wonderful news. My cousin Fardeen @khanff & his wife Natasha were blessed by a beautiful baby girl Diani Isabella Khan yesterday. God bless my little niece with loads of health wealth and happiness. Congratulations to the parents.' she added. Meanwhile, actress Celina Jaitly, who worked with Fardeen in Janasheen, congratulated him and tweeted: "Finally wonderful news to hear...congratulations @khanff and lovely Natasha on being blessed with a baby girl Diani Isabella Khan..God bless"
A productive five years
Actress Anushka Sharma, who made her debut in Rab Ne Bana Di Jodi opposite Shah Rukh Khan, completed five years in Bollywood on December 12. To congratulate her, her fans made flooded the internet with her pictures and congratulatory messages.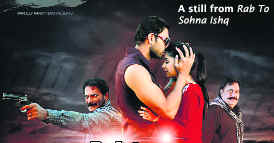 Punjabi scope
An exercise in disaster
First time in history, comes a Punjabi film that will send a red alert signal to your senses! The movie finds its way to your conscious level, going all the way down to the sub-consciousness level and after shaking each atom of your body, the only voice that is heard is—what the fish!
Fun with Kapil
Comedy guy Kapil Sharma gets the taste of his own medicine, as his fans pull his leg during an interactive session
Chatter box
Rajasthani flavour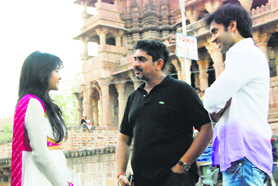 Producer Rajan Shahi is currently in Rajasthan shooting for his next show titled Aur Pyaar Ho Gaya. The show, which will air on Zee TV by the month end, is going to be a typical family drama but will have its own essence of entertainment. It will have a Jaipur-based Marwadi family background. To bring in the real feel of Jaipur, a few episodes of the show are being shot in the pink city itself. But due to permission issues, some parts were also shot in Jodhpur.
Family drama: The cast and crew of Aur Pyar Ho Gaya...
The year ahead
If your birthday is December 14...
With a birthday on the 14th, you are talented, versatile; good at presenting ideas and at organising things. Mercury makes you friendly and cooperative. 2014 is a favourable year for you if you wish to start up or improve an emotional relationship. You will find new proposals and work assignments this year. Some of you can get good increments and promotions. If you are a sportsman or an artist, you can expect fame towards the end of March. Property cases will be solved out of court in 2014.
first-day-first show
It's a gamble! Jackpot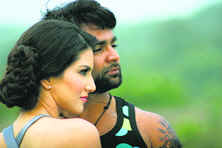 Jackpot is a 2013 Hindi comedy thriller directed by Kaizad Gustad starring Sunny Leone, Naseeruddin Shah and Sachiin J Joshi. The story revolves around a casino, called Jackpot. A group of amateur youngsters come into the casino with a perfect plan to play a con game. Everything was going according to their plan, until a woman with a gun, Maya (Sunny Leone) and Francis, (Sachin Joshi) appear in the scene. Though the casino manager, Naseeruddin Shah, is aware of everything, he cannot do anything as Maya's oomph bowled him over.
For the love of music
For California-based musician Ishmeet Narula, making Punjabi music is like home-coming
In times when including a rap in the track has become an unsaid rule, debutant Ishmeet Narula prefers to be a puritan. Professionally trained under Ustad Abdul Aziz Khan in Delhi, Ishmeet is now settled in California.
Celebrating phulkari
After Manish Malhotra pulled phulkari on the ramp, gave it a twist, used it in his collection, the mention of the traditional weave of Punjab paints an ever more colourful picture. But what's presented in NIIFT, as a part of institute's celebration of craft of Punjab, is rather a sepia portrayal of the same.
Prayer session at Balaji
Anil Kapoor and his wife Sunita Kapoor will go to Balaji Temple in Tirupati to say their gratitude for a successful year for the whole family in showbiz.
Under wrap
There will be absolutely no preview for Dhoom 3, not even as requested by the star cast of the movie or for the cast and crew, as is usually the norm. People will be able to see the movie only when it releases on December 20.
All for Oscar
Siddharth Malhotra is very close to his pet dog Oscar, a boxer, and he takes care of him personally. He spends time playing with him and feeding him when he is at home. Oscar is Sid's support system.

From shy to chatty
Juhi Chawla said that she was a shy and timid student in her school days but as she grew older, she became part of a notorious group and became talkative. She was good at studies and was made the Head Girl eventually.
Business proposal
Shah Rukh Khan is keen on buying Essel Studios in Trombay and revamping it and renaming it. He already owns an IPL team and a VFX and Production Company so he wants to expand his business ventures. SRK is the most likely buyer of the studio.
Vipul casts Pooja
Vipul Shah has cast Pooja Chopra yet again in a movie starring more newcomers like model Freddy Daruwala and Bengali actor Samardashi Dutta.
Foot note
Shazahn Padamsee has a shoe fetish and she loves stilettos and pumps. She has made a separate closet for her shoes and loves to pick them up when she travels to the US and Europe.