A knotted affair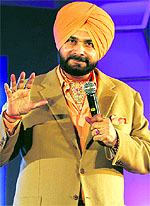 If there is one thing among a few others that Navjot Singh Sidhu takes very seriously, it's his dressing up. A part of his style consciousness roots from his being part of the glamour industry and rest from his love affair with fashion. For people, who question the austerity trait of a politician, he rightfully justifies, "Fine feather make fine birds. Only when one feels good, one can work better." So, he picks up suits that has label of Canali sewn at the seams and feels humble in an IWC and Franck Muller watches. The other accessory he is very particular about is his scarves, strictly Hermes.


High on style: Navjot Singh Sidhu
Take one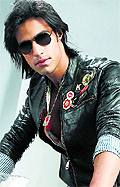 Friday jitters is a phenomenon he has watched closely. Interestingly, this is for the first time he will witness it very closely. As Shiv Darshan, son of director, distributor and producer Sunil Darshan makes his debut in the Bollywood film Karle Pyar Karle, he is getting ready to face the Friday. "Even when I was a kid, I would feel jittery when my father or uncle Dharmesh Darshan's film was to be released. This time I am in the dock; Friday, January 10, is going to be my big day, rather big Friday," shares Shiv.


kickstart: Shiv Darshan
Youth connect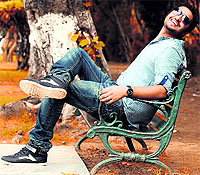 He doesn't use any extra frills, no gaani, no spikes, no bulky tattoos on display, not even an accent for affect, Punjabi singer actor Jassi Gill only lets his mellifluous voice dig deep into your heart. Currently shooting for Mundeyan Toh Bach Ke Rahin in Chandigarh, the singer is making rounds with his latest track Pyar Mera, which gets an average of 8000 hits every single day. This is not the first time that his song is creating such a rage, Jassi's Lancer track has crossed three millions hits.

heart to heart: Jassi Gill
Stress buster
A new start
Now that the year is coming to a close, there are many old chapters to close and many new ones to start. All of us are constantly reeling under some pressure. It is always nice at the beginning of the year to have new resolutions, even if most of them are only meant to be broken, yet some of them do stay on.
itís rocking
Touching the right chord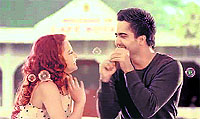 The latest single by Hardy Sandhu, Soch is creating waves this season. If you are the kinds who fancies romantic music seasoned with meaningful lyrics, this song is your pick. Having garnered over one million views in just about a month of its release, this song is slated to be one of the biggest Punjabi hit songs of the year. Here's what the city folks have to say about the song.
Weight watch
Make most of winter
Winter weight gain has been a common complaint of many people. It seems that every winter we add on a few pounds. But the downside to this is that come summer, we don't lose them all. Obviously with the passage of time this goes on adding up. As few of these pounds stick around, they make us a little heavier every year. What is even worse is that it seems to be very hard to lose these extra winter pounds. Why does this happen and what can we do?
A mirror to reality
Vijay Saudai's debut novel is out. Called Dalit, it's a story that starts from an unprivileged colony and ends at Chief Minister's House!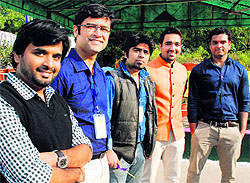 The writerís den
The Panchukla literature festival brings poets, writers and columnists from various areas together on a podium. One of the most compelling and rather distinct feature of contemporary writers vests in their capacity to deal with fiction and reality. Perhaps that, more often than not, defines their artistic calibre as an author.


Words wise: (L-R) Sudeep Nagarkar, Rohit Gore, Nikhil Mukhija, Reekrit Serai, Sachin Garg Photo: Nitin Mittal

star track
Shahidís success party!
Shahid Kapoor's infectious smile is back. Shahid's first full on action role R... Rajkumar has been loved and appreciated by the audiences.



A moment with Jay Sean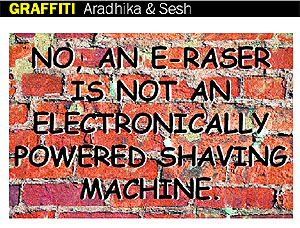 chatter box
A bond to cherish
Maharana Pratap aka Faisal Khan of India's favourite historical show, Bharat Ka Veer Putra - Maharana Pratap on Sony TV's, is winning the hearts of millions with his acting and has been climbing the ladder of success.



Romance is in the air