Foreign ultra killed in Kupwara gunfight
Srinagar, December 18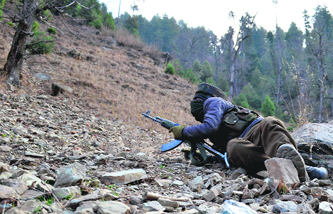 An unidentified foreign militant was killed last night in an encounter which erupted after a search operation was launched by the police and the Army in the Kupwara forests of north Kashmir. The search operation entered its second day today. The police and the Army suspect that two or three militants are hiding in the Afan Lolab forests, 120 km from Srinagar.
An Armyman takes position near the encounter site in Kupwara on Wednesday. Tribune photo: Amin War

Minor's murder: Two days on, police clueless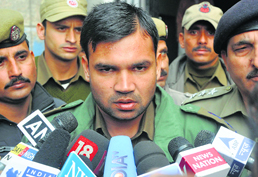 Jammu, December 18
Even as the police remained clueless over the merciless killing of a seven-year-old boy, whose throat was slit and one of his eyes gouged out by unidentified miscreants, it picked up a local resident and a minor, believed to be the deceased's friend, for questioning.
Rahul Malik, SP, Jammu South, briefs medipersons outside the mortuary at Government Medical College and Hospital in Jammu on Wednesday. Tribune photo: Anand Sharma

J&K to produce 9,000 MW power by 2020, says Omar
Poonch, December 18
Emphasising the steps taken by the government to make Jammu and Kashmir self-reliant in the power sector, Chief Minister Omar Abdullah today said efforts were being made to harness the potential of state and generate around 9,000 MW power by 2020.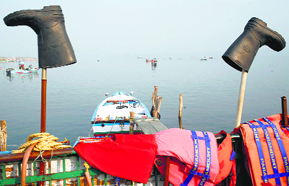 Upside down: A pair of boots left to dry at the Dal Lake in Srinagar on Wednesday. Photo: Yawar Kabli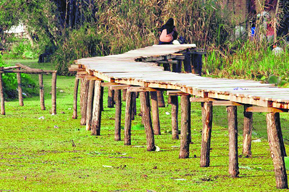 Lifeline for lake Dwellers:

A woman squats on one end of a wooden brigde which leads to a residential area in the interior of the Dal Lake in Srinagar. Tribune photo: Yawar Kabli

GMC, SMGS to accept only emergency referral cases
Jammu, December 18
To rein in on overcrowding and to reduce the burden of doctors at city hospitals, the government has asked Government Medical College (GMC) and Shri Maharaja Gulab Singh (SMGS) Hospital, two of the biggest health institutions in Jammu region, to accept only emergency referral cases from district hospitals.
Bar body warns media against reporting its activities
Srinagar, December 18
The Kashmir High Court Bar Association today asked the mediapersons to restraint from reporting against its activities, which is in news for a reported incident involving a scuffle between one of its senior members and an undertrial on the court premises yesterday.
Residents choose electrical heating systems over kangris
Srinagar, December 18
With several heating devices available in the market today, the traditional 'kangri', an earthen pot filled with hot embers used to beat the chill, seems to have lost in oblivion. People in Kashmir have stopped using 'kangri' and instead are preferring electrical heating appliances during harsh winter season.
1991 'mass' rape: Army files review plea against order
Srinagar, December 18
The Army has challenged the identification parade of its personnel accused in the 1991 Kunan Poshpora 'mass rape' case. It has filed a revision petition before the sessions court against the orders of a Kupwara magisterial court that reopened the case in June. The court is expected to take up the case tomorrow.
HC upholds election of Kathua sarpanch
Jammu, December 18
The Jammu and Kashmir High Court has dismissed the writ petition filed by Uttam Chand, a defeated candidate in the panchayat elections, and said there was no need to declare the election result as null and void. Uttam Chand had challenged the order dated May 26, 2011, passed by the Sub-Divisional Magistrate (Collector), Billawar, as an appellate authority under the J&K Panchayati Raj Act, 1989.
Probe into attack by Armymen gets underway
Rajouri, December 18
The Rajouri Police have initiated inquest proceedings against Major Utsav Kumar and other soldiers for their alleged involvement in the assault on a police party at Gujral Chowk in Noushera on Monday. Police have started the initial process of writing to the senior Army officers for handing over all the accused to it for further investigation and legal action.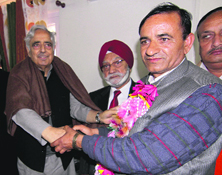 Mufti: PDP first empowered people to fight corruption
Jammu, December 18
Peoples Democratic Party (PDP) patron Mufti Mohammed Sayeed said there was need to launch a decisive war against corruption in the country and passing of the Lokpal Bill was a landmark step in the right direction.
PDP patron and ex-CM Mufti Mohammad Sayed welcomes new party workers in Jammu on Wednesday. A Tribune photograph

Industry units in Pulwama without fire and emergency services
Pulwama, December 18
The Valley's only Industrial Growth Centre at Lassipora in Pulwama district has been left without proper fire and emergency services, putting at stake scores of business units operating in the earmarked area.
Sham Lal sets deadline for installation of water meters
Jammu, December 18
Days after the Public Health Engineering (PHE) Department started installing water meters at commercial establishments, the Minister for PHE and Irrigation, Sham Lal Sharma, today directed engineers to complete the process by the end of this fiscal year.
Ladakh tour operators ask LAHDC for emergency vehicles
Leh, December 18
With an aim to facilitate the rescue and evacuation of tourists trapped at difficult locations in Ladakh due to inclement weather or any other natural phenomenon, the All Ladakh Tour Operators Association has urged the Ladakh Autonomous Hill Development Council (LAHDC), Leh, to provide well-equipped emergency vehicles from the forthcoming tourist season.
Man booked for misbehaving with Bhaderwah MLA
Doda, December 18
Former minister and sitting Congress MLA from Bhaderwah Mohammad Sharif Niaz today lodged a complaint with the police against a person for abusing him when he was returning home after a tour of his constituency.
KU bans services of tiffin supplier
Srinagar, December 18
A food service provider has been barred by the authorities from supplying tiffins to students of Kashmir University. A few months ago, Waris Manzoor had started supplying tiffins to faculty members and student at economical rates, but the authorities stopped the service last week.
MA stadium set to host U-14 volleyball nationals
Jammu, December 18
The MA Stadium here is all set to host the 59th National School Games U-14 Volleyball Championship for boys and girls starting today. Minister of state for Youth Services and Sports, Feroz Ahmad Khan, finalised the arrangements on Wednesday for the mega sports event being organised by the Department of Youth Services and Sports Department.
Workshop on Census begins
Jammu, December 18
A two-day 'Data Dissemination Workshop on Primary Census Abstract of J&K -2011 Census' was organised by the Directorate of Census, Jammu and Kashmir, in collaboration with the UNICEF and the UNFPA-women, here today.
CM urged to make Ompora Industrial Estate functional
Srinagar, December 18
The Associated Chamber of Commerce and Industries - Kashmir (CCIK) has sought the intervention of the Chief Minister so that the Ompora Industrial Estate could be made functional.
Fencing tourney kicks off
Jammu, December 18
The 24th Senior National Fencing Championship being held at Indoor Sports Complex, MA Stadium, commenced here today. Minister for Road and Buildings, Abdul Majid Wani, declared the championship open by lighting the ceremonial lamp. Wani said hosting national events provide an opportunity to sportspersons in state to exchange ideas and experience with their counterparts. He said sports inculcate a sense of team spirit, discipline, self-confidence, quick decision-making power, besides keeping the body fit. He lauded the organisers for conducting the championship of national repute. He said the government had launched various programmes for promotion of sports by developing new projects and up-grading existing sports infrastructure.Wani said the youth in state have enough potential, which needs to be channeled and polished properly. — TNS
Fellowship for 2 KU teachers
Srinagar, December 18
The National Environmental Science Academy (NESA) has awarded two faculty members of Kashmir University (KU) with its highest award. Prof Bashir Ahmad Ganai and Prof Azra N Kamili have been conferred with the National Environmental Science Academy, New Delhi`s highest award - Fellowship of the Year 2013. The award (comprising gold medal, citation and plaque) was presented to Prof Ganai on December 13 and to Prof Kamili on December 9. — TNS
Sarpanch booked for felling trees to build road
Srinagar, December 18
The J&K Police have registered a case against a sarpanch in north Kashmir for allegedly uprooting several trees while constructing a road in a village near the LoC. Sarpanch Rafiq Ahmed Baloch, who also works as a contractor, was booked along with officials of the Road and Building department on the forest department's complaint. He was allotted construction of a 3-km road in Garkote village in Uri. After building half a kilometre, he diverted the road and uprooted trees so that the road reached his house. — TNS
Doda citizens voice concern over drug use
Doda, December 18
A debate competition on drug addiction was organised by the Kishtwar police under the civic action programme at Community Hall, Chatroo, today. Eleven students from Class IX to XII participated in the debate. Mutakeen-ul-Islam, Anas Ahmed and Nighat Bano were declared the winners and were given gold medals. Other participants were given commendation certificates. Chatroo Tehsildar, who was the chief guest on the occasion, gave away prizes to the participants in the presence of Station House Officer, Chatroo, Mushtaq Ahmed.
42 shopkeepers fined for using poly bags
Jammu, December 18
The Jammu Municipal Corporation (JMC) today imposed a fine of Rs 8,500 on 42 shopkeepers for using banned polythene bags in city. A team headed by health officer Muhammad Saleem Khan toured markets in Gangyal, Kunjwani and Railway Road and inspected sweetshops, meat shops, fruit/vegetables shops and seized more than 4-kg polythene from them.
One held with contraband
Srinagar, December 18
Fayaz Ahmad Ganai of Trikanjan was arrested with 250 grams charas in Baramulla district of the Valley, the police said today. — PTI