Vote for India, not any party, says Modi
Mumbai, December 22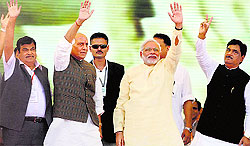 In a strategic move ahead of the 2014 General Elections, BJP's prime ministerial candidate Narendra Modi today presented before the country new catchphrases.
BJP's PM nominee Narendra Modi with party chief Rajnath Singh and other leaders Nitin Gadkari and Gopinath Munde in Mumbai. PTI

Wait for Gurgaon martyr's body goes on, kin block NH
Gurgaon, December 22
After waiting for three days for the body of martyr Subedar Kanwar Pal Singh, the villagers of Bhondsi came on the roads today and blocked the Alwar-Gurgaon highway. They were protesting against the alleged apathy of the local administration and the government. A Junior Commissioned Officer in the Indian Army, Kanwar Pal Singh was killed in the militia attack in South Sudan on Thursday. The family members and villagers, who are beaming with pride over the martyr, are angry over the fact that no official or minister has sent in condolences.
OTHER PAGES

J&K: Panel directs administration to make traffic lights functiona


HIMACHAL: Shimla receives season's first snowfall


CHANDIGARH: Trains delayed, flights grounded


LUDHIANA: Power, water supply hit


DELHI: Talwars' kin protest CBI court's verdict

OPINIONS: Burial or action?

SPORTS: After twists, turns and thrills, it's a draw

WORLD: Fresh protests in Thailand; Oppn to boycott polls



Lahore Log

The tribune guide to best colleges

Budget
2013-14

INDIA CHINA WAR 50 YEAR LATER

EARLIER FEATURES
Chinese troops set up camp in Chumar
New Delhi, December 22
Tension prevailed in the Chumar sector in Ladakh as around 20 soldiers of the People's Liberation Army (PLA) of China last week entered the Indian territory near the Line of Actual Control (LAC) and pitched their tents in Chepzi area in Ladakh.

adarsh scam
Order refusing action against Chavan questioned
Mumbai, December 22
An application has been filed in the Bombay High Court by a former journalist questioning the order of the Maharashtra Governor refusing sanction to prosecute former Chief Minister Ashok Chavan in the Adarsh housing society scam.
Amritsar border turns into major drug-transit point


Patiala, December 22
The international drug ring busted jointly by the Batala and Delhi police has again highlighted how, despite stepped-up patrolling by the BSF and the Punjab Police, heroin estimated worth over Rs 375 crore has found its way into India through a porous border in Amritsar this year.
Satinderjit Singh alias Mintu was arrested by Batala Police on Dec 16 allegedly with 4 kg heroin

Kishenganga: India's right upheld
December 22, 2013
US adamant, not to drop charges against Devyani
December 21, 2013
Drop case against Devyani: India
December 20, 2013
Parliament clears historic Lokpal Bill
December 19, 2013
India downgrades US diplomats' privileges
December 18, 2013
Lt Governor recommends President's Rule in Delhi
December 17, 2013
Cong open to compromise on passage of Lokpal Bill
December 16, 2013
Delhi tussle: AAP raises 18 points for Congress, BJP
December 15, 2013
Indian diplomat's arrest in US upsets Delhi
December 14, 2013
A day after, govt weighs options to de-criminalise homosexuality
December 13, 2013