FLASH FORWARD

Jatt rolls on!
Punjabi films lost much of their steam as well as esteem as 2013 drew to a close. It's the new year and let's hope 2014 ushers in a more promising time for the jatt…
Jasmine Singh



Calling the shots: Baljit Deo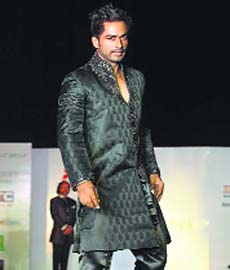 Dhanveer Singh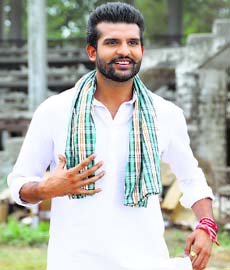 Yuvraj Hans is the actor to watch out for in 2014.
Let bygone's be bygones…but now, brace yourself for here it is - a new start, a new beginning, a new shot and a new action. Even though some people, some pieces of work, made every possible effort to make us laugh in 2013, we couldn't shed more than a tear! This year again, we are back, our armour ready and our shields safely tucked close to us.
Punjabi film industry - bring on what you have! Comedy, suspense, action or your old tried and tested comedy, show us what you have and this time too, we promise to take it in our stride.
2013's setback to the genre of comedy has already sent an alert signal down the industry. Let's see what's in store in 2014.
Laugh on
This year will also witness a good number of Punjabi film releases with a strong comic base. Amit Prasher, a strong believer in this genre, releases his Ishq Brandy on Feburary 21. The promo of the film has already been picked up by the YouTube most popular video section. Starring Roshan Prince, Alfaaz, Binnu Dhillon, BN Sharma, Japji Khera, Wamiqa Gabbi, Shivnder Mahal and Karamjit Anmol, this is the much-awaited comedy film in 2014. Others films that come with a promise to entertain you, not to forget the pledge to make you laugh, are Kshitij Chaudary's Asin Nai Sudharna, which was earlier called Mr and Mrs 420; Dil Vil Pyar Vyar that brings the talented singer of Punjab Gurdas Maan back on to the silver screen along with the promising actor-singer Jassi Gill, and Mundeyan Ton Bach Key Rahi that brings Roshan Prince and Jassi Gill together. That's not all; also lined up are Smeep Kang's Carry On Jatta 2, Rohit Jugraj's Jatt James Bond with Gippy Grewal in the lead; Double Di Trouble that brings Gippy and Dharmendra together and Navniat Singh's Rambo Ranjha.
Getting serious
This year promises films that will make you think! Baljit Deo releases Himmat Singh that brings Bollywood actor Arjan Bajwa into Punjabi films. It is with this film that Punjabi actor Yaad Grewal is set to hit a solid punch. Amrik Gill-directed Kirpaan, releasing on February 7 and starring Roshan Prince, is a sought after movie of 2014. It talks about patriotism, of strength and valour.
This year, the audiences are again looking at celebrated director Anurag Singh as he hits the scene with 1984 and Disco Singh, both starring Diljit Dosanjh in the lead. Hopefully, we will also see Diljit's dream project Mukhtiar Chaddha get a final shape and a go-ahead. Fateh and Patiala Dreamz, both expected to release in January, are two more films that will not clearly fall in the comedy genre. Yaar Anmulle 2 with Sarbjit Cheema and Dijlot Kaur along with others in the lead is another much-awaited sequel.
Other Punjabi films that will release on their expected time if all goes well are Rangroot, Moga to Melbourne Via Chandigarh, Pendu Nai Dilan Dey Maadey, Control Bhaji Control, Desi Munde, Don't Worry Yaara…we still smell a lot of laughter!
B-town calling
Almost half of the almost written-off people from Bollywood found their way into Punjabi films. This year the trend will only catch pace; Zarine Khan of Character Dhila song fame and Mehak Chahal of Bigg Boss fame will be seen in the Punjabi style films, along with others. Dhanveer Singh, a celebrated RJ, also comes back with a bang in the Punjabi film industry. Jassi Gill, a singer who has hit the popularity charts, is all set for back-to-back releases this year. Yuvraj Hans, not a debutant though, is one actor to look out for. Comedian actor Binnu Dhillon will be seen again, but more judiciously this year! Babbal Rai, the singer, also hits the scene this year. Satinder Satti, Diljot Kaur and Gurmeet Chaudhary are some more names that will be seen in Punjabi films.
Let's hope for the best!
jasmine@tribunemail.com