M A I N N E W S
Will contest all LS seats in Delhi, Haryana: AAP
Ananya Panda
Tribune News Service
New Delhi, January 5
The Aam Aadmi Party will launch a national campaign to enrol new members from January 10, while it refused to contest all 545 seats in the Lok Sabha elections slated for mid-April. The party has planned to field candidates from maximum number +of seats, but abstained from giving an exact figure.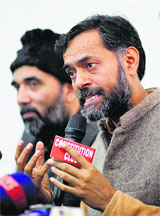 AAP leaders Yogendra Yadav (R) and Gopal Rai in New Delhi.
The party will contest from all Lok Sabha seats in Delhi and Haryana. In Haryana, it will also field candidates on all 90 Assembly seats under the leadership of senior AAP member Yogendra Yadav as a candidate from Gugaon. Yadav is apparently the party's chief ministerial choice for the state.
"Arvind Kejriwal and Manish Sisodia have to concentrate on Delhi and Yadav is no doubt the party's national face. But, restricting him (Yadav) to Haryana could be a wrong idea," AAP sources said after the party's two-day national executive committee meeting.
The party's nationwide membership drive will be held from January 10 to 26 and people can get themselves enrolled without the token fee of Rs 10 charged earlier, while interested candidates can file their nominations online or in person via the respective party units by January 15.
"In view of the overwhelming response, the party has decided to launch national membership drive "Main Bhi Aam Aadmi". We want people not just to join the party but contribute in the process of change and nation building. We hope to release the first list of candidates between January 15 and 20 and the list of remaining candidates by February 15. However, even after January 15, the party will continue considering applications from deserving upright candidates," Yadav said.
A three-member committee comprising Gopal Rai, Yadav and AAP general secretary Pankaj Gupta would oversee the entire work.
Yadav said the party would contest on maximum number of seats and at present only the guidelines for candidates' selection of honest people had been put forth. About Haryana, he said irrespective of when the assembly elections would be held, it was certain that the party would field candidates from all seats.
In the state for the past one week, the AAP has organised public meetings at Yamunanagar, Ambala, Jind, Rohtak, Amritsar, Palwal and Ballabhgarh.