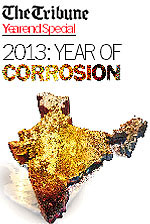 The 'naughty boy' of space tamed
Shriharikota, January 5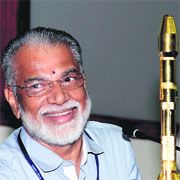 Scientists fondly call the Geosynchronous Satellite Launch Vehicle (GSLV) the "naughty boy" of India's space programme. That's because despite the success of today's launch at Shriharikota, Dr K Radhakrishnan, Indian Space Research Organisation (ISRO) chairman points out, "We have had a mixed bag of success with GSLV flights."

ISRO Chairman Radhakrishnan at the press conference after India successfully launched rejuvenated indigenous cryogenic engine-fitted GSLV-D5 carrying communication satellite GSAT-14 from Satish Dhawan Space Centre at Sriharikota on Sunday. PTI

EC gears up for multi-phase LS polls starting mid-April
New Delhi, January 5
The Lok Sabha polls will be held between mid-April and early May in five or six phases and will involve about 800 million voters, highly-placed sources in the Election Commission said today. Andhra Pradesh, Odisha and Sikkim will also go polls for their state Assemblies along with the Lok Sabha elections.
OTHER PAGES

HARYANA: 6 killed, 1 hurt as truck hits auto-rickshaw in Bhiwani


HIMACHAL: CM misled Cong high command: Dhumal


CHANDIGARH: BSP leader plays party pooper


LUDHIANA: Close shave for five students


DELHI: Minister Rakhi Birla's car attacked

OPINIONS: Soft on Adarsh scam

SPORTS: The English whitewash

WORLD: Awami League sweeps Bangladesh polls


Lahore Log

The tribune guide to best colleges

Budget
2013-14

INDIA CHINA WAR 50 YEAR LATER

EARLIER FEATURES
Will contest all LS seats in Delhi, Haryana: AAP
New Delhi, January 5
The Aam Aadmi Party will launch a national campaign to enrol new members from January 10, while it refused to contest all 545 seats in the Lok Sabha elections slated for mid-April. The party has planned to field candidates from maximum number +of seats, but abstained from giving an exact figure.
Modi promises to reform taxation system
New Delhi, January 5
Those waiting to see BJP's PM candidate Narendra Modi give a "befitting reply" to PM Manmohan Singh's scathing observation that the Gujarat CM as the PM would be "disastrous for the nation" were not disappointed. Though he tactically refrained from naming either Singh or any other Congress leader in his speech, when he referred to the people who speak "annap shannap" (nonsense), it was clear to who he was referring to.
India, China moot trade corridor
New Delhi, January 5
The ambitious Bangladesh-China-India-Myanmar (BCIM) trade corridor has finally begun to take shape. Top officials of the four countries held their first-ever dialogue on setting up the trade corridor recently in China.
Miffed seniors not to attend Punjab Cong meet
Chandigarh, January 5
The Congress high command's warning to Punjab leaders against making their differences "public" may have the desired impact of silencing party office-bearers participating in the special meeting tomorrow, but fissures in the party will be clearly visible with general secretary Jagmohan Singh Kang and secretary Jagdarshan Kaur announcing that they will not attend the meeting.

AAP's grand plan: To contest most LS seats
January 5, 2014

PM says no 3rd term for him, Rahul fit for top job
January 4, 2014

M'rashtra Govt partially accepts inquiry report on Adarsh scam
January 3, 2014
Govt scraps Agusta copter deal
January 2, 2014
After water, power sop for Delhiites
January 1, 2014
Kejriwal keeps free-water promise
December 31, 2013
Kejriwal: We'll deliver in 10 days
December 30, 2013
Kejriwal vows new working style
December 29, 2013
2002 riots: Modi says he was 'shaken to the core'
December 28, 2013
All in a day: Relief, jolt for Modi
December 27, 2013
Army orders court martial of 6 men in Machil encounter case
December 26, 2013