PPP leader Buttar shot at
Chandigarh, January 20
Two unidentified motorcycle-borne assailants opened fire at the general secretary of the People's Party of Punjab (PPP), Yadwinder Singh Buttar, at Sector 8 on Sunday night. He escaped unhurt. The assailants managed to flee. The UT police have recovered three empty shells from the spot. A bullet also hit Buttar's Etios car. Buttar, a resident of Sector 21, suspected the involvement of a senior Punjab politician and a Punjab Police officer in the attack.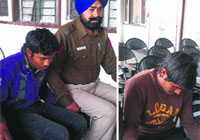 Pinki murder case cracked, 2 arrested
Chandigarh, January 20
A month after 11-year-old Pinki was found raped and murdered in the forest area near Palsora village, the UT police claim to have solved the case with the arrest of two persons.



The accused being produced at a court on Monday. A Tribune photograph

Roadways strike: Gala time for taxi owners
Panchkula, January 20
With the strike by the staff of Haryana Roadways department taking off today, cab owners in Panchkula had a gala time and charged double the original fare from the passengers.



Parked buses at the workshop in Industrial Area; and (right) commuters trying to board a Himachal Roadways bus at ISBT, Sector 17, Chandigarh, on Monday. tribune photos: manoj mahajan
Day 2: No guards and no money
Panchkula, January 20
For the second consecutive day, Panchkula residents were at the receiving end as most of the 50 automated teller machine (ATMs) remained sealed. The banks failed to adhere to the police's directive of posting guards at their ATM kiosks.


City's ability to go beyond disability impaired



A ramp in the UT Secretariat at Sector 9, and (below) a parking lot for the differently abled. Such basic facilities can make Chandigarh disabled-friendly. Tribune photos: Manoj Mahajan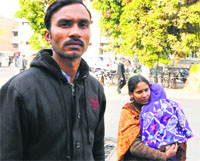 Child taken ill, parents cry foul
Chandigarh, January 20
A one-and-a-half-year-old girl had to be rushed to Government Multi-SpecialIty Hospital (GMSH), Sector 16, six hours after being administered polio drops on Sunday.




The parents had to rush the child to the hospital. Tribune photo: Pradeep Tewari
Department wants excise policy before general elections
Chandigarh, January 20
The UT Excise Department is keen on rescheduling the announcement of the new excise policy (2014-2015).
A new dawn breaks for jail inmates
Chandigarh, January 20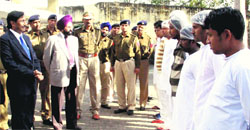 UT Home Secretary Anil Kumar today released the Volume VIII of 'Nai Subhah', newsletter of the Model Jail, Chandigarh. The newsletter highlights welfare activities. In also carries articles written by jail inmates. The Home Secretary was accompanied by IG (Prisons) Maneesh Chaudhary, Joint Secretary (Home) MM Sabharwal and Additional IG (Prisons) Balbir Singh Dhol.
UT Home Secretary Anil Kumar at the Model Jail in Chandigarh. A Tribune photograph
Teen's kidnapping: Police still clueless
Chandigarh, January 20
Two days after 17-year-old Karan was allegedly kidnapped in a white Swift car, the UT police are still clueless.
Phone numbers on posters do violators in
Chandigarh, January 20
The Municipal Corporation has nailed 130 offenders for defacing the city. The civic body traced these violators through their mobile numbers.
BSP to launch poll-khol campaign in Chandigarh
Chandigarh, January 20 Keeping in mind the upcoming Lok Sabha elections, the Bahujan Samaj Party (BSP) is going to launch poll-khol campaign in the city.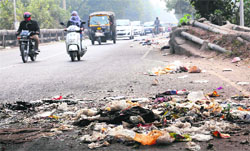 Mohali turns into dump yard
Mohali, January 20
Garbage is piling up in Mohali as the private sanitation workers have refused to lift waste generated from houses. The protesting workers are opposing the contract system for the lifting of garbage.


Garbage littered on a road at Phase X in Mohali on Monday. Tribune photo: Vicky Gharu
Fog continues to hit rail traffic
Chandigarh, January 20 The delay in the running of major trains in the northern region due to intense fog and speed restriction have caused a lot of inconvenience to passengers, who were stranded for hours at the city railway station. Seven trains were delayed due to the dense fog. Unchahar Express was delayed by more than 11 hours, while Chandigarh-Dibugarh by three hours and Howrah-Kalka by more than three hours. Railway officials said there was dense fog in the northern region due to which all long-route trains were delayed for hours. The officials said there would be no relief to passengers for the next few days.
Sec 27 gets e-Sampark centre
Chandigarh, January 20 The UT Administration today opened an e-Sampark centre in the Community Centre of Sector 27-D. Upkar Singh, Director, IT, inaugurated the e-sampark centre.
GMADA seals three illegal marriage palaces
Mohali, January 20
Initiating a strict action against the marriage palaces, which are being run illegally in the area, the Greater Mohali Area Development Authority (GMADA) sealed three palaces, including the oldest Dara Studio, here today.
Police fail to produce Jagdish Bhola before court
Mohali, January 20
The Punjab Police did not produce druglord Jagdish Singh Bhola before Mohali court for hearing today.
'Ghost' brings alive myriad human emotions
Chandigarh, January 20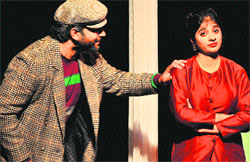 A myriad emotions were brought to life during the staging of "Ghost" on the second day of the TGT winter theatre fest at Punjab Kala Bhavan, Sector 16, on Monday.





Artistes staging the play "Ghost" at Punjab Kala Bhavan in Chandigarh on Monday. Tribune photo: S. Chandan
Camp for disabled
Chandigarh, January 20 A camp for the physically challenged was organised at Vikas Nagar, Mauli Jagran, by the Chandigarh Social Welfare Board on Monday. The camp was organised in collaboration with the UT department of social welfare.
Baby girl found abandoned
Chandigarh, January 20
Braving the chill for several hours before being spotted by the police, a fifteen-day old baby girl was found near the water storage tank in Government Multi Specialty Hospital (GMSH), Sector 16, in the wee hours on Monday.
PU VC gets court notice
Chandigarh, January 20
The Punjab and Haryana High Court on Monday issued a contempt notice to the Panjab University Vice-Chancellor, Prof Arun Kumar Grover, in a case pertaining to the appointment of his wife Dr Neera Grover in the varsity.
Students raise issues plaguing society through plays at Sec 17
Chandigarh, January 20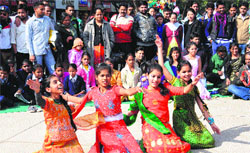 The students of GMSSS, Dhanas; GMSSS, Mani Majra Complex; and GMSSS, Sector 27, deliberated upon several societal issues through plays during the ongoing Children Theatre Festival at Sector 17 plaza on Monday.


Students perform a play at the Sector 17 Plaza in Chandigarh on Monday. Tribune photo: Manoj Mahajan
PU academic council elected for 2-year term
Chandigarh, January 20
The Panjab University Academic Council was elected for a two-year term on Monday.
PU to seek funds for reading room
Chandigarh, January 20
Panjab University will table the proposal for the construction of a reading room for girls students during the board of finance (BOF) meeting to procure necessary funds for its construction.
Live organ exhibition showcases intricacies of human body
Chandigarh, January 20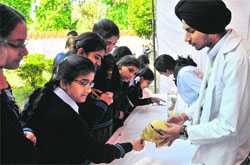 More than 600 students of city schools attended a lecture on health awareness on the second day of the five-day Integrated Health Education workshop at Government Medical College and Hospital, Sector 32, on Monday.


Students being briefed on human organs at the Integrated Health Education workshop at Government Medical College and Hospital, Sector 32, in Chandigarh on Monday. tribune photo