The mandate of Rashtriya Ucchatar Shiksha Abhiyan (RUSA) — a flagship programme of the MHRD — is to promote access, equity and excellence in state higher education system which provides education to 96 per cent students across the country. Speaking on the diamond jubilee celebrations of the UGC on December 28, 2013, the Prime Minister stated RUSA would address concerns of higher education and improve the quality of teaching and research.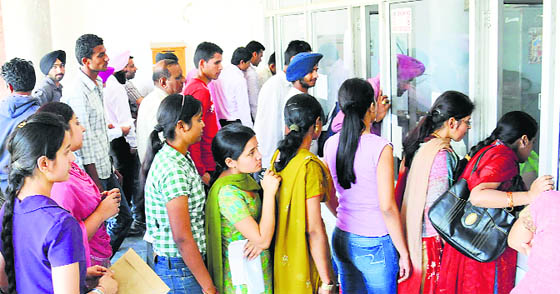 Higher education suffers from many ills like inequitable access to all, cash crunch and limited research. Tribune file photo: Manoj Mahajan
RUSA would cover 306 state universities and 8,500 colleges. Its relevance is more pronounced in the backdrop of efforts of the MHRD, UGC and Planning Commission to improve the world ranking of Indian universities. The idea is to promote excellence in higher education, especially by converting leading state universities to research universities. This would help institutions improve their ranking as around 60 per cent weightage is given to research outcomes by agencies involved in the rating of universities.


The coverage

Setting up new universities and upgrading the best of them to world-class research institutes


Improving the status of existing autonomous colleges to universities


Vocationalisation of higher education and conversion of colleges to cluster universities


Infrastructure grants to universities and colleges; and setting up model colleges and upgrading select degree colleges to model colleges


Opening new professional colleges and promoting research, innovations and quality improvement


Taking bold equity initiatives and leadership development of educational administrators


Undertaking faculty recruitment and improvements, besides institutional governance and administrative reforms


Adopting management information system for maintaining a reliable data bank.
(Source: RUSA Document, MHRD)
State-level institutions of higher learning are the backbone of our education system. The institutions, however, receive a meagre share of Central funds. In the 11th Five Year Plan, out of the total UGC funds only 17.3 per cent were allocated to the institutions. Higher education suffers from many deficiencies, including low and inequitable access; truncated quality of teaching-learning and research; low employability; vacant faculty positions; financial distress; limited autonomy; and low coverage of accreditation.
Scholars and policy makers are convinced that restructuring of education is a pre-requisite for reaping the benefits of demographic dividends of predominance of younger people in our country's workforce; and for making education an engine of economic and social transformation. Drawing upon the good experience of Sarva Shiksha Abhiyan (SSA) and Rashtriya Madhyamik Shiksha Abhiyan (RMSA), the Central government launched RUSA to revamp higher education by liberally funding it. The Cabinet Committee on Economic Affairs has approved Rs one lakh crore for the implementation of RUSA. In case of major states, the funding would be in the ratio of 65:35 by the Centre and state governments, respectively.
Guiding philosophy
The guiding philosophy of RUSA is a paradigm shift from the existing focus of funding. The educational institutions will be funded on the basis of performance and mutually agreed outcomes. It will follow a policy of carrot and stick for incentivising compliance to norms. Grants will be disbursed in an unbiased, apolitical and professional manner. Promotion of transparent governance, autonomy and accountability are the other cornerstones.
To avail grants, non-negotiable guidelines are to be followed strictly. These are setting up of state higher education councils; preparation of perspective plan; commitment to allocate at least 2 per cent of State Domestic Product to higher education; and timely release of funds and creation of separate funds. For selecting a Vice-Chancellor introduction of a transparent and competitive selection process; leadership development programmes for educational administrators like Vice-Chancellors, Deans, Registrar, etc; rationalising the size and composition of decision-making bodies; reforming affiliation system by restricting colleges affiliated to a university to 100 are some guidelines. Updating curricula on a regular basis; introducing semester system having choice-based credit system; adopting transparent admission procedures; initiating examination reforms; setting up management teams in each institution; strict adherence to regulatory compliance; mandatory faculty recruitment and improvement; preparation of institutional perspective and short-term plans including budget are other essentials.
Higher education councils
The setting up of a state higher education council (SHEC) is an important innovation of RUSA. Initially it can be set up by an executive order, but within two years it has to be converted into a statutory body by an Act of the state Assembly. It would promote integrated development of higher education. It would monitor the performance of RUSA in the state; ensure effective coordination between the Centre and states; and provide leadership for bringing governance reforms at institutional level. Other functions would include evolving a criteria for funding institutions, maintaining a data bank and undertaking research and evaluative studies.
The structure and selection of SHEC members has been articulated with an underlying philosophy of having a body that is at an arm's length from Central and state governments. It would have a chairperson, vice-chairperson, member secretary, and 15 to 25 members with high academic and administrative credentials. The term of a member will be for six years and one-third members will retire every two years.
Liberal funding
Knowledge has become a very powerful source of development. The funding of education, especially higher education, however, has not got top priority in many states. The Kothari Commission on Education in the mid-1960s recommended 6 per cent of the GDP to be spent on education. The target has not been reached even today. Imposing the condition of spending at least 2 per cent of the State Domestic Product by each state on higher education would persuade state governments to allocate more funds to higher education, which is essential in the backdrop of near-freezing of grants to higher education at the existing levels.
Faculty recruitment
Most state governments, till recently, have imposed a ban on faculty recruitment. The institutions have adopted the modes of contractual appointments and guest faculty to manage teaching. The prolonged practice of 'adhocism' in the recruitment of faculty has played havoc with higher education. According to RUSA Document, around 50 per cent positions in the state universities and colleges and one-third in Central universities are vacant. The Prime Minister also expressed concern over faculty shortage and urged the UGC to find an innovative method to resolve the issue. The mandatory faculty recruitment condition would go a long way to enable institutions of higher learning to deliver good quality products.
Regulatory compliance
Accreditation of institutions by independent bodies plays an important role in ensuring quality teaching and research. At present, the National Accreditation and Assessment Council (NAAC) and National Board of Accreditation (NBA) undertake accreditation and assessment of universities, including general colleges and professional institutions, respectively. Till recently, the accreditation was a volunteer exercise. According to NAAC, only one-third of the total universities and 13 per cent of colleges had gone through the process of accreditation by August 2013. RUSA's compulsory regulatory compliance for funding would compel all institutions to undergo the process.
Winning strategies
RUSA has the potential of becoming a game changer. Now the onus is on state governments and institutions to take full advantage of this programme. For preparing states to adopt RUSA, the Project Approval Board (PAB) has approved initial grant to 13 states and four Union Territories. The states include Arunachal Pradesh, Assam, Bihar, Himachal Pradesh, Gujarat, Karnataka, Kerala, Maharashtra, Manipur, Nagaland, Odisha, Punjab and Uttar Pradesh and the Union Territories are Andaman and Nicobar, Chandigarh, Dadra and Nagar Haveli and Daman and Diu. The PAB has also approved 56 new model degree colleges with a funding of Rs 672 crore. Out of these, 29 are in Uttar Pradesh, eight each in Karnataka and Odisha, seven in Andhra Pradesh and four in Kerala. The board has also approved funds for 31 existing model degree colleges of Assam, Karnataka, Maharashtra and Punjab.
In the post-eligibility phase, funds would strictly be on the basis of performance and outcomes. Therefore in the long run, only those states and institutions which follow the prerequisites of RUSA religiously will be the beneficiaries.
While formulating winning strategies, the sates and institutions must not allow the weaknesses of SSA and RMSA to creep in the execution of RUSA. Evaluation and research studies on the SSA and RMSA by the NCERT, Planning Commission, National University of Educational Planning and Administration, state governments and researchers reveal that in a number of cases the major emphasis remained on money allocated and spent; and in the process the quality improvement was a casualty. A time-gap in the transfer of funds from one administrative layer to another, especially at the fag-end of the financial year, was also reported. Non-utilisation of released funds was also found. The experience of Centrally sponsored schemes also shows that some states do not release their share on time. Also a couple of states and institutions were very slow in undertaking administrative reforms.
The Planning Commission study reports that in case of SSA, seven states did not constitute state-level monitoring committees. In some states, norms were not adhered to while constituting the committees. Weak coordination between various bodies also constrained the outcome. Lack of a comprehensive policy in the RMSA in some cases hampered quality. The successful strategy is to immediately accord statutory status to SHEC; prepare state plan; initiate administrative reforms; and follow the time schedule for the release of funds. The final beneficiaries of RUSA are the institutions. They should promptly constitute the Board of Governors and project management unit as per RUSA guidelines.
An orientation programme for the state and institutional officials should also be organised to acquaint them with RUSA. It is also in the interest of states and institutions to keep the promotion in access, equity and excellence at the centre. They should use funds as means rather than ends of the scheme.
Vigilant stakeholders, especially teachers, students, parents, civil society and media, can play an important role to act as a pressure group. For institutionalising the participation of stakeholders, introduction of citizens' report cards and social audit of RUSA on the pattern of MGNREGA can be adopted.
— The writer is a Professor in the Department of Public Administration, Panjab University, Chandigarh