Now to put it behind and show prudence
The Khobragade incident, as a number of foreign observers have noted, revealed the deep-seated class prejudices of middle and upper-class Indians. In an almost reflexive fashion they sided with the employer over the maid.
Sumit Ganguly

Last week, according to reports in the Indian media, members of the Joint Intelligence Committee met with their counterparts on the National Intelligence Council for a routine meeting in New Delhi. Under normal circumstances such a meeting would have hardly elicited any mention in the media. However, as even a casual observer of the Indian political scene would know, Indo-US ties have hit a harsh patch in the wake of the arrest, detention and eventual departure of Indian diplomat Devyani Khobragade.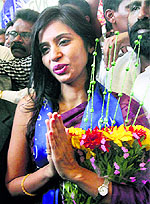 Khobragade episode has left a bad taste. PTI

Otherwise temperate and measured individuals ranging from the Prime Minister to the National Security Adviser had expressed their dismay over her treatment in rather sharp and unequivocal terms. India also chose to implement retaliatory measures including the withdrawal of security blocks on a street near the US Embassy in New Delhi; suspension of various privileges to US diplomats; shutting down of the American Club at the embassy; and even expelling Wayne May, a member of the diplomatic staff at the embassy.
India's actions were viewed critically in the US media. Some commentators did concede that the US authorities could have handled the diplomat's apparent legal breach with greater skill and finesse. However, they also highlighted two issues that few Indians, whether in government or in the general public, were unprepared to even countenance, let alone address forthrightly. First, that Khobragade had apparently misrepresented some facts pertinent to the employment of her maid Sangeeta Richard. Second, that at least some of the retaliatory measures undertaken were obviously petty and small-minded.
These very different assessments of what transpired underscores the persistence of a gulf that still exists in Indo-US relations despite all improvements that have taken place since the early 1990s. Under the circumstances, it may be best to engage in stock taking of what still bedevils this troubled partnership. To do that, it is necessary to examine the issue from the standpoint of both capitals.
In New Delhi, significant pockets of the political left, whether in government, in Parliament or within India's attentive public, still remain unconvinced about the utility of a viable relationship with the US. They have looked upon the developments of the last two decades with a jaundiced eye.
The incident provided them with a useful opportunity to vent sentiments that they had long harboured but were forced to keep in check as much of the country had started to look favourably at the Indo-US ties. In a somewhat related vein, these individuals and groups have deliberately sought to misrepresent the workings of various US government entities. The US Justice Department, contrary to their rants, does not work hand in glove with the US Department of State. Instead, a particular conjunction of circumstances led up to this most infelicitous incident.
The incident also, as a number of foreign observers have noted, revealed the class prejudices of middle and upper-class Indians. In an almost reflexive fashion they sided with the employer over the maid. In considerable part these sentiments reflected their easy identification with Khobragade's predicament over the plight of her maid. Any discussion of this matter is downright discomfiting for most Indians of a certain social standing but eliding over this uncomfortable matter simply will not do. A failure to confront the issue of the working conditions of domestic help will simply mean that the problem will be deferred to another day.
The US, sadly, is also not entirely blameless and needs to be more attentive to Indian concerns and sensitivities. There is little question that relevant authorities in the US Justice Department or at the US Department of State might have exercised some discretion before proceeding with the arrest of Khobragade and placing her in a detention facility.
Apart from the clumsy and high-handed fashion in which the arrest was made, this episode also revealed a stunning lack of awareness of how it could be perceived in India where those in positions of privilege, justifiably or not, view a public spectacle which involves obvious humiliation. The country's colonial past has left its elites with an ambiguous legacy: on the one hand, Indians in positions of power have little difficulty lording their advantages over those in less fortunate positions; and on the other hand, they are also acutely sensitive to possible slights or callous behaviour on the part of foreigners in more advantaged positions. The contradictory features of this heritage do not exculpate anyone. However, a failure to take it into account can only culminate in the kind of contretemps that has ensued.
For economic, strategic and diplomatic reasons, both India and the US have an interest in sustaining and nurturing their nascent strategic partnership. To ensure that another incident of this order does not derail the progress that has been made it would be best if those in authority in both capitals paid more heed to each other's sensitivities.
The writer is a faculty member, School of Global and International Studies, Indiana University, Bloomington