Maid in US: Of diplomats & double standards
The US investigating agencies do not appear to have talked to Khobragade ever to hear her side of the story. US attempts to check abuses in their jurisdiction would command more respect if there were no double standards about protecting their own diplomats who misbehave abroad.
Ramesh Thakur
L'affaire Khobragade mushroomed out of control and caused disproportionate diplomatic damage because the US badly misread it as an isolated incident. It raised too many issues of foundational principles and personal (of every Indian diplomat), institutional (of its foreign service) and national interests for New Delhi to ignore it or back down. Unless the charges are dropped and an official apology issued, closure will prove difficult and the diplomatic fallout could linger.
Western media's bias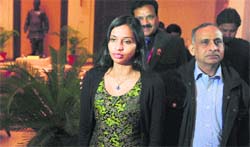 Devyani Khobragade with her father Uttam Khobragade (R) upon her arrival at Maharashtra Sadan, New Delhi, on January 10. Reuters
India will also be disappointed by the Western media bias. It is rare for India's political parties, media and public to be united on any issue (hence Amartya Sen's "argumentative Indians"). This should have made Western media ask: What do all Indians see that we are missing? Might there be just the tiniest possibility that they are right? The New York Times, Washington Post, Guardian and Financial Times published several editorials and opinion articles harshly critical of India and not one giving its side of the story. Sometimes, they were guilty of outright dishonesty, mentioning previous Indian diplomats caught in similar troubles but staying silent on more heinous crimes committed by US officials, from accidental deaths in Kenya to murders in Pakistan.
Western journalists should wake up and smell the coffee. With market growth most likely in the emerging countries, they can ill afford a fatal dent to their global credibility for impartial news and analysis. They should also consider just how extraordinary and objectionable US assumptions, actions and behaviour have been. The West's capacity to impose its morals, laws and will on others is fading. This is most evident with Beijing as it faithfully begins to copy US contempt for international law when inconvenient but enforces it on others when necessary. China's leaders are internalising the US habit as the norm for a "first-class power".
Conflicting narratives
There were two sets of competing narratives. The first posited the maid as scheming to gain permanent entry to the US by levelling false accusations against the diplomat underpaying and overworking her. The second accused India of shielding reprehensible feudal practices and US proving both its egalitarianism and commitment to the rule of law, against the alternative of the ugly American syndrome of bullying and double standards. On both counts, the evidence in the public realm is inconclusive but the balance of probability favours the diplomat in the individual and Delhi in the official contentions. Regardless, the US media accepted the maid's and US narratives.
The law must prevail. Yes, but there are four twists to this simplistic slogan.
First, whose laws and why? This case was already before India's courts which have proved more robustly troublesome to India's government than their US counterparts. It involved a contract signed in India between Indian citizens, with the government as an interested party. For the US to privilege its legal process in defiance of India's courts was provocative. To do so by impugning the integrity of India's judiciary betrayed contempt for its legal system. To evacuate the maid's family from India disrespected its government.
Second, charging India's Deputy Consul-General with human trafficking and subjecting her to degrading treatment was an incendiary provocation. (Is there an uglier example of bureaucratese than "standard operating procedure for arrestee intakes"?) The maid was a legally contracted employee on an official passport with free board, lodging and health benefits plus paid annual trips home. Are US minimum wages so generous they would permit a guaranteed minimum monthly saving of $500 (almost three times India's per capita income) sent home as remittances? Wage dispute, yes. Visa fraud, possibly. But human trafficking? To paraphrase John McEnroe, "You cannot be serious".
Third, are US NGOs and attorneys engaged in a de facto plea bargain extortion racket? Advocacy NGOs have an institutional bias in favour of domestics whose complaints advance their agenda, but lack the forensic skills and inclination to investigate impartially. The case also shows the risks of moral grandstanding by a politically ambitious prosecutor. The structural incentives of the costly legal process explain why drivers, doctors and IT companies pay up against drivers at fault, malicious malpractice suits, and patent trolls. The costs of taking the case through the courts vastly outweigh settling it quietly and getting on with life.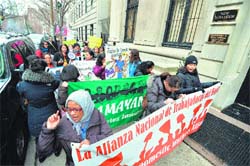 Advocacy NGOs may have a bias in favour of domestic workers. A group supporting domestic workers' rights stages a demonstration in front of the Indian Consulate in New York. AFP

Similar considerations apply to foreign officials charged with misdemeanours and crimes in New York. A prosecutor can file a serious charge to encourage plea bargain of guilt on a lighter count as a low-cost triumph for himself. Most prosecutors are not so Machiavellian. Only the naïve will believe no one is. This case quickly descended into "she said, she said". The investigating agencies do not appear to have talked to Khobragade ever to hear her side of the story. How could they possibly come to a reasonable conclusion without doing so, unless they had already made up their minds on her guilt pursuant to their own agendas?

Fourth, one means of restructuring the incentives is the Vienna conventions on diplomatic and consular relations. They are often abused and cause resentment in many countries. Yet the immunities distil centuries of experience as the only practical protection against malicious and trumped up charges. Normal diplomatic discourse and everyone's public interest would be harmed without them.

Even a cursory textual analysis shows US actions were likely in violation of several clauses of the Vienna convention on consular relations (and, if Khobragade was indeed cross-accredited to India's UN mission on the date of her arrest, the convention on diplomatic relations also). In addition to a textual interpretation, context, shared understandings and state practice are also relevant. India's Foreign Ministry seems to have worked with the US Embassy in New Delhi, which failed to keep the State Department in Washington fully informed of the mutual understandings regarding India-based domestic assistants working for Indian diplomats. Furtively ferrying the maid's family from India is prima facie evidence of premeditated US bad faith.

US attempts to check abuses in their jurisdiction would command more respect if they were not bloody-minded about protecting their own diplomats misbehaving abroad. In the age of Internet and social media, such instances are quickly retrieved and flashed around the world. Last August, Joshua Walde's speeding SUV rammed a mini-bus killing one and injuring eight Kenyans. The US embassy whisked him out of Nairobi the next day. In the case of Raymond Davis, a consular official who killed two Pakistanis, then-Senator John Kerry said in 2011: "This case does not belong in the court" because Davis "has diplomatic immunity." Washington should have handled the affair within the Vienna convention. If it wished to end the prevalent practice of diplomats employing home-based domestic staff, it should have taken up the matter with India's government. If Khobragade's alleged offences were criminally outside the norm, it should have worked with India to file charges in the US (with India waiving immunity) or in India. If Delhi proved non-cooperative, she could have been expelled persona non grata — a very rare public slap among friendly democratic governments.

Indian reaction

India unilaterally gave US officials courtesies well in excess of legal obligations. When Delhi responded to the physical mistreatment of its diplomat by paring back privileges and facilities of US officials on strict reciprocity — no more, but no less — it was accused of hypocrisy and over-reaction by the US media. Indians queried why they had been so pampered in the first place. Efforts to be reasonable in past provocations (among the targets of heaviest NSA surveillance, India reacted the most mildly with a diplomatic shrug) were mistaken for weakness and earned neglect and contempt. Hardball diplomacy worked. Standing up to arbitrary US high-handedness won the admiration of most and gratitude of many countries — even Pakistan expressed support. For all the self-righteous indignation from Westerners who want to be the world's moral compass, after the tough response, India can be confident proper procedures will be followed in future, while Washington will find it harder to extricate US diplomats in difficulty with the law abroad.

Culture of entitlement

Nevertheless, for India's government and bureaucracy, the detested "VIP" culture of entitlements, corruption and cronyism, responsible for the stunning triumph of a neophyte party in the recent Delhi elections, is starting to create foreign policy headaches. Also, the institutional capacity for managing increasingly complex external challenges requires a rapid expansion of personnel and resources, and modernisation of recruitment, training and promotion procedures.

And the Indian elite must learn to treat domestic staff as humans with rights and dignity, not servants to be abused and exploited.

Most importantly, India must fix its multiple governance deficits and reinvigorate a sustained high-growth trajectory. The political drift and policy paralysis afflicting this government has been an international and domestic disaster for the country.

While it's too much to hope for any firm direction before the election, whichever party or coalition takes office after May must address the major policy challenges with a sense of conviction, commitment and urgency.

— The writer is professor in the Crawford School, the

Australian National University.

Timeline

* November 2012: Sangeeta Richard, the maid, arrives in US to work for Khobragade.

* March 2013: Khobragade files a lawsuit against Richard in Delhi HC.

* June 23: Richard leaves home to buy groceries, does not return.

* Sept 20: Justice Jayant Nath notes grievance about employment, salary or ill-treatment can only be adjudicated by Indian court.

* Dec 2013: Khobragade arrested while dropping daughter to school.

* Dec 18: India transfers her to UN Mission, provides immunity.

* Dec: 24: India limits immunity for US diplomats, withdraws it for kin

* Jan 8: India orders US to close embassy club for expat Americans.

* Jan 9: India refuses US request to waive immunity. US mission to UN files diplomatic note with Indian mission for Khobragade's departure.

* Jan 9: US judge denies diplomat's request to extend Jan 13 hearing

* Jan 10: After getting immunity, Khobragade returns to India.