One arrested for snatching attempt
Amritsar, January 21
There is no respite from snatching incidents in the city. A couple of cases were reported in the past 24 hours.
PROTEST ENTERS DAY SIX
Sympathy for safai sewaks dries up
Amritsar, January 21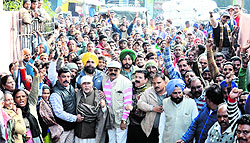 The logjam between the safai sewaks and the Municipal Corporation remains unresolved even as the MC is planning to hold a meeting in this regard tomorrow. The safai sewaks are protesting the handing over of the proposed solid waste management to a private company for 27 years.

Class IV employees of the Municipal Corporation stage a protest in Amritsar on Tuesday. Photo: Vishal Kumar

Bharat Ratna for Dhyan Chand demanded
Amritsar, January 21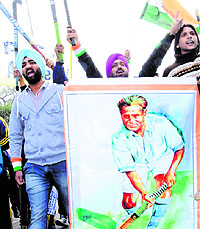 Various local organisations staged a rally here today demanding Bharat Ratna award for hockey legend Major Dhyan Chand. The participants in the rally included NGO members, sports lovers and students of schools and colleges. The participants also took out a march on the roads in Company Bagh area. They were shouting slogans to demand Bharat Ratna for Dhyan Chand. The rally was addressed by Olympian Brigadier Harcharan Singh, Senior International hockey players Balbir Singh, Paramjit Singh Randhawa, HS Walia and Balwinder Singh among others.


Hockey lovers stage a protest march demanding the Bharat Ratna for hockey legend, Major Dhyan Chand, in Amritsar on Tuesday. Photos: Vishal Kumar

Detention victim doesn't want action against cops
Amritsar, January 21
In a new twist to the alleged police torture case, the complainant told the police that he did not want any action against the accused cops.
Snatching incident turns out to be drama
Amritsar, January 21
The snatching incident in which a gold jewellery artisan had claimed that he was robbed of gold to the tune of Rs 30 lakh by motorcycle-borne assailants, turned out to be drama.
Residents welcome reduction in property tax
Amritsar, January 21
Residents welcomed the state government's announcement of dropping property tax from 7.5 per cent to 3 per cent on residential properties and extension of the last date for paying the tax with a rebate of 10 per cent by March 31.
from colleges
Lecture on poverty in country
Sant Singh Sukha Singh (SSSS) College of Commerce for Women organised a lecture on the topic, "Why is India Poor?" on its campus today. Dr Parth Shah, founder president, Centre for Civil Society, with the Liberal Youth Foundation presented a power point presentation on the topic and threw light on the issue with facts and figures.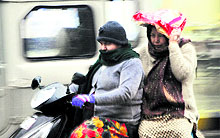 caught unawares:

A spell of rain catches residents, travelling on a two-wheeler, suddenly in Amritsar on Tuesday. Photo: Vishal Kumar

Habit-forming drugs seized
Amritsar, January 21
The Government Railway Police (GRP) confiscated a huge quantity of habit-forming drugs abandoned at the waiting hall of the railway station here today. The proscribed drugs were wrapped in polythene and put in a black colour bag.
Residents for action against quacks
Amritsar, January 21
Even as advertisements claiming fast and assured relief in some medical conditions are being published almost daily in local newspapers and aired on local channels, the administration seems to be looking the other way.
Woman among 2 held for theft
Amritsar, January 21
The Sultanwind police have arrested two persons, including a woman, for allegedly stealing gold jewellery worth Rs 9 lakh on December 21 last year. Addressing a press conference here today, police officials said, Jeewan Lal, a resident of Tahliwala Chowk, Sultanwind road, told them that one Mahesh Kumar, a resident of Unao district in Uttar Pradesh, had developed illicit relations with his wife.