Rain submerges city, cheers farmers
Tribune News Service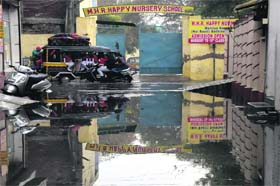 A view of the city road submerged under rainwater on Wednesday. Tribune photo: Pawan Sharma
Bathinda, January 22
After days of experiencing foggy mornings, the city was today lashed by rainfall as the skies opened up right in the morning. Initially, only parts of the city were drenched, but by noon, the entire city was covered under the spell of it. Till late evening, the city had received 16 mm of rainfall.
Interestingly, as per the agri-met department of PAU regional station, Bathinda, the rainfall didn't add to the chill in the air. While on Tuesday, the minimum and maximum temperature were recorded at 9.5 and 16.2 degree Celsius, respectively, on Wednesday, the minimum temperature increased considerably to be recorded at 13.2 degree Celsius while the maximum temperature remained almost static at 16.5 degree Celsius. The wind velocity was recorded at 9 km per hour.
Dr Rajkumar of the agri-met department of PAU said the rainfall was not seasonal and the region seldom received rainfall at the end of January.
According to the latest weather forecast released by the station, the region may receive more rainfall in the next 24 hours. There is also the possibility of a rise in the minimum temperature and dip in the maximum temperature.
As per the Indian Meteorological Department, Bathinda and its adjoining areas may experience thunderstorm accompanied by rain on Thursday while the city may experience clear sky over the next three days.
Good news for farmers
According to agriculture experts, the rainfall had brought good news for the farmers. Chief agriculture officer Rajinder Singh Brar said the rainfall would bring respite from the dry cold wave and hence, was good for the crops.
"The rainfall has naturally watered the fields which needed a second round of irrigation. It has also brought respite from the dry and cold weather. After one more spell, the weather will open and will be followed by bright sunshine, which will be beneficial for the wheat crop which was reeling under prolonged dry cold wave," he said.
Waterlogging problem plagues residents
Showers led to water-logging in the low lying areas of the city today. All the main markets, GT Road, Ajit road, Power House road, 100 feet road and other pockets were almost submerged under rainwater.
The Municipal Corporation Bathinda (MCB) employees were pressed into service and by evening, water was drained off from these areas.
Already, the work on de-silting the main trunk sewer on GT Road is in progress, preparing the sewer pipes to meet with the demand of carrying rainwater and slush. Four machines have been put on work on the GT Road.
Meanwhile, agriculturists say the showers are good for standing wheat and potato crop.