Woman masterminded Pinki's murder; arrested
Chandigarh, January 23
The Chandigarh Police today arrested two more accused, including a 30-year-old woman, for the murder of 11-year-old Pinki, a resident of Palsora. The accused have been identified as Suneeta, alias Billa, and Bhjagat Singh, alias Manga.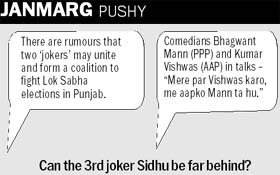 Audi-Tavera accident
Court dismisses accused's plea
Chandigarh, January 23
After receiving flak from the Punjab and Haryana High Court for shoddy investigations in the Audi-Tavera accident case, the UT police were again viewed as being too soft on an accused today.
Transfer of rights
CHB to revoke decision
Chandigarh, January 23
The Chandigarh Housing Board (CHB) is all set to revoke its year-old decision to link building violations with transfer cases of its dwelling units. Allottees will now be asked to give an undertaking while applying for the transfer of rights of their dwelling units.


| | |
| --- | --- |
| Staged act: Artistes from Allahabad enact a scene from the play "Batwaare Ki Aag", penned by Vinod Rastogi, during the 9th TFT Winter National Theatre Festival at Punjab Kala Bhawan, Sector 16, Chandigarh, on Thursday. Tribune photo: Pradeep Tewari | Colours speak: Participants at a face-painting competition organised during the SCITRON-2014 at the Students' Centre in the Panjabi University, Chandigarh, on Thursday. Tribune photo: Manoj Mahajan |

City's connectivity gets a boost
Chandigarh, January 23
The Chandigarh-Yesvantpur Express has connected the city with Bengaluru. MP Pawan Kumar Bansal flagged off the train at 10.35 am today. It will reach Yesvantpur at 5.30 pm on January 25.

MP Pawan Kumar Bansal flags off the train on Thursday. Tribune photo: Parvesh Chauhan



poor sanitation
GMCH-32 too lazy to monitor contractors
Chandigarh, January 23
After outsourcing housekeeping and sanitation services last year, Government Medical College and Hospital (GMCH), Sector 32, went into inactive mode. The authorities never made any attempt to monitor contractors. Despite spending Rs 3.33 crore in 2012-13, sanitation remains a casualty to date.


Basic amenities at Deep Complex
Laying of pipes gets civic body's nod
Chandigarh, January 23
The Chandigarh Municipal Corporation (MC) General House today unanimously decided to go ahead with the laying of pipes for the sewerage system and providing the facility of potable water to residents of Deep Complex.
Councillors argue during the Municipal Corporation General House meeting at Sector 17, Chandigarh, on Thursday. Tribune photo: Pradeep Tewari
Mayor to appoint members of three panels
Chandigarh, January 23
The General House today empowered the Mayor to appoint members of three committees, including the Road Committee, Water Supply and Sewerage Disposal Committee and House Tax Assessment Committee.
UT fails to comply with JERC directions but still seeks hike
Chandigarh, January 23
The UT Electricity Department has sought 21 per cent hike in power tariff, yet they have failed to comply with many directions issued by the Joint Electricity Regulatory Commission (JERC).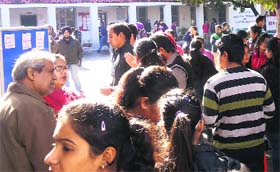 Candidates wait outside the examination hall at the Centre for IAS & Other Competitive Examinations, Panjab University, Chandigarh, on Thursday. Around 300 students took the test to get admission to the centre, which prepares students for Civil Services examinations at a nominal fee. The centre has 50 seats. The result will be declared on Friday. A Tribune photograph
Firing incident: Tussle turns murky
Chandigarh, January 23
Frainy Ahuja, former Mrs India of 2006, against whom the general secretary of People's Party of Punjab had levelled allegations of firing at him in Sector 8 three days ago, today addressed a press conference and said that the allegations against her were baseless.
PGI procures generic medicines on discount
Chandigarh, January 23
For the first time, the PGI's private grant cell has procured generic medicines at a discount of 83 per cent. This is the highest discount obtained in any rate contract in the history of the institute.
Post of conductor in CTU
CAT quashes criteria
Chandigarh, January 23
The Central Administrative Tribunal (CAT) today quashed the impugned selection criteria of shortlisting the candidates for the post of conductor in the Chandigarh Transport Undertaking (CTU).


lifting of garbage
Despite security, sweepers obstruct work
Mohali, January 23
A few dumping points in the town were today cleared by the workers deployed by the Municipal Corporation (MC) under complete police protection. The work of lifting garbage was started from Phase XI.
Sanitation workers protest at Phase XI in Mohali on Thursday. Tribune photo: Parvesh Chauhan

Mohali SSP rushes accident victims to hospital
Mohali, January 23
Mohali Senior Superintendent of Police (SSP) Inder Mohan Singh Bhatti played good samaritan when he came to the rescue of two accident victims here this evening. Unfortunately, the teenaged victims, 16-year-old Gurpreet Singh (a student of Class VIII) and 19-year-old Kamaljit Singh (unemployed) succumbed to their injuries on the way to the Civil Hospital in Phase VI.


Mohali SSP Inder Mohan Singh Bhatti. A file photo

Authorities fail to bridge gap between Jagatpura and city
Mohali, January 23
The authorities can never comfort residents.The construction of a bridge connecting Jagatpura village with Chandigarh and Mohali has been hanging fire, but the Administration has failed to do the needful.
(Clockwise from right): Residents face inconvenience in the absence of a bridge connecting Jagatpura village with Chandigarh and Mohali; an auto stuck in slush and residents forced to take a broken road at Jagatpura village. Tribune photos: Vicky Gharu
Mixed response to Arvind Kejriwal's protest in Delhi
The initiative by AAP to remove corruption from the country has given some hope to young voters. Though the party has not come up with any agenda, which directly benefits the youngsters, the issues it is raising are related to them.
HUDA seals 6 makeshift liquor vends
Panchkula, January 23
The Haryana Urban Development Authority (HUDA) today sealed six makeshift liquor vends/taverns at various sites here as they failed to deposit the annual land lease charges. The sealed liquor vends/taverns include the ones at Sector 16, Sector 20, Buddanpur village (two vends) and industrial area (two vends).


DSP Vijay Kumar cremated
Chandigarh, January 23
Deputy Superintendent of Police Vijay Kumar who died following a heart attack yesterday was cremated with full state honours today. City residents, local politicians, senior police officers and UT Administration officials attended the cremation at the Sector 25 cremation ground.
DSP Vijay Kumar was cremated with state honours at the Sector 25 Cremation Ground in Chandigarh on Thursday. Tribune photo: Manoj Mahajan
MC introduces online system to deposit property tax in Zirakpur
Zirakpur, January 23
The Zirakpur Municipal Council (MC) has set an example in Punjab by starting the online system of depositing the property tax. Executive officer of Municipal Council Parminder Singh said the online web address for depositing the tax was www.mczirakpur.com.
Unable to join as DUI: Prof Jaswal
Chandigarh, January 23
Professor PS Jaswal, the Vice-Chancellor of Rajiv Gandhi National Law University, Patiala, has expressed his inability to join the Panjab University (PU) as the Dean, University Instructions (DUI).
Manch wants UT to declare Punjabi as official language
Chandigarh, January 23
The Chandigarh Punjabi Manch has decided to hold a dharna at Sector 17 here on February 21 in support of its demand for declaring Punjabi as the official language in Chandigarh.
career in army
43 selected under University Entry Scheme
Mohali, January 23
The Indo Global Colleges organised a placement drive on its campus for selection of commissioned officers in the Army. The recruitments are being made under the 24th University Entry Scheme for permanent commission in the Army for July 2015.
PU bags central programme in biotechnology
Chandigarh, January 23
The Panjab University (PU) has been sanctioned an innovative industry oriented research programme titled university innovation cluster in biotechnology (UIC-B). The Government of India selected the university considering its impressive record in the field of biotechnology.
PGI orthopaedician awarded
Chandigarh, January 23
Dr Nirmal Raj Gopinathan, an assistant professor, Department of Orthopaedics, PGIMER, has been awarded with the Best POSI paper award in the 20th annual conference of the Paediatric Orthopaedic Society of India (POSI) held at Chennai.


FROM SCHOOLS
Republic Day celebrated
Panchkula: Hallmark Public School here organised the Republic Day celebration with a difference. Considering the need for making learning and education in society an 'inclusive' process, students of the school undertook activities for the underprivileged children, who do not have access to creative endeavours and to gain formal knowledge due to meagre financial resources and other reasons.
Participants at a poster-making contest held during a workshop on energy conservation conducted at The British School, Sector 44, Chandigarh, on Thursday. Tribune photo: Parvesh Chauhan