Namdeo Dhasal : A Poet Panther
Poetry for Namdeo Dhasal, whose poems were like a punch in the face, was a weapon to fight class oppression
Nilkanth Avhad
when by marshalling the suns burning in the blood, advances the poetry of Namdeo Dhasal, I become spellbound by experience of its revolutionary fervour. It has since long demolished all the bridges of compromise and vowed to destroy the established system in its entirety." This is the eloquent way eminent Marathi playwright the late Vijay Tendulkar had described the poetry of this great Panther who breathed his last on this January 15, after losing the battle with colorectal cancer.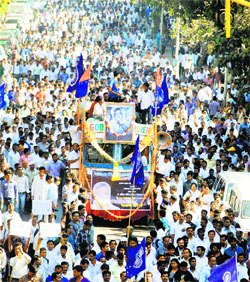 The funeral procession of the Dalit poet Namdeo Dhasal in progress. The crowds are an indication of his power over the people —PTI
Poetry as tool
Namdeo Dhasal considered poetry as a weapon to be used in the class struggle. For him, writing poetry was akin to initiating a political action. He had absolute clarity about his role and the use of the medium. For him, words were like real bullets and were not to be wasted like shots from a toy gun; but were to be used carefully. He knew very well what he is saying when he wrote the lines like "I am the venereal sore in the private part of language". When in his poem "Man, you should explode," he said,
Man, you should drink human blood, eat spit roast human flesh, melt human fat and drink it
Smash the bones of your critics' shanks on hard stone blocks to get their marrow, it took a time to understand the pain and anguish behind this cry.
Born in 1949, in a village Pur-Kanersar near Pune, this only child who survived for his parents, moved with them to Mumbai in the year when Capitol Cinema outside VT station was showing Mother India. His father use to work as a porter for the butcher and found shelter in Dhor Chawl in Central Mumbai where city's oldest red-light area Kamathipura is located.
Pain of people
Here, 10-15 human beings used to live in every single room in hardly human conditions. In his early life in the village he had lived, seen and realised the stigma of being a Dalit; here in Mumbai he was with the people who were the most oppressed by the system. He grew up absorbing the pain of people around him who were pimps, sex workers, money lenders, drug addicts, petty criminals, contract killers, street urchins, gangsters, singers and mujra dancers, folk balladeers, tamasha artists, coolies, immigrant labourers, food vendors, and all sorts of people. His teacher in school was a master of old Marathi literature and he shared everything with Namdeo. He felt the deep impact of Dr Ambedkar and his teachings and in one of the poems he says:
You didn't allow your followers to hero worship you.
I have committed this crime after you were gone.
I couldn't do without writing
The poetry of your achievement-(From "Tujhe Bot Dharoon Chalalo Ahe Mee").
Life's mission
His sensibilities were also nurtured by memories of music from tamasha, which his close relatives were a part of and also religious traditions of the Varkari Sampradaya and Nath sects. Everyone and everything he saw, lived by and with, found voice in his poetry, obviously for achieving the mission of his life. And that life mission was to oppose all forms of exploitation. He considered his poetry as a product of spontaneous commitment to his mission. His first collection of poetry, Golpitha was published in 1972. Vijay Tendulkar described the world known as "Golpitha in the city of Mumbai, begins where the frontier of Mumbai's white-collar ends and no-man's land opens up. This collection is a landmark in Marathi poetry. He knew Mumbai inside out and captured shades of last grade of life in essence and presented it with a strong desire to overthrow this system in a language which was till then unknown. It shocked Marathi literature and its readers and dazzled the critics.
His later collections of poetry are Moorkh Mhataryane Dongar Halvile ; Tujhi Iyatta Kanchi?; Mee Marle Sooryachya Rathache Ghode Saat; Tujhe Bot Dharun Chalalo Ahe Mee; Khel; Priyadarshini, Ya Sattet Jeev Ramat Nahi. He wrote two novels and was a regular columnist. His writings had an indelible impact on the Dalit movement and literature of the age. Namdeo was awarded the Padma Shri, the Soviet Land Nehru Award ans was the only writer to be conferred with the Special Sahitya Akademi Golden Jubilee Award as Life Time Achievement Award in 2004. In 2001, he was a special invitee at the Berlin literary festival.
Politics of protest
Namdeo was the co-founder of the mass movement Dalit Panther in 1972 as an inspiration from the American Black Panther Movement. This inspired thousands of Dalit youths across Maharashtra for continuous action and protest against the oppression that Dalits faced. He had a smile that could befriend anyone. His individual and collective life had been through such tremendous upheavals that he was once beaten and left for dead and suffering from myasthenia gravis since 1980; he felt that he could reach this far only because he had poetry to fall back upon. Though he addressed the rallies attended by half a million people at Shivaji Park he always wanted to be with people. He loved crowds and was always eager to hear that roar of consent from them.
The renowned bilingual writer and critic late Dilip Chitre, who selected, introduced and translated Namdeo Dhasal's poems under the title "Namdeo Dhasal, Poet of the Underworld", says that "He is not just the foremost among Marathi Dalit poets. He is arguably the foremost Marathi poet, one of the foremost poets of India and a poet of world stature. It seems to me that Namdeo is a great poet because he understands that great poetry integrates rather than divides humanity, becoming the anguished expression of the human condition in its own space and time".
Transcending narrow barriers
Poets of Namdeo's stature are literary artists first: Their nationality, language, race and cast are transcended by their human achievement in voicing a new awareness of their creative identity as human beings."
This voice can be heard in Allhu Akbar where Namdeo Dhasal writes:
Sparrows of darkness clustered on the eyes are flying away
I see the legs of homeless urchins in the graveyard/ Let's filter out the Shia and the Sunni dargahs inside ourselves
Let's weep upon every grave/
Allhu Akbar"
The eminent Marathi writer Vyankatesh Madgulkar, had once said about his own writings that if he had eaten four-day-old pieces of rotis wrapped in piece of cloth after dipping for loosening them in a stream of water, his language would carry their smell. If I have to name one poet, whose poetry carried that odour/ smell/ stench of pain, humiliation, suffering, agony, anguish and the anger, raw courage, desire and commitment to destroy the system which created this and everything related to it for unification of humanity, I will name Namdev Dhasal.
Dhasal is survived by his wife, writer-poet Mallika Amar Shaikh, a son and countless admirers. Rest in peace Panther! — (The other two translations of his poems are from Golpitha, 1972, and all three have been translated into English by Dilip Chitre)
— The writer can be contacted at 1.nilkanth@gmail.com
Dhasal's works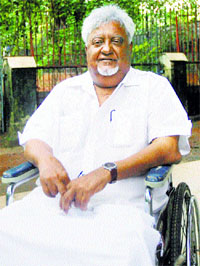 Namdeo Dhasal, poet of the downtrodden

Golpitha (1972)

Tuhi Iyatta Kanchi (1981) (Which is your Class?)

Khel(1983) (Play)

Moorkh Mhataryane Dongar Halavile (1975) (The Stupid old Man Moved Mountains)

Amchya Itihasatil Ek Aprihary Patra : Priya Darshini(1976) (An Invetible Character In Our history)

Ya Sattet Jiv Ramat Nahi (1995) (The Soul doesn't Find Peace in this Regime)

Gandu Bagichha(1986)

Mi Marale Suryachya Rathache Sat Ghode (2005) (I Slew The Seven Horses of the Chariot of the Sun)

n Tuze Boat Dharoon Mi Chalalo Ahe (2006)
(Holding Your Finger I Walk On)
Prose

Ambedkari Chalwal (1981) (Ambedkarite Movement)

Andhale Shatak (1997) (Century of Blindness)

Hadki Hadavala Ujedachi Kali Dunia (Black World of Light)

Sarva Kahi Samashtisathi (Everything for Sameshti)

Buddha Dharma: Kahi Shesh Prashna
(Buddha Dharma: Some Leftover Questions)
Life course

At 23, he burst upon the city's literary scene with Golpitha. He plied a cab to make ends meet & did creative writing simultaneously. Did cover design and illustrations for Golpitha's first edition himself. The backdrop for the cover was a form of the Municipal Corporation of Greater Bombay's Venereal Diseases Clinic.

His works have been translated into German, French and Italian

An ardent follower of Dr Ambedkar, with friends Raja Dhale, J V Pawar and Arjun Dangle, launched Dalit Panthers in 1972. Wanted to provide a rallying point for young Dalits to organise continuous action and protest against oppression of Dalits.

V S Naipaul in his book Ìndia: a Million Mutinies Now has devoted almost 25 pages to his meeting with Dhasal. It is felt that, may be owing to limitation of language in dialogue he could not capture Dhasal's essence.

VHenning Stegmuller, a reknowned German ethnographic documentary filmmaker, in 1994 made Bombay: Geliebte Moloch, a one-hour film on the city that he jointly scripted and directed with Dilip Chitre. Dhasal is a key figure in the film.

For nearly a decade, Dhasal led the movement for empowerment of newly-awakened Dalit youths.