Why you should listen to 'Y'
A survey tells us that young Indians have a vision and, yes, they definitely have a voice
Aditi Bishnoi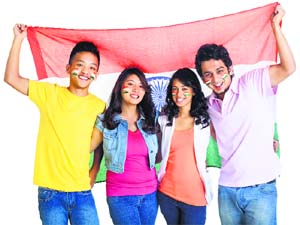 So the young in India are a self-absorbed, me-first generation. All they want to do is hang out with friends and have fun. They don't want a stake in the fate of their nation and are clueless about the future. Right? You couldn't be more wrong. They want a better education and gainful employment. They are committed to securing fair land and forest rights. They have an opinion on the rising costs of healthcare.

Seven major promises
---
SocietY
"Make us participants in nation building"
Here's what a cross-section young people from across India have to say about the state of their nation, its politics and its social system. These are voices of discontent, scepticism, energy, inspiration and, yes, eternal hope for a better future
Aditi Bishnoi


ALL ABOUT THE YOUTH MANIFESTO


Youth speak up - loud and clear
---
ArtS
That Boombastic Sound!
Boomarang, the four-member band from Mizoram which has been selected from all over the country to perform with Contrabands, reveal about what makes keeps them going
Swati Rai
THE Mizoram-based four-member rock band Boomarang is back on the music scene. It recently bagged a 360 degree deal as part of coveted Contrabands, a joint venture between Universal Music India, Vh1 and Hard Rock Caf`E9. The band, which is thrilled with the recognition and fame that comes, along with the encouragement, proudly proclaims, "We won not only a recording contract, artiste management but also a multi-city album launch tour!"

Broad Brush
---
FITNESS
GOOD HEALTH
The new superfood
Because of its high-nutritional value and health promoting properties, quinoa has been recognised by the UN as a supercrop
Ishi Khosla
Quinoa was called the "mother grain" by the Incas in the Andes region of ancient South America, where it originated. Revered and sacred to them, it has been a staple in the region for almost 5,000 years. A small seed which looks like a cross between sesame seeds and millets, it is unrelated to the grain family. In fact, a cousin to spinach, it produces edible greens like amaranth greens, is hardy, needs little water and high altitude.

Some easy recipes


Health Capsules
---
TraveL
Chilling in the City of Joy
Winter in Kolkata is the time for salubrious weather that adds a zing to all festivals and festivities
Kavita Kanan Chandra
There is a nip in the air but a spring in the feet of Kolkatans as they welcome the winter months. No city in the country embraces the winter with so much enthusiasm, fun and fiesta marking the days and nights. Come winter and there is a buzz in the streets of the City of Joy. The sweltering heat and perspiration that plague the citizens for the better part of the year make way for salubrious weather that adds a zing to all winter festivities.

Globetrotting
---
EntertainmenT
Riding high
Atop the crest of success, Mika Singh whose voice has become a sure-fire guarantee for superhit chartbusters, is enjoying every bit of his fame and is rather upbeat about being the toast of Bollywood music
Nonika Singh
Once upon a time a time, he was dismissed as pop icon Daler Mehndi's brother with little talent. Then he made news for all wrong reasons as one after another controversy (remember Rakhi Sawant and the infamous kissa kiss ka) trailed him. Today singing sensation Mika Singh is basking in the limelight for belting out one after another superhit song. As whatever he sings turns gold, he has every reason to preen. And he does.
A fascinating documentary
Karan Bali's An American in Madras is a well-researched documentary on filmmaker Ellis R. Dungan, directed 11 successful feature films in Tamil, one in Telugu, without knowing a word of either language
Shoma A. Chatterji
Few Indians, including film buffs across the country, know that once upon a time, there was a full-blooded American, who made blockbuster films in South India. He came for a short while but stayed on for 15 years and directed 11 successful feature films in Tamil, one in Telugu, without knowing a word of either language. Karan Bali, an FTII alumnus in editing, who is also co-founder and content-in-charge of Upperstall.com, a website on Indian cinema, recently made a well-researched documentary on this gentleman and aptly named the film An American in Madras.