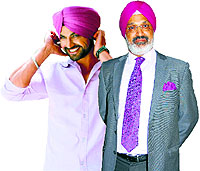 Head held high
Often the audiences talk about his infectious laughter that oozes out and his rhetoric that is like an active volcano; apart from that Navjot Singh Sidhu also makes one sit up and admire the bright and colourful shades of his turban, which are matched amazingly well with the rest of his wardrobe.



colour full: (L-r) kARTAR cHEEMA and jAGPREET sINGH

On creative wings
This actor doesn't fit into a pattern. A late bloomer, Boman Irani has strengthened his place in the film industry in no time. A creative streak was always there in Boman even when he was handling his family's bakery business.
Young tune
Sunny Singh, the nephew of Sukhbir who once rocked the music scene with Ishq Tera Tadpave, is making a lot of waves with his live performances. He has already brought out two albums Ola Ole as well as Sunny Singh's Ik Glassy and is all set for releasing the third. Music is in the blood of 30-year-old Sunny. "I grew up listening to Gurbani renditions by my grandfather.

sing along: Sunny Singh
green thumb
A whiff of white
Have you ever noticed that most of the fragrant flowers are white in colour? And this is true in case of shrubs, herbs, bulbs, climbers and even trees. Let us discuss some of these.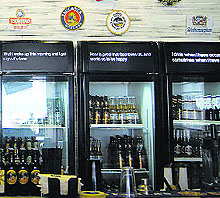 It's pouring beer
The Beer Café launched its Chandigarh outlet in a unique way with Brews Cruise. Guests were taken through a beer appreciation session to understand the different kinds of beers available and the history of how this great beverage was created. To kick off the event, guests were taken through the process of Perfect Pour for beers followed by the beer tasting. The first in line was a quirky and refreshing Hoegaarden draught beer, which gave a taste of slight orange and coriander.
Weight watch
Nothing Greek about it!


Fenugreek is an herb which is commonly called methi in India. Fenugreek is truly a wonder spice. Fenugreek is a popular culinary spice that is also widely used in the treatment of various disorders. The seeds of the fenugreek plant contain niacin, protein, diosgenin, fiber, iron, potassium, lysine, L-tryptophan, alkaloids, vitamin C and potassium.
TRENDSETTER
Driving force
Jasreman Maken, 19, who is currently pursuing her bachelor's degree in Arts from MCM DAV College, says, "Dress designing is my passion. Since childhood, I have been fond of cars and I love to go for long drives with my friends."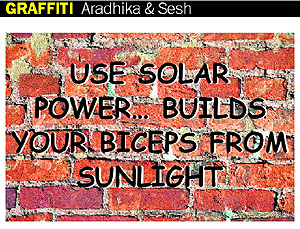 Future Shock
Get connected
For all those who want better connectivity and faster internet, Chandigarh now has a solution! We will have access to 4G, which is the next generation in mobile communications. Tricity is the fourth place in the city to get 4G after Kolkata, Pune and Bengaluru.
Master Chef
Mexican mauj!
Give me tangy tomatoes, the sharpness of hot chillies, sweet bursts of corn, soft-cooked beans, fragrant cumin and cinnamon, a scattering of cheese and voila! We can have a perfect Mexican dish.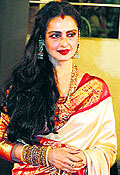 star track
Rekha to return to silver screen
We all know that UTV Motion Pictures had earlier approached Sridevi to star in their upcoming ambitious film Fitoor. But due some reasons, the English Vinglish actress didn't take it up.

Come back: Rekha
chatter box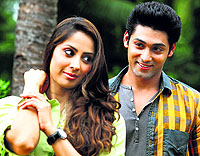 Going strong
It's time for celebration for the cast and crew of Sony Entertainment Television's Kehta Hai Dil Jee Lee Zara. The show has successfully completed one hundred episodes and has received tremendous accolades worldwide. The show is a mature love story between Saanchi, a strong independent woman, and Dhruv, who lives life to the fullest. Recently, this love story has gone through a lot of twists and turns.

Kehta Hai Dil Jee Lee Zara
The year ahead
If your birthday is January 31...