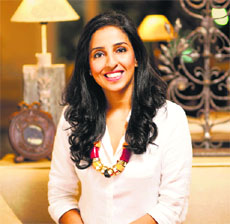 The shoe story
Since only the wearer knows where a shoe pinches, only you can help yourself by discovering what makes you feel comfortable! Even as international shoe designers are opening up stores in India, our own shoe designers are making bespoke designs. Almost every retail chain for clothes has added shoes to their display as well catalogue. However, it still remains an accessory that hasn't got its due!



Nivedita Saboo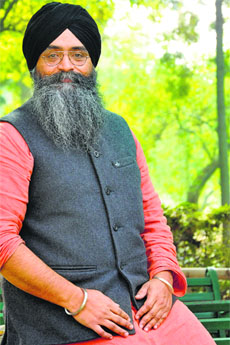 Social eye
Cinema holds the capacity to create, alter and influence opinion of the masses. Unfortunately, there are only a few, especially in the Punjabi film industry, who have truly explored the potential of cinema. In his first attempt at directing, producing and scripting a short Punjabi film, Sutta Naag, Amardeep Singh Gill underlines the magnitude of issues that haunt Punjab and its women through the emotional journey of a woman, Jeeto. "This film has been adapted from Sahitya Akademi Award winner Ram Sarup Ankhi's story titled Sutta Naag, which was written more than fifty years ago and was published in 1948," says Amardeep.






honest take: Amardeep Singh Gill Photo: Pradeep Tewari

Punjabi Tadka
One on One
He is the new kid on the block, different and full of life. The same shows in his music, where he makes a conscious effort to infuse life in it. Guru Randhawa from Gurdaspur, now based in Delhi, hit the music scene with Same Girl in 2012, and currently his album Page One is making rounds. Dardaa nu, Khali kartiyan sharaab di botlaa, Shadd gi are some of the tracks that you can't help humming. He lives life to the fullest, takes care of his style and wants to keep adding something new to the music pool. He talks confidently and candidlyÖ
itís rocking
Quite Be-coming
The new song that's creating waves this season is Rather Be, a song by a British group, Clean Bandit, featuring vocals from Jess Glynne. The track is the third single from their up and coming debut studio album. The song was penned and produced by Clean Bandit themselves, with Jimmy Napes serving as a co-writer. It is topping the UK top 40 charts. Want to know how it sounds like to the city folks? Read on!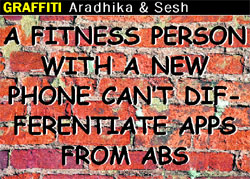 TRENDSETTER
Cool and composed
With more and more boys studying fashion and interior decorations, aesthetics is no longer a domain of women only. And then what do we have? An explosion of ideas for trends and methodologies of haute couture! Vishwas Bhandari, a student of interior designing at the Pinnacle Institute of Fashion Technology, prefers the cool' look.
Doc Talk
Aloe there!
Aloe vera is known as the wonder plant for its skin friendly properties
Expression of love
An element that connects two individuals together, a feeling that bonds them forever is love. Sometimes the words remain untold and sometimes you need to express it. Frazer and Haws has brought new rays of hope, happiness with its exclusive range of accessories especially created to complement your expression of Love. The collection of sterling silver includes photo frames to cherish you moments of love, Radha Krishna idols - sage of immortal love, candle stands and aroma diffusers. The price range starts with Rs 10, 000 onwards. ó TNS
star track
Child support
Amole Gupte is the chairperson of Children's Film Society, India. He also goes to schools in the city and holds film appreciation classes for children. He talks about child actors and more.



Arshad Warsi injured


No make-up for Rajatís cast


Compliments for Monali


More of Kaminey


Caps lock on


Star presence


Officially beautiful
chatter box
Frankly speaking
Having played various characters in shows like Pari Hoon Main, Banoo Main Teri Dulhann, Godh Bharaai, Mann Kee Awaaz Pratigya and Suvreen Guggal -Topper of the Year, among others, Mohit Malik is currently enjoying essaying the role of Samrat in Doli Armanon ki. He talks about his career and the role.



Accolades for Poonam


Friendly ties


Goodbye time


Couple chemistry