chatter box

Frankly speaking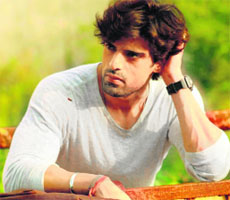 Role call: Mohit Malik
Having played various characters in shows like Pari Hoon Main, Banoo Main Teri Dulhann, Godh Bharaai, Mann Kee Awaaz Pratigya and Suvreen Guggal -Topper of the Year, among others, Mohit Malik is currently enjoying essaying the role of Samrat in Doli Armanon ki. He talks about his career and the role.
Are you enjoying playing a role with grey shades?
I am enjoying it a lot. It's a realistic character, not a typical TV hero role. I have never done that before. So, I like the way it has been written. It has a lot of shades. There are guys like him in real life, as not everyone is as romantic as Shah Rukh Khan. In reality, usually romance takes a backseat.
In your career which role gave you the most satisfaction?
The role that i played in Surveen Guggal-Topper of the Year was great. I had a wonderful experience with Channel V and I would love to do more shows on Channel V.
How much do you identify with your character Samrat?
I don't connect with him. He's completely different from what I am. But there is one similarity between us - we are both workaholics. The way he thinks is totally opposite to me. I have to work hard to portray the role.
How do you balance work and home?
It is difficult to take time out. My family is in Delhi and I meet them once in two months. I call my wife on the sets, where we can spend time together. Whenever I have free time, I take my wife out although she doesn't complain about my long hours at work.
What does your wife think of your role?
She's a huge critic of mine. She likes this show as she feels the role is unlike me, so while watching she forgets it is me acting, which is a good thing. — HRM
Accolades for Poonam
Poonam Dhillon, who is back on television with Sony Entertainment Television's fiction show Ekk Nayi Pehchaan, has been gaining a lot of accolades for her portrayal of a traditional Gujarati mother-in-law. The Twitter account of the actress tells us that after the launch of Ekk Nayi Pehchaan, Poonam has received an appreciation call from the BJP leader LK Advani and his family for her incredible performance.
They also mentioned that Ekk Nayi Pehchaan is one of their favourite shows on television. "LK Advani's daughter Pratibha Advani is a friend of mine and any feedback from her as well as her family makes a big difference to me. She said that her entire family watches the show regularly and loves the way I portray my character. LK Advani told me that he watches the show whenever he is at home. His kind words got me very emotional. It was really overwhelming to get an appreciation call from the Advani family. It feels great when you get such kind of appreciation after tremendous efforts and long working hours you put into work. Those words mean a lot to me and I will always be thankful for the support and encouragement," says Poonam Dhillon. Watch Ekk Nayi Pechchaan, every Monday to Friday, at 8.30 pm only on Sony Entertainment Television.
politically correct: Poonam Dhillon
Friendly ties
Rakshanda Khan might be away from television, but has a business to run as well. She has great support in her family and friends, especially tennis champion Sania Mirza. Not many are aware that Sania and Rakshanda are good friends for years now. She was one of the few who attended Sania's wedding.
Goodbye time
According to grapevine, Asha Negi and Rithvik Dhanjani might not be in Pavitra Rishta for long. The two actors, who play Purvi and Arjun, were supposed to quit last year but were persuaded by the makers to stay on. Now after a long discussion, apparently they will quit the show in February.
Couple chemistry
They worked well as a couple in Geet, and now Drashti Dhami and Gurmeet Choudhary might come together in Madhubala. Buzz is that owing to their sizzling chemistry earlier, the makers of Madhubala have approached Gurmeet to play lead in their show post the leap.