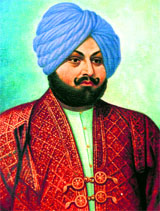 Founder's Day:

All of us pay our respectful tributes to Sardar Dyal Singh Majithia, who founded The Tribune this day 133 years ago.
President reverses Haryana decision on IFS officer's ACR
Chandigarh, February 1
The President has reversed the Hooda Government's decision to downgrade the annual confidential reports (ACRs) of whistleblower Indian Forest Service (IFS) officer Sanjiv Chaturvedi.
Leading publications condemn IRS report, want it withdrawn
Chandigarh, February 1
Leading newspapers of the country have strongly condemned the newly published Indian Readership Survey (IRS 2013) and have asked for its immediate withdrawal. Eighteen leading publications, including The Tribune, pointed out that the survey is riddled with glaring anomalies that defy logic and completely ignores circulation which is the very basis of readership.

OTHER PAGES

PUNJAB: Rs 2,300-crore expansion for Bathinda refinery on cards


HARYANA: Poll panels futile: Venod Sharma


J&K: Cong presents united front to take credit for admn units'creation


HIMACHAL: Shanta invites HLP to merge with BJP


CHANDIGARH: Typhoid, hepatitis outbreak at Balongi


LUDHIANA: Man dies of 'cold' near night shelter


DELHI: Govt slams discoms for announcing power cuts

OPINIONS: Make money off forests, but don't ruin them

SPORTS: Som finishes it in no time

WORLD: Violence grips Thailand on poll eve




The tribune yearender 2013 : year of corrosion

Lahore Log

The tribune guide to best colleges

Budget
2013-14

INDIA CHINA WAR 50 YEAR LATER

EARLIER FEATURES
Hisar SAI coach booked for sexual harassment
Hisar, February 1
A coach at the Sports Authority of India's centre in Haryana Agriculture University was today booked for sexually harassing seven female wrestlers. The coach has denied the allegations.
Bank guard shot dead, Rs 36 lakh looted in Nabha
Nabha, February 1
Three armed men shot a bank guard and took away Rs 36 lakh from a State Bank of Patiala cash van today. A bank cashier was injured in the attack. The robbers fled the scene on a motorcycle. The police have started investigations after registering a case.
Violence grips Thailand on poll eve
Bangkok, February 1
Explosions and several shots were heard in the Thai capital today as opposition activists bent on disrupting Sunday's controversial snap polls clashed with government supporters, leaving seven persons injured. (Details on World page)


LPU mourns bright brain Nido, N-E students' safety in focus
Jalandhar, February 1
Students and staff of Jalandhar's Lovely Professional University were in shock as news of the death of BA honours student Nido Taniam after an altercation with some shopkeepers in Delhi spread. The 20-year-old son of Arunachal Pradesh Congress legislator Nido Pavitra was in Delhi to spend time with his relatives in Delhi when the incident took place.
| | |
| --- | --- |
| | Students hold a candle light vigil in New Delhi on Saturday. Tribune photo: Mukesh Aggarwal |
U'khand CM quits, Rawat top choice
Febuary 1, 2014
Cap on subsidised LPG cylinders up from 9 to 12
January 31, 2014
SIT to probe '84 riots: Delhi Govt
January 30, 2014
NC-Congress alliance in big trouble, Omar may quit
January 29, 2014
Selja, Viplove get Congress nomination for RS polls
January 28, 2014
No N-deal but boost for Indo-Japan defence ties
January 26, 2014
SC raps police over AAP dharna
January 25, 2014
RBI Governor allays concerns on withdrawal of pre-2005 notes
January 24, 2014
Pressure on Kejriwal to act against Bharti
January 23, 2014
Capital compromise: Kejri stir off
January 22, 2014