G R O U N D Z E R O
Mr PM, go on the offensive, itís never too late
Disparaging remarks that are now being made about him notwithstanding, letís not forget Manmohan Singh led the nation for 10 long years. He needs to speak simply and directly to the people and defend his record.
Raj Chengappa

For many years, I carried an epigram pasted on my briefcase that read: ďGenius is the ability to make the complex simple.Ē Listening to Raghuram Rajan, Governor, Reserve Bank of India, deliver the Eighth Kao Memorial Lecture in New Delhi recently, I remembered that maxim. Rajan boiled down complicated economic precepts to lucid language that even a high school student would have understood. I majored in economics when I was in college and if I had Rajan as my teacher I would have enjoyed learning it far more than I did.
In glaring contrast was the press conference that Prime Minister Manmohan Singh held on January 3, where he sought to defend his and the UPA governmentís 10-year record in power. Manmohan Singh had a distinguished academic carrier that included an Oxbridge education and is internationally acknowledged as an economist of repute. He was the RBI Governor from 1982 to 1985 when Rajan was still a student at IIT-Delhi. Like Rajan, Manmohan Singh too taught economics as faculty member at Panjab University and the Delhi School of Economics.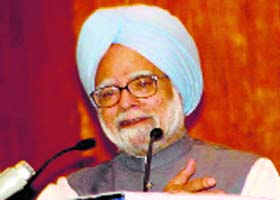 It, therefore, baffles me as to why the Prime Minister continues to resort to reading from written text rather than speak extempore at major events. Whenever he does push aside his speech and speak impromptu he comes across as sincere and precise. At the press conference, which was broadcast live on national television, he read out from a prepared text the list of his achievements before he took questions. It was delivered as if he were tabling a statement in Parliament for record rather than convincing the nation about his governmentís performance.
One could say itís rather late to be hoping that the Prime Minister would shed his inhibitions and speak out forthrightly. After all, his exit clock is ticking rapidly and in May he would be handing over charge to a new dispensation. But there is still an electoral battle to be fought and the Congress is in grave danger of plunging to its worst defeat in the polls unless the PM and the party leaders defend its record of governance effectively. It would be asking too much to rely on Rahul Gandhi, its election campaign leader, to do that. Rahulís first detailed TV interview did neither him nor his partyís image any darn good.
The real issue is that the Congress has allowed the narrative to be first hijacked by the BJPís Narendra Modi and then by AAPís Arvind Kejriwal. Most surveys show that the voters believe the UPA did not manage the economy effectively. That it allowed inflation to get out of hand. Job opportunities shrank, leading to anxiety among the young. That under the UPA corruption became institutionalised. And that the Prime Minister, though clean himself, had allowed all sorts of scams to flourish under his watch.
Despite these perceptions, the UPAís record of governance is not as dismal as it is being made out to be. In the 10 years that Manmohan Singh was at the helm, Indiaís GDP grew at an average 7 per cent. That is an impressive record by any standard, given that most nations suffered a major economic setback after the 2008 global meltdown. Per capita income also grew threefold during the UPAís tenure. Food grain production touched a new high of 255 million tonnes.
The UPAís social welfare schemes like the Mahatma Gandhi National Rural Employment Guarantee Scheme now provides jobs and much needed wages to over 5 crore households. Rather than being on the back-foot on the telecom sector, the Prime Minister should point out that under the UPA a revolution happened with tele-density in rural areas increasing by as much as 25 times. India now has one of the lowest call rates, making cell phones accessible to even the poor.
What the Prime Minister should do in the coming months is go on the offensive. Among the things he should do is address the nation directly, much like the fireside chats that many US Presidents have resorted too. Even private TV channels would telecast it. If President Pranab Mukherjee could read from a tele-prompter for his Republic Day broadcast, there is no reason why Manmohan Singh, now 10 years in power, should shy away from doing so.
The Prime Minister should turn somewhat professorial on TV, explaining simply what progress India made under the UPA, and be candid about the mistakes his government made. While speaking he can back it with interesting graphics that sum up the achievements. Whatever disparaging remarks that are now being said about him, letís not forget Manmohan Singh led the nation for 10 long years. That is a remarkable achievement and he deserves to be heard by all of us. Let people, rather than history, judge his performance. It is never too late.