good news
Through education, a step towards freedom
With the help of the Rotary Club, 85-yr-old OP Gupta has been running a literacy programme for inmates of Patiala Central Jail so they can be self-reliant.
By Gagan K Teja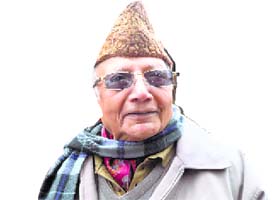 A visit to a jail is something everyone dreads, unless it can't be helped. But 86-year-old OP Gupta, a retired administrative officer from Thapar University, Patiala, has taken upon himself to educate hardcore criminals and other inmates and undertrials lodged in Patiala Central Jail. Gupta, former president of the Rotary Club (Midtown), Patiala, and project chairman of the adult education programme being run by the club, has been successfully running literacy programmes in the jail for the past 15 years.
At an age when people barely step out of their homes, except for visits to doctors and attending family functions, Gupta monitors the programme to ensure that anyone who steps in the class is able to read and write when he leaves the jail. The club provides books, stationery and other material free of cost.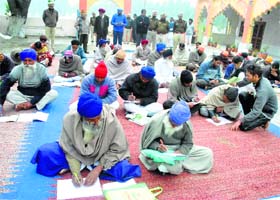 Jail inmates during the education camp at Central Jail, Patiala. Tribune photo: Rajesh Sachar
Known as Uncleji, he is a favourite with the jail authorities and inmates who are indebted to him for bringing a positive energy in the negative atmosphere and helping inmates channelise their energy in a creative manner.
What gives him personal satisfaction is when inmates touch his feet and thank him for enabling them to sign registers instead of putting their thumb impressions and perform paath.
A visit to the jail shows how the small initiative started by him has shaped the lives of many. Educated convicts, who are serving life imprisonment, are assisting him in the venture, so their fellow inmates can be self-dependent once they are free to leave.
For women too
Amit (23), a commerce graduate who has been convicted in a murder case, is not only pursuing his Masters in Public Administration through IGNOU, but also teaching other inmates and helping them learn the basics under the programme. Similarly, Neki Nalwa, a murder accused, has been assisting women inmates.
Gupta says he started the programme with the sole idea of helping inmates who would want to start afresh once they leave prison. He is glad the effort is bearing fruit. "When I retired, I decided that I wanted to contribute for the betterment of society. I realised there were many individuals and organisations who were working for the common man, but no one was ready to take any initiative for jail inmates. Some are habitual offenders, but not all are hardcore criminals. Therefore, I took up the cause of teaching jail inmates.
"Earlier, we used to hold the programme only for men, but now we have started conducting it for women too. We are getting a good response. More than 35 women are enrolled with us. Most of them are serving a term in dowry and NDPS cases and have shown good results in a short period," he says. Manju, who is lodged in the jail along with her two sons in a rape case, says before she came to the jail six months ago, she could not even identify numbers and alphabet. But now she has learnt to read and write Punjabi and Hindi alphabet. "I had never thought I would have to spend a part of my life in jail. Destiny brought me here. These classes provide solace from all the negativity around. My parents never sent me to school. Thanks to the programme, I have finally got an opportunity to educate myself," she says.
Chander Bhan, a Bhiwani resident serving sentence under the NDPS Act, says he enrolled in the classes over a year ago and is glad that now he can easily read newspapers to keep himself updated.
Expressing delight at being a part of the programme, Harnek Singh from Ropar, who enrolled for these classes over two years ago, says his biggest achievement has been that he is now able to read the "bani of Gurus" which he was unable to do as he was not educated.
On board
Appreciating the programme, Additional Superintendent of Patiala Central Jail Rajan Kapur says the inmates are keen to gain knowledge and the Rotary Club and Gupta have encouraged the inmates to take a step towards self-reliance through knowledge. "We have over 100 inmates who are currently learning the basics and over 90 are pursuing higher studies through IGNOU. Some are even pursuing PhD and master's degrees.
Jail Superintendent Bhupinder Singh Virk says seeing the enthusiasm of the inmates they have got in touch with the Punjab School Education Board. "From this session, our inmates will be able to take class X exams. It is a major step in their transformation. We are indebted to Guptaji for taking so much pain," he adds.