Is there hope for Cong, still?
From being a reluctant leader, Rahul has stepped out to take charge of the party's poll run. Does he have the time to turn the fortunes around?
By Aditi Tandon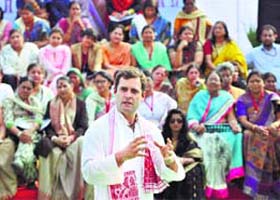 Congress vice-president Rahul Gandhi recently interacted with women workers to seek their opinion on the party manifesto for the Lok Sabha elections 2014, in Bhopal. PTI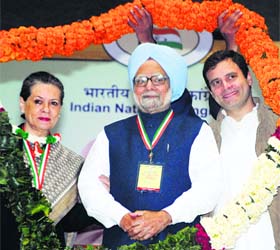 Congress president Sonia Gandhi, PM Manmohan Singh and Rahul Gandhi during the recent All India Congress Committee meeting in New Delhi. Tribune photo: Mukesh Aggarwal
AT the January 17 Congress session in the Capital, the grand old party finally got the young leader it had long craved for. Rahul Gandhi emerged from his shadows to accept the role of the party campaign leader for the 2014 Lok Sabha elections as party men cheered him on, filling the venue of his coronation with zeal and energy.
He may not have been crowned the Congress prime-ministerial candidate as many had wanted, but Rahul came into his own that day, energising party rank and file. He delivered his longest, most combative political speech ever, trashing the opposition BJP and AAP as super salesmen who can sell combs to the bald.
No wonder, the 4,000-strong Congress delegation soon forgot the "Rahul for PM" dream and found itself singing along their leader as he sounded the poll bugle from the Talkatora Stadium. "A tough battle lies ahead of us," Rahul acknowledged, infusing cadres with hope, "We will go into it like warriors and won't stop till we have won." As he made the promise of a lifetime, his mother and Congress president Sonia Gandhi watched silently before signalling a generational shift in the party when she said, "We are ready to face the challenge."
The question now remains — Can 43-year-old Rahul deliver on his promise of changing a 129-year-old Congress and leading it to victory when the party faces prospects of its worst-ever performance, thanks to corruption and inflation?
The new Rahul
The majority of older guard in the Congress is happy that Rahul has taken charge of the poll campaign, ending years of reluctance to lead. It is after 10 years of entering politics (he won the Lok Sabha elections from the family pocket borough of Amethi in 2004) that Rahul donned the mantle of a full-time politician.
"Rahul has finally transformed to a full-time politician. That is a very good sign," says a Congress general secretary while another senior leader adds, "His elevation comes a bit late in the day. We are staring at elections".
For long, Congress leaders have spoken in whispers about Rahul's steadfast reluctance to accept leadership roles. He has repeatedly declined the Prime Minister's offers to take up ministerial jobs, saying he would like to concentrate on party organisation.
It is only since January 2013 when he was elevated as Congress vice-president at the party's Chintan Shivir in Jaipur that Rahul has started asserting himself and taking a position on issues that concern people — such as junking the government ordinance on convicted MPs recently, opposing Supreme Court's order re-criminalising gay sex and advising the Maharashtra Cabinet to reconsider its rejection of the judicial probe report into the Adarsh Housing scam.
Rahul is also interacting more with the media. Since the Congress rout in four state elections, he has made a dozen public appearances, starting from December 8 when he stood by his mother's side to concede defeat and say he could learn from the Aam Aadmi Party and would connect with the people in "unimaginable ways".
Even at the cost of scrutiny, he has offered himself for on-record interviews with TV channels. Congress strategists are grappling with his recent statement on a channel that while the government was trying to stop the anti-Sikh riots in 1984, the 2002 riots in Gujarat were abetted by Chief Minister Narendra Modi.
Whatever the impact, Congress leaders like general secretary Digvijay Singh are hammering the fact that Rahul showed courage and didn't run away from his questioner as Modi did in the past. "This shows his honesty of purpose," Congress spokesperson Abhishek Manu Singhvi says, defending Rahul and the obsession he exhibited for his favourite topics of women's empowerment, RTI, anti-graft Bills and youth empowerment, irrespective of the topic at hand.
Party strategists say Rahul's decision to engage with the media is part of his strategy to voice his views no matter how abstract they seem.
"Rahul is very clear about what he wants to do with the Congress. He wants to bring in participatory decision making at all levels. This sounds like an abstract idea, but it is achievable. He has reformed the system of ticket distribution and opinion of candidates is being sought from the block to the state level. He has revived the Scheduled Caste cell and is building Dalit leadership down to the panchayat level. Change is happening, though gradually," says K Raju, a former Andhra cadre bureaucrat who took voluntary retirement recently to head the Congress SC cell on Rahul's invitation. Raju had earlier assisted Sonia in the National Advisory Council.
Going for change
Post his elevation as Congress poll campaign chief, Rahul has inducted three confidants into the five-member election coordination committee he heads. These are central ministers Ghulam Nabi Azad and Jyoritaditya Scindia and Haryana Industries Minister Randeep Surjewala. Other members include Sonia's political secretary Ahmed Patel, general secretary organisation Janardan Dwivedi and Rahul aides CP Joshi, Madhusudan Mistry (both AICC general secretaries) and Rural Development Minister Jairam Ramesh, his key strategist.
Rahul's stamp was also visible in the just-announced screening committees of the Congress for the selection of Lok Sabha candidates. Chairing the committee for UP (with maximum Lok Sabha seats at 80) is Rahul's friend and MoS Defence Jitendra Singh. Although most committee chairmen are senior Congress ministers and leaders like Sushil Kumar Shinde, Pawan Bansal and Vayalar Ravi, Rahul has ensured that his team mates — including MPs Meenakshi Natarajan and Manick Tagore and young office-bearers Kuljeet Nagra and Deepak Babaria —become members of this panel.
Even the ticket selection process has been placed under Mistry, Rahul's confidant from Gujarat and a staunch Modi critic. Mistry was nominated to the Rajya Sabha by the Congress along with Digvijay Singh, both key advisers to Rahul.
Last month, he ignored the claims of senior leaders to appoint Arvinder Lovely, Sachin Pilot and Arun Yadav as Congress presidents in Delhi, Rajasthan and MP, respectively, after the party's defeat.
Rahul's involvement in party restructuring began in 2013 after he became Congress vice-president and formed poll sub-groups for pre-poll alliances, manifesto and publicity, headed by Defence Minister AK Antony and Digvijay, respectively.
An organisational reshuffle followed, reflecting his stamp as young MPs Ajay Makan, Priya Dutt and Meenakshi Natarajan bagged key roles. A majority among the 40-odd AICC secretaries are young.
Makan replaced veteran Dwivedi as AICC general secretary in charge of communications. "We will open up the system, engage proactively and be available," he says. Dutt and other young MPs like Manick Tagore are now mentoring 100 Indian Youth Congress and NSUI workers who are travelling across India to spread Rahul's message — "The Congress is fighting the battle of the poor, the battle of democracy, unlike the BJP which is concentrating power in one individual and lighting communal fires."
Rahul will give more tickets to the youth, women and Dalits. Shobha Oza, president, All India Mahila Congress, admits, "We have clear instructions to send in names of more women candidates." At the session, Rahul had signalled that the time for youngsters had come. Finance Minister P Chidambaram supported him saying, "In half the Lok Sabha seats, the Congress should field candidates below 35 years of age." The party hopes to reach 83 crore Indians under 35 years of age — 68 per cent of the population.
AAP effect
Only a week ago, Rahul cleared a new communications team, bringing in senior ministers like Anand Sharma, Azad, Chidambaram and Salman Khurshid as senior spokespersons, assisted by 13 spokespersons and 23 media panelists.
The brief was clear — communicate UPA's achievements, from the RTI and MNREGA to the Lokpal Bill and anti-graft laws pending in Parliament. Party spokesperson Randeep Surjewala says, "Under the UPA, life expectancy, the finest indicator of human development, rose by five years. We are about to eradicate polio. We have done more for human development than any other government." The stress on UPA's achievements comes after the Prime Minister, Sonia Gandhi and Rahul recently admitted that party policies had not been communicated properly and people didn't appreciate it for what it had done. Sonia said the Congress had done more to stem corruption than any other government ever, but it had been unable to market itself.
That explains Rahul's obsessive focus on the RTI, food security, Land Acquisition Bill, Lokpal and other laws passed under the UPA's watch. Campaign slogans which Makan recently unveiled on his Twitter wall also centre around the UPA's anti-corruption agenda, projecting Rahul as an anti-graft crusader.
"Rahulji ke nau hathiyar door karenge bhrashtachaar"; "Rahulji ka uddeshya, bhrashtachaar mukt desh" are two of these slogans while another positions him aside Modi, saying: "Modiji kehte hain Congress mukt Bharat, hum kehte hain polio mukt Bharat." The stress on Congress policies as a poll plank is evident.
In another move to distinguish Rahul from Modi, the party has launched an advertisement blitzkrieg with a tag line: "Main nahi, hum". Though the BJP is claiming this slogan was first used by Modi, the Congress has splashed it across its newly designed website "Indian National Congress", which Rohtak MP Deepender Hooda has developed.
Reform path
After the poll drubbing in Rajasthan, Madhya Pradesh, Delhi and Chhattisgarh, Rahul spoke of learning from AAP. Soon he introduced a system of seeking societal inputs on the party manifesto.
Six meetings in that series have been held with SCs, STs, OBCs, minorities, women, youth, Panchayati Raj leaders and organised and unorganised workers. Some more are planned before the February 5 deadline that Antony has set for receiving inputs. Further, Rahul has decided to introduce a system of candidate selection based on US style primaries in 15 segments. About 90 per cent of these segments are the ones Congress lost last time.
A representative section of Congress workers and leaders will vote under this first-ever experiment to select candidates. "An electoral college will be formed and voter list published," Mistry says.
Scrutiny of documents for primaries has been outsourced to FAME (Foundation for Advanced Management of Elections), an NGO comprising former election commissioners who have been conducting elections for the IYC and NSUI since 2008. KJ Rao of FAME says, "We had offered all parties to conduct free internal elections. Rahul hired us to conduct fair elections in the IYC and NSUI." Candidates with criminal backgrounds can't enter the fray. The guidelines say, "Anyone convicted or chargesheeted for an offence punishable with an imprisonment of five years or more will not be eligible to contest elections, nor those convicted for offences under Section 8 of the Representation of People's Act 1951."
FAME had disqualified Himachal Chief Minister Virbhadra Singh's son Vikramadiyta from IYC elections in 2008 for using unfair means for canvassing.
New challenges
"For 10 years he has been in and out of politics. He should now stay and sustain the momentum of change he has promised," says a party insider, saying Rahul's silence on the December 16 gangrape, CWG and 2G scams was deafening.
Others mention with concern his frequent anti-government positioning. "He comes across as the principal opposition within the Congress. He got the Cabinet to drop the convicted lawmakers' ordinance. Now the Cabinet has restored the supply of subsidised LPG cylinders to 12. This undermines the government and confuses voters," a party leader says.
Subroto Mukherjee, a political scientist, feels Rahul's brand of symbolic politics is questionable. Cautioning Rahul against symbolic politics of dining and staying with Dalits, he says, "He must create a new idiom of politics. His ideas and actions don't match. He junked the ordinance on convicted lawmakers but is allying with Lalu's RJD. The ordinance was meant to save Lalu. His stress on anti-corruption does not translate on the ground," he adds.
Within the Congress, leaders say Rahul must deliver on his words. Anil Shastri, senior leader and Congress Working Committee invitee, points out, "He must show he can implement what he says."
When tested against his word, Rahul doesn't fare too well. While he speaks of giving ticket to insiders and not turncoats, several rebels and outsiders bagged ticket in the 2013 Assembly polls, damaging unity. Many with criminal background got in despite his stress on barring them.
Likewise, though he talks of 50 per cent women as Chief Ministers of Congress states, he does not name even one as chairperson of the 10 screening committees for candidature.
Congress seniors say the party vice-chief can do a lot within the existing systems rather than wait to push "democracy deeper". Rahul talks of long-term structural changes to get Congress workers' voices heard in the party.
But an AICC secretary rues, "Even today it is easier to meet Sonia than Rahul. His corporate functioning requires us to submit quarterly reports of our work. Every minute spent on the computer is a minute spent away from the ground. That's not politics."
Amethi battle
The party's recent move to send Sanjay Singh, Lok Sabha member from Sultanpur in UP, to the Rajya Sabha from Assam has triggered talks about Rahul being insecure in the Amethi segment where he faces a challenge from AAP's Kumar Vishwas. Sanjay Singh (who had defeated Congress' Satish Sharma in 1998) was in talks with the BJP to contest against Rahul, but was offered a secure Rajya Sabha nomination by the Congress, giving an impression that the party wanted him out of Rahul's way. Mukul Wasnik, Congress spokesperson, however, trashed these insinuations.
In the 2012 UP polls, Congress candidates lost in eight of the 10 segments in Amethi and Rae Bareilley.
Fresh initiatives
Rahul Gandhi held a meeting with Chief Ministers of Congress-ruled states to discuss measures to control inflation and corruption. He got them to promise the enactment of the Loyakukta Act by February-end and de-listing of fruits and vegetables from the APMC Act.
For the first time, he met state AICC delegates and heard their problems. He told them sternly that indiscipline will not be tolerated and accountability will be fixed.
He has held six open manifesto meetings with representatives of various segments.
He has put together a new communications team of over 60 members to communicate UPA's policies to the people.
He has opened himself to media scrutiny.
'We will win'
A tough electoral battle lies ahead of us. We will go into it like warriors and won't stop till we have won.
Rahul Gandhi, cong vice-president
'Won't work'
The broader terms in which Rahul defines politics don't work. He wants to empower MPs but has hardly ever spoken in Parliament. He hates dynastic politics but has benefited the most from it. The decision to not name him the PM candidate was hypocritical. Top slots in the Congress have always been reserved for the family. Pranab Mukherjee tried to open up the party after Indira Gandhi's assassination and suffered.
Subroto Mukherjee, a political scientist