D I A S P O R A N E W S
Punjab should not give up on its NRIs
While most states are stepping up the effort to connect with the diaspora, Punjab has taken a backward step. What is the rationale behind the Punjab government's decision to cancel the annual conclave of NRIs in Punjab?
Shinder Thandi
THE Indian community's contribution to India has also been invaluable — from the workers who labour abroad to support their families and communities at home; the professionals who share the fruits of their skills for India's development; the entrepreneurs who bring investments into and promote exports from India; and, the community leaders who interpret India for the world and advance its interests abroad."
2 Punjabi women charged with fraud in Singapore
Singapore, November 14
A Singapore court today charged two Indian-origin Malaysian women clerks for causing nearly SGD 35,000 in losses to a top Sikh body by forging cheques in 2010.
Looking for her roots, Nikki Haley lands in Amritsar today
Amritsar, November 13
South Carolina Governor Nikki Haley will be landing in Amritsar tomorrow as part of her 10-day visit to India. Her sojourn to Amritsar is being seen as 'homecoming' here as she traces her roots to the region.
NRIs feel alienated: British MP
Jalandhar, November 13
Virendra Sharma, a Labour Party MP in the UK, said Punjab could not attract any NRI investment in the last few years owing to "poor" law and order situation in the state.
Govt against tax on NRI remittances fee
Chandigarh: The Punjab Government has opposed the decision of the Centre to charge service tax on foreign remittances fee from NRIs and sought its withdrawal. NRI Affairs Minister Tota Singh said the decision will make it difficult for the NRIs to send money back home. He also said the NRI Sangat Darshan would be held at Ludhiana, Jalandhar and Moga from December to January. — TNS/PTI
1984 anti-sikh riots
Prominent UK Sikh for truth commission
A prominent British Sikh has used a House of Commons ceremony in London to call for a truth and reconciliation commission in India to "identify the guilty and bring a measure of dignity and closure to thousands of grieving families" who remember the killing of Sikhs in 1984.
'84 riots: Sikhs seek Obama's help to get justice
Washington, November 4
Sikh-Americans have sought US President Barack Obama's help in getting justice for the victims of the 1984 anti-Sikh riots that occurred after the assassination of the then Prime Minister Indira Gandhi.
Makkar lays stone of Sikh centre in US
Amritsar, November 1
SGPC president Avtar Singh Makkar has laid the foundation stone of Global Sikh Centre for Learning and Information at Yuba City in the US. The centre has been set up with an aim to deal with issues such as Sikh identity in the US and Canada.
Oz gurdwara vandalised, SGPC condemns attack
Amritsar/Melbourne, October 30
The SGPC has strongly condemned the attack on a gurdwara at Perth in Australia.
NRI family booked in dowry case
Abohar, October 17
The police have booked an NRI and his parents in a dowry case on the complaint of his wife Hunardeep Kaur Sidhu of Kothi Faiz in Abohar.
British Columbia Premier offers jobs to Punjabis
Chandigarh,October 12
British Columbia (Canada) Premier Christy Clark today offered to provide thousands of jobs to Punjabis in her state, provided they acquired the required skills to handle the task.
Ludhiana man in US shot dead


Ludhiana, October 6
A 34-year-old NRI from Ludhiana was shot dead in Ohio, US, on Sunday. A pall of gloom descended on Sachin Rana house in Madhopuri area here. The deceased's 64-year-old father Charanji Lal said his daughter Sonia, who lived in California, called up his second daughter Rashmi in Hoshiarpur to inform her about the death.

Centre notifies lifetime visa for PIO cardholders
New Delhi, October 2
Persons of Indian Origin (PIOs) are now eligible for lifelong visa to visit India. The Ministry of Home Affairs has notified the scheme that was announced by Prime Minister Narendra Modi at the Madison Square Garden rally in the US a few days ago.

5 Punjabis in US jail 'forced' to call off stir
Chandigarh, October 2
Four of nine Punjabi youths lodged in Salt Lake city jail of the US, who are on an indefinite strike against "harassment" by the jail staff, have been shifted to solitary barracks. The remaining five were allegedly forced to call off strike by the jail authorities.
The seven million-strong Punjabi diaspora is elated over Prime Minister Narendra Modi's initiative on life-long visa to Indian Americans. But Sikhs in North America are upset over his silence on hate crimes. They say the Sikhs have been living under the shadow of fear after the 9/11 attack.




20 Punjabi youths held in US shifted to

Miami prison


Chandigarh, September 29
There seems to be no end to the problems of the 29 Punjabi youths detained in Utah jail in the US for the past seven months. At least 20 of these youths have now been shifted to Miami jail as an alleged result of their complaints against the jail officials. They had tried to sneak into the US through the Arizona border, but were captured by the Immigration and Customs Enforcement wing. They were later shifted from Arizona to Utah.

Sikh-Americans urge PM to resolve visa issues
New York, September 28
A delegation of Sikh-Americans has requested Prime Minister Narendra Modi to remove the hurdles faced by them while applying for visas or renewal of passports, particularly by those who had applied for political asylum in 1980s.

Modi meets eminent bizmen in New York
New York, September 28
A stable business environment and investment in human resources are some of the issues highlighted by a group of Indian-American corporate leaders during a meeting with Prime Minister Narendra Modi who invited them to come to India and teach business and entrepreneurship.

'Indians in Oz helped Amritsar brothers in laundering drugs money'
New Delhi, September 28
The Amritsar-based brothers, arrested by the Enforcement Directorate (ED) on Thursday for their alleged involvement in an international drug money laundering syndicate, purportedly asked young students, mostly from Punjab, to collect money in Australia.

Drug raids in Punjab, Australia; five held
New Delhi, September 26
Cracking down on activities of money laundering linked with narcotics trade, authorities in India and Australia have moved in tandem to effect five arrests, three in India and two in Australia and seized cash and electronic material suspected to be related to the alleged crime.

Yannick case: Extradited youth sent to prison
Jalandhar, September 18
Jaskaran Singh alias Jassa, extradited from Australia for his alleged involvement in the attack on Burundi national Yannick Nihangaza two years ago, was today sent to jail.

School for Sikh students in UK
London, September 16
British Sikhs in a town north-west of London in England's West Midlands region have set up a school targeted at children from the Sikh community.

Sikh woman to sue UK gurdwara for injuries
London, September 10
A British Sikh woman is taking legal action against a gurdwara in Scotland after she suffered severe injuries on her leg in an explosion in its kitchen area in 2011. Kuljit Bahia was helping in the preparations of langar at Sri Guru Nanak Gurdwara in Dundee when a pressure cooker exploded in its kitchen in 2011, severely injuring her and another woman.

NRIs sell plots gifted to poor 10 yrs ago; DC orders probe
Jalandhar, September 9
A decade after a Non-Resident Indian (NRI) couple of Mehrumpur village, Nawanshahr, gifted plots to needy villagers in the presence of then Deputy Chief Minister Rajinder Kaur Bhattal and other senior leaders, the duo have sold the them to someone else. These allegations were levelled by "beneficiaries", who have now filed a complaint with the Deputy Commissioner (DC), Nawanshahr.

Punjabi killed by co-workers in Boston
Bhogpur, September 7
A youth from Lohara village in Kapurthala district was murdered by his two co-workers in a hotel they worked at in Boston. Jaswinder Singh had gone to Canada with a group of kirtan perfomers but had reached Boston some time ago and was working in the Golden Swan hotel owned by Malkit Singh.

663 NRIs on list of 'wanted', mostly for sham marriages
Jalandhar, September 1
The Punjab Police have declared 663 Non-Resident Indians (NRIs) proclaimed offenders (PO) in matrimonial disputes and other criminal cases. Of the 27 police districts in Punjab, Doaba region, the hub of NRIs, accounts for more than half of the proclaimed offenders. Most of them have been declared wanted for solemnising sham marriages and ditching their spouses in Punjab.

Allege inhuman treatment
Youths detained in US in pitiable state
Chandigarh, August 26
With dreams of a better future in his eyes, Paramjit Singh of Mahabalipur near Sultanpur Lodhi in Kapurthala, was desperate to immigrate to the US. He did manage to reach there, but illegally through a travel agent who fleeced him. Not able to find the promised employment and deportation staring at his face, Paramjit allegedly committed suicide in December last year.

New Yorker held for mowing down Sikh
New York, August 19
A 55-year-old man has been arrested on charges that he called a Sikh man a "terrorist" and mowing him down with his pick-up truck, in an apparent hate crime.

special to the Tribune
On sale: A letter praising Sikh soldiers of WW-I
Gallantry of Sikh soldiers during World War I has been praised in a significant letter that is being put up for sale in the UK by Mullock's.

Afghan Sikhs look for clues over stowaways in shipping container
Kabul, August 18
A Sikh leader in Afghanistan said on Monday that he was trying to contact families over reports that 35 stowaways found in a shipping container in the UK were from the tiny, persecuted community.

Info on Obama's decision to invite Modi sought
Washington, August
A US-based Sikh rights group has filed a request under the Freedom of Information Act (FOIA) seeking documents relating to the President Barack Obama administration's decision to invite Prime Minister Narendra Modi for a meeting at the White House here in September.

Sikh man called 'terrorist' by US driver who ran truck over him
New York, August 6
A Sikh man, critically injured after being hit by a truck, was called a "terrorist" by the attacker, the victim's wife said, demanding justice for him and terming the assault as an attack on her community.

Sikh trader killed, 2 hurt in Pak attack
Peshawar, August 6
A Sikh businessman was today killed and two others injured when unknown gunmen opened fire on them in this northwestern city of Pakistan, prompting protests and road blockade from the members of the minority community.

Charges against US Sikh dropped
New York, July 23
A US court here has dismissed criminal charges against a Sikh for carrying a kirpan to a city airport. The New York City Port Authority Police Department had in May issued criminal summons to Maninder Singh for carrying two kirpans through security checkpoint at the John F Kennedy International airport here.

US-Sikhs seek official docs on use of ethnic slurs
Washington, July 18
A Sikh advocacy group has asked the US authorities, including the FBI, to disclose their use of ethnic slurs in surveillance programmes amid reports that intelligence agencies used an anti-Muslim epithet.

Sikh man in UK jailed for 5 years
London, July 17
A 50-year-old Sikh ringleader of a gang, who kidnapped a woman in Britain and fled to India, has been sentenced by a UK court to five years in jail after he was extradited.

Ease norms for MBBS seats, demand NRIs
Faridkot, July 6
After denied admission in the MBBS course in Punjab, many NRI students have approached the Medical Education and Research Department, seeking abolition of new rules under the All-India Pre-Medical Entrance Test (AIPMET).

Iraq crisis: fate of several punjabis hangs in balance
CM promises all help to trapped youths
New Delhi, June 26
Chief Minister Parkash Singh Badal today discussed with senior officials of the Ministry of External Affairs (MEA) efforts being made by the Centre to rescue Indians trapped in violence-hit Iraq.

Four from Amritsar languishing in Iraq jail
Amritsar, June 26
The family members of four youths from Nirankari Colony are worried about the fate of their sons, who are languishing in an Iraqi jail after the travel agent sent them to the country without valid papers.



Youth lodged in Malaysian jail on drug charge alleges setup
New Delhi, June 22
Languishing in Pulau Pinang prison in Malaysia for possessing drugs, Sanjay Singh Chauhan, a resident of Chakrata in Uttarakhand, wrote a letter to his father that he was trapped in the case.


Punjabi man shot in Philippines
Manila, June 18
Surinder Singh, a 28-year-old Indian in the Philippines engaged in money-lending, was shot dead by unidentified gunmen yesterday. He was on his way to collect money from debtors in Kabacan in North Cotabato province, the Inquirer online reported today.


'Toothless' NRI wing
Lawyer seeks HC intervention
Chandigarh, June 17 Alleging that the NRI wing of the Punjab Police was virtually lying defunct, a Punjab and Haryana High Court advocate has sought judicial and political intervention for making it effective to prevent the feeling of alienation among the NRI community.


5 Punjabis make it to Ontario assembly
Chandigarh, June 14
Five Punjabis have won in the legislative assembly elections of Ontario, a highly industrialised province in central Canada.

US college institutes award after city golfer
Chandigarh, June 13
Albright College at Reading in Pennsylvania has instituted an international award in its bid to perpetuate the memory of its brilliant student and well-known Chandigarh-based golfer Samarvir Sahi.

Sikhs march through London to protest Operation Bluestar
London/New York, June 8
Hundreds of British Sikhs today held a march in central London in protest against Operation Bluestar that took place 30 years ago. The march from Hyde Park to Trafalgar Square involved sloganeering. "Thousands were killed or had disappeared," said Balvinder Kaur of the Sikh Council, UK.

1,000 Sikh pilgrims in Pak for Jor Mela
Around 1,000 Sikh pilgrims reached Pakistan from India in special buses on Sunday. Earlier a train, scheduled to bring Sikh pilgrims from India to Gurdwara Panja Sahib in Hassanabdal to perform rituals in connection with the 408th death anniversary of Guru Arjan Dev, arrived empty.

Illegal donations: Sikh hotelier Chatwal's sentencing deferred
New York, June 6
Indian-American hotelier Sant Singh Chatwal's sentencing on charges of illegally donating thousands of dollars to political campaigns in the US has been delayed till October.

Sikh hotelier Chatwal wants sentencing adjourned


New York, June 3
Lawyer for Indian-American hotelier Sant Singh Chatwal, who has pleaded guilty to illegally donating thousands of dollars to American political campaigns, has requested a US court to adjourn the sentencing date to October from July to prepare necessary legal brief.

Sikh gets over £18,000 for racial abuse
London, June 3
A British Sikh has been awarded over £18,000 as compensation by a Scottish tribunal for being degraded and racially abused by his Muslim boss and colleagues at work. Paramjit Singh, a forecourt cleaner at a garage in Greenock, Scotland, was called a "lazy low-caste Sikh" and forced to repeatedly carry out demeaning tasks. He was also abused for having a white British wife, with one co-worker saying: "I don't know how you can stay with a white woman. They're not clean and they don't know how to live," the Scottish Herald reported. — PTI


NRI booked for marriage fraud
Fatehgarh Sahib, May 30
A Khamano-based woman has complained to the police that her NRI husband duped her and her family of Rs 10 lakh on the pretext of taking her to Canada after the marriage.

New gurdwara in US faces opposition from locals
Los Angeles, May 26
A Sikh temple in the US is facing opposition from local residents as it plans to replace a prayer hall with a 12,000-square-foot building with gold domes, the second such incident in a month in the area.

Canadians mark 100 yrs of Komagata Maru
Vancouver, May 24
In a goodwill gesture, the indigenous people of Canada yesterday celebrated the centenary of the Komagata Maru episode inside Musqueam Indian Band territory.

Man gets 17-year jail in UK for attack on Namdhari sect chief
Chandigarh, May 23
A Leicestershire-based man of Punjabi origin was today jailed for 17 years for attack on Namdhari sect chief "Satguru" Uday Singh inside a gurdwara.

Garamendi, Meehan to head US-Sikh Caucus
Washington, May 23
The bipartisan American Sikh Congressional Caucus has announced the appointment of John Garamendi and Patrick Meehan as its new co-chairs. While Garamendi is from the Democratic party, Patrick Meehan represents the Republican party.





Cabbie to be deported for Australian's rape
Sydney, May 22
An Australian court has ordered the deportation of a Punjabi-origin taxi driver after convicting him for indecently assaulting a woman passenger four years ago, a media report said.

NRI body raises $3.3 lakh for needy students in state
Washington, May 21
A US-based Sikh body has raised $3.3 lakh to fund scholarships for bright but poor students to acquire higher education in Punjab.

Punjabi youth shot dead in Philippines
Jalandhar May 20
Another Punjabi youth was shot dead by unidentified assailants in Cebu city of the Philippines on Tuesday afternoon. The victim, Ranjit Singh (30), of Seechewal village in Jalandhar was reportedly on his way to work.

Punjabi man in UK jailed for 16 years for assault on wife, son
London, May 15
A 59-year-old Indian-origin man in the UK has been jailed for over 16 years for brutally assaulting his own son and wife in a row over watching a TV show.


Nov to be 'Sikh American awareness' month
Sacramento, May 11
Assembly Member Roger Dickinson introduced the Assembly Concurrent Resolution No. 147 (ACR 147) to establish November as "Sikh American Awareness and Appreciation Month" in California.

Jassi Honour killing
Canadian court orders extradition of victim's mother, uncle
Bathinda, May 9
Fourteen years after Jaswinder Sidhu alias Jassi was found stabbed to death in a village near Malerkotla, a court in Canada today ordered the extradition of her mother, a Canadian citizen, and her maternal uncle to India for facing a murder trial.



Punjabis detained in Texas
US Congman assures to look into the matter
Chandigarh, May 5
To seek the release of more than 100 Punjabi youths, detained "illegally" in the El Paso processing centre (jail) in Texas, US, a delegation of the North American Punjabi Association (NAPA) met Congressman John Garamendi at his house in California and sought his support.

Punjabi man charged with murder in UK
London, May 5
A 48-year-old Indian-origin man has been charged with the murder of a British national, whose body was found in his flat. Surjit Singh Sidhu from Huddersfield in Britain's West Yorkshire was arrested on Friday and subsequently charged with the murder of Martin Ackroyd, 48.




Sikhs object to headgear ban at American park
Washington, May 2
Sikh and Muslim groups have filed complaints alleging religious discrimination against a California amusement park after a couple of families wearing their religious headgear were denied go-karting because of "safety concerns".


US Defense Secy to consider pleas on allowing Sikhs in army
Washington, April 30
US Defense Secretary Chuck Hagel will consider requests being made by over 120 lawmakers, both from the House of Representatives and the Senate, on allowing Sikhs to serve in the armed forces without any compromise of their religious identity and symbols, the Pentagon has said.


Shootout outside US gurdwara
Sacramento, April 27
At least one shot was fired during the annual Baisakhi Parade near a gurdwara at 176 E Pole Road in Lynden on Saturday.

US Punjabi woman let off in murder case
Sacramento (California), April 26
In a historic trial, Baljinder Kaur, who allegedly killed her mother-in-law Baljit Kaur with a hatchet, was found not guilty of the crime.

35 Punjabi detainees in US call off strike
Chandigarh, April 17
The case of 64 Punjabi youths languishing in EL Paso jail of Texas (US) for the past nine months has taken a new turn with 35 of them calling off their week-long hunger strike. A number of others have been shifted either to the jail hospital or small barracks in the premises.




Sikhs allowed kirpans in Canadian missions
Toronto, April 16
The Canadian government has approved a new policy which allows Sikh visitors to Canadian diplomatic missions abroad to wear kirpans. Sikh visitors will be permitted to retain their kirpans when entering Canadian missions abroad, a statement issued by the country's foreign affairs, trade and development ministry said.




US Sikh caucus thanked for resolution on Baisakhi
Sacramento, California, April 11
American Gurdwara Parbandhak Committee (AGPC) today thanked the American Sikh Congressional Caucus as the United States' House of Representatives passed a special resolution to commemorate the festival of Baisakhi.

Legislation for religious workers introduced in US
Washington, Apr 11
Aimed at facilitating the immigration of religious workers, including those of Hindu and Sikh faith, a US lawmaker has introduced a legislation in the House of Representatives. Introduced yesterday by Congressman Mike Honda, the Freedom of Faith Act (HR 4460), will make permanent the special immigrant provision for non-minister religious workers. The current religious workers programme is set to expire in 2015. When passed by the Congress, the Act would cover religious workers, who provide a variety of services, such as translating for Korean Presbyterian churches, singing as cantors in Jewish temples, delivering sermons as mullahs (clerics) in Muslim mosques, and helping with Hindu pujas during Dussehra, Naimittika, Shivaratri, and Sikh ceremonies such as Akhandpath.




special to The Tribune
UK Sikh admits to possessing 92 weapons, faces up to 5 yrs in jail
A British Sikh who has admitted ordering or possessing a total of 92 weapons at his Leicester home faces a prison sentence of up to five years when he is sentenced next month.

Unpaid Indians protest in Iraq
Samrala/Khamano, April 10
A number of Indian youths are forced to sit in dharna in Iraq as the employer has failed to pay them for the last several months.

UK Sikh hotelier loses court battle against son
London, April 10
An 87-year-old wheelchair-bound British Sikh father has lost a high-profile court battle with his son for a share of the wealth from a luxury hotel chain they built together, which is now worth 800 million pounds.

Sikhs win lawsuit against meat plant near gurdwara in UK
London, April 10
A community of British Sikhs has won a legal battle to stop the construction of a meat processing plant next to their Gurdwara in Bradford city. The community and worshippers at the Guru Gobind Singh Gurdwara on Leeds Road said they felt offended by the expansion bid by supermarket chain Pakeezah. They told planners that hearing carcasses being cut up would upset worshippers at prayer as many Sikhs are strict vegetarians.

Woman charged with murder in Canada
Toronto, April 10
An Indian-origin woman in Canada has been charged with murdering her neighbour in South Ottawa in Canada's Ontario province.

Pentagon's new guidelines still discriminatory, say faith groups
Washington, April 10
Pentagon's new religious guidelines are still discriminatory as they impose "stifling" requirements on religion observing service members, according to 21 faith and interfaith groups.



Oak Creek shooting: US Sikhs to honour cop
Washington, April 9
Sikhs will honour US police officer Brian Murphy, who was struck with 12 bullets during the August 5, 2012, shooting at the Sikh gurdwara in Wisconsin, in Washington on Baisakhi (April 13).

Citing security, Sonia refuses to show US court her passport
New York, April 8
Sonia Gandhi has declined to provide a copy of her passport to a US court here as documentary evidence in the 1984 anti-Sikh riots case, citing refusal by the Indian Government on grounds of personal security and confidentiality. US District Judge Brian Cogan had last month asked Sonia to provide some form of documentary evidence by April 7 to enable the court to determine her presence in the United States on September 9 last year.

UK Sikhs won't have to wear hard hats at construction sites
London, April 8
Sikhs in the UK will be exempted from wearing hard hats at construction sites, British Prime Minister David Cameron has announced.


Family files suit against police
Sacramento (California), April 6
The family of Parminder Shergill, an Army veteran, who was shot dead by police officers on January 26, has filed a civil rights lawsuit against the city and the police.



Parminder Shergill




Punjabi politician in UK under fire over rifle pic
London, April 1
An Indian-origin magistrate and local politician in the UK is under pressure to step down from his posts after he was pictured holding an assault rifle.

'84 riots case: US court wants to see Sonia's passport
New York, March 21
A US court has ordered Congress president Sonia Gandhi to provide a copy of her passport as documentary evidence by April 7 to determine if she was in America last September when a Sikh rights group claims to have served summons on her in the 1984 anti-Sikh riots case.

India lauds US backing for Sikhs in military
Washington, March 19
India has welcomed the move by more than 100 US lawmakers, asking Defence Secretary Chuck Hagel to allow Sikhs to serve in the American armed forces with their articles of faith such as turbans and beard.



Sikh 'hakeem' shot dead in Pakistan
Peshawar, March 14
A prominent Sikh "hakeem" (medical practitioner) and his assistant were gunned down in a busy market in Pakistan's northwest Khyber Pakhtunkhwa province. Four gunmen stormed in Paramjeet Singh's clinic in Shabqadar Bazaar in Charsadda district yesterday and killed him and his assistant Zahid Khan. Eye witnesses said the killers went away on foot after the incident. No terrorist outfit has claimed responsibility for the killing.

Man jailed for hitting wife in Singapore
Singapore, March 14
An Indian-origin man in Singapore has been jailed for 12 weeks for hitting his wife with a motorcycle exhaust pipe, breaking her collarbone and left finger after he suspected she had an affair with someone.

Man cleared of kirpan attack charges in UK
London, March 13
A British court has cleared a 60-year-old Sikh man of charges of allegedly attacking a drinker with a kirpan or ceremonial sword. Snaresbrook Crown Court Tuesday found Bagicha Singh not guilty of assaulting Pritpal Singh, 30, with the kirpan, the Ilford Recorder reported Thursday. Both the defendant and the victim are from Ilford in the Greater London region.

Man in NZ held guilty of rape
Wellington, March 13
A Sikh man in New Zealand has been found guilty of domestic violence and rape by a court. The man, from Hastings in the Hawke's Bay region of New Zealand's North Island, was held guilty by a jury at the Napier district court Wednesday on multiple counts of rape, assault and threatening to kill his wife in 2012, the Hawke's Bay Today reported Thursday. He cannot be named in order to protect the identity of the victim.

Hearing of murder accused in US on March 20
Sacramento, March 7
The Punjab Police have handed over Amandeep Singh Dhami, who is wanted in a murder case, to the USA. Dhami's court date is set for March 20.

Cong seeks dismissal of lawsuit filed in US
New York, March 7
The Congress has approached a US court here seeking the dismissal of a lawsuit filed by a Sikh rights group over the 1984 anti-Sikh riots, saying American courts do not have subject matter jurisdiction over the case.



Punjabi shot dead in the Philippines
Manila, March 6
An Indian businessman has been shot dead in the Philippines by two unidentified gunmen, the third such incident in less than three months involving Indian nationals.

Man stabs compatriot in Britain
London, March 6
An elderly Sikh man stabbed a compatriot in Britain with his kirpan or ceremonial sword, a court has heard.



Indo-Canadian is Miss Canada
Canada, March 4
An Indo-Canadian girl, who is a first-year nursing student at the University of Windsor, has won the prestigious crown of Miss Canada 2014.

Sikh bus driver wins turban suit
London, February 26
A Sikh bus driver in Finland has been granted the right to wear turban at work. Gill Sukhdarshan Singh was in a dispute with his employer, Veolia Transport, in the city of Vantaa for more than a year over the issue, Yle, a Finnish public broadcasting company, reported on Tuesday. Gill's dispute with Veolia Transport was resolved after an agreement between the transport workers' union and the employers' organisation. Now, Sikhs would be able to wear either their own turbans or those provided by their employer, the report said. "I can wear my turban at work now and that's the important thing," Gill said. — IANS


Panel takes notice of attack on student in Oz
Hoshiarpur, February 21
The State Human Rights Commission has taken suo-motu cognisance of the attack on Indian student Manrajwinder Singh in Melbourne, Australia. A human rights body, Centre for Human Rights Training and Research Association, had complained to the panel.

Punjabi convicted of poll fraud in NZ
Melbourne, February 20
A Sikh leader has been sentenced by a New Zealand court to community detention and community work for forging poll documents in a bid to win a local body election three years ago.

Couple seeks help to avoid deportation
Wellington, February 20
An Indian couple in New Zealand facing deportation has approached a local Member of Parliament (MP) for help.

Another concession to Sikhs in the US
Washington, February 19
A Sikh American has won a legal victory in the US state of Minnesota, allowing Sikhs to wear their turbans in driving licence identification photographs. The major legal victory for Sikh Americans came yesterday when Jatinder Singh of Blaine, Minnesota and SALDEF (Sikh American Legal Defense and Education Fund) succeeded in challenging Minnesota Department of Public Safety, Driver and Vehicle Services' (DVS) driver's licence policy.

UK Sikh hits Rs 2.5 cr jackpot
London, February 13
A British Sikh man has become a "crorepati" overnight after he won the £2,50,000 jackpot on a television game show here.




Satguru's attacker claims he was sexually abused
London, February 11
A Sikh man on trial for the attempted murder of Namdhari sect leader Satguru Uday Singh in Britain has claimed that it was a revenge attack over being sexually abused by the guru 20 years ago. Harjit Singh Toor (27), a non-Namdhari Sikh, appeared before the Birmingham Crown Court this week as jurors were shown video footage of the moment he pulled out a 3-foot axe from his shawl during morning prayers at a gurdwara in Leicester last August. The Namdhari leader suffered a broken arm and a cut nose when he tried to shield himself from the blows in front of horrified worshippers.

Sikh charity leads flood rescue efforts
London, February 11
A British Sikh charity set up to help victims in foreign disaster zones has become one of the first NGOs to despatch humanitarian aid to people affected by floods in southwestern England.




US war veteran cremated with military honours
Sacramento/California, February 9
The funeral of Gulf War veteran Parminder Singh Shergill, whom the police shot dead near his house on January 26, was held with full military honours today. Hundreds of members of the Sikh community gathered to mourn his death.

Court orders compensation for Hindus attacked in B'desh
Dhaka, February 9
A Bangladeshi court today ordered the government to pay over Taka 4.34 million as compensation to Hindu families who were attacked for an alleged blasphemous post on a popular social networking site.



2 Punjabi-origin men jailed in UK for attack on 80-year-old
London, February 6
Two Indian-origin robbers have been sentenced to nearly four years in prison each in Britain for brutally attacking a frail 80-year-old man.

Indian-origin lawyer eyes US Congress seat
New York, February 6
An Indian-American patent lawyer, vying for a congressional seat in the Silicon Valley, has been endorsed by top executives from technology giants such as Google, as he seeks to oust a seven-term Democrat endorsed by President Barack Obama.

Malaysia urged to stop Indian's execution
Kuala Lumpur, February 6
A Malaysian-Indian NGO today made a last-minute appeal to the government to stop the execution of an ethnic Indian man who has been convicted of murder, saying the death sentence was incompatible with human rights and dignity.




Special to the tribune
Op Bluestar: Sikhs outraged over UK Govt's disclosure
Nearly half a million British Sikhs are poised for political retaliation against UK Conservatives following confirmation that London offered military advice to India before the Operation Bluestar.

US court rejects Sikh body's plea
New York, February 5
A US court here has rejected a request by a Sikh rights group seeking more time to respond to a motion filed by Congress President Sonia Gandhi to dismiss a human rights violation case against her in the 1984 anti-Sikh riots brought by the group.




Punjabi couple in Italy held for killing woman
Rome, February 4
An Indian couple in Italy has been arrested for allegedly killing their flat-mate, an Iranian national, and dumping her naked body, stuffed in a suitcase, in a Venetian canal. Rajeshwar Singh, 29, and Gagandeep Kaur, 30, shared an apartment in Milan with the victim, 29-year-old Mahfab Ahadsavoji, whose body was found off the island of Lido last week and identified through fingerprints.


Punjabi moneylenders in Manila lead a dangerous life
Jalandhar, February 3
Several Punjabis have been murdered in the Philippines in recent years. Most of them were moneylenders. Kulwinder Singh of Dangian village near Jagraon, Ludhiana, was killed in Manila some days ago. Kulwant Singh of Maheshwari Sandhuan village in Moga district was murdered on January 6. "We have taken up the issue with the Centre," said DS Bains, Principal Secretary, Home, Punjab.

Indian-origin man held for murder
Toronto, February 3
An Indian-origin man in Canada has been arrested and charged with stabbing to death a gangster.

Countries have benefited from diaspora: MP
Patiala, February 3
The contribution of the Punjabi diaspora in terms of adding value to foreign countries was appreciated on the opening day of a three-day conference on "Interface between the Diaspora abroad and at Home, at Punjabi University here today.

Indian-origin workers win in UK unfair dismissal case
London, February 1
Three Indian-origin men, who were sacked by their employer in the UK over claims they took bribes for jobs, have won their case of unfair dismissal.

Candlelight vigil for slain army veteran in New York
New York, February 1
The family and friends of an Indian-origin man in California, who was killed in a police firing, gathered at a candlelight vigil in his memory.

Woman walks free in UK fraud case
London, February 1
An Indian-origin woman in the UK accused of conspiring with a former police officer to steal and sell accident victims' details has walked free after a jury failed to reach a verdict.



Sikhs be given fair chance to serve in US military: Major Kalsi
Washington, January 30
One of the three Sikhs serving in the US military has appealed to authorities to amend policies so that the community members get a fair chance to serve in the armed forces without compromising their religion.

Sikh Eco Day on March 14
Chandigarh, January 30 EcoSikh, a US-based International Ecology organisation, will celebrate March 14 as the 'Sikh Environment Day'. The aim is create awareness about the traditional teachings on nature preservation in Sikhism.

US Sikh rights group to subpoena Rahul
New York, January 30
A Sikh rights group that has filed human rights violation cases against the Congress party and its leader Sonia Gandhi said it would subpoena the party's vice president Rahul Gandhi before a US court in the 1984 anti-Sikh rights lawsuit. This demand has been strongly rejected by the political party's attorney here. Sikhs for Justice (SFJ) said it decided to subpoena Gandhi after he said in a televised interview that "some Congress men were probably involved in 1984 anti-Sikh riots and that they had been punished for it".



US court to hear Cong's plea in rights violation suit
New York, January 29
A US court will hear on March 19 a motion filed by the Congress seeking dismissal of a human rights violation lawsuit against it in connection with the 1984 anti-Sikh riots.

Phoolka deserves SAD ticket: NRIs
Vancouver, January 29
A section of the Punjabi diaspora has urged the ruling Shiromani Akali Dal to allot a Lok Sabha ticket to senior human rights lawyer HS Phoolka in the larger interest of the community. The demand has come after there were reports that he was being fielded as an Aam Aadmi Party candidate from Punjab in the forthcoming parliamentary elections.

Murder accused appears in UK court
London, January 29
An Indian-origin woman charged with the murder of her three-year-old son has made a second private appearance in a Scottish court. Rosdeep Kular (33) appeared in a private hearing yesterday at the Edinburgh Sheriff's Court. She is also accused of attempting to defeat the ends of justice in connection with the death of Mikaeel Kular.

sexual assault case
Ex-Jathedar's son deported from Canada
Amritsar, January 28
Ajai Singh, son of former Akal Takht Jathedar Giani Puran Singh, has been deported from Canada after serving a sentence of 90 days for sexual assault on a 13-year-old girl there last year.

Canadians to benefit from India's fast-track visa regime
Toronto, January 27
The Indian consulate here has taken various steps to make its visa regime more transparent and prompt to accelerate air travel, tourism, social, cultural and economic ties between the two countries, Consul General Akhilesh Mishra has said.

Lightning strikes London gurdwara; devotees unhurt
London, January 27
Worshippers had a miraculous escape as a lightning strike destroyed the roof of a gurdwara in the British city of Leicester only 30 minutes after the building had been full of people.

Sonia won't depose in US court: Attorney
New York, January 27
Congress president Sonia Gandhi will not depose here in a human rights violation lawsuit filed against her by a Sikh rights group, her attorney has said. Responding to a demand made by the Sikhs For Justice (SFJ), Gandhi's attorney Ravi Batra said she would not depose in the case.

Punjabi singer bags lifetime award in UK
London, January 27
Punjabi singer and actor Sukshinder Shinda has been presented with the Lifetime Achievement Award by the Punjabi Circle International during a cultural event here.

Britain to scrap turban ban at high-risk workplaces
London, January 25
Britain is set to scrap a ban on turbans at high-risk workplaces next week, a move that some Sikh groups see as a "sweetener" to deal with the fallout of the Margaret Thatcher government's alleged role in Operation Bluestar in 1984.

Two youths to stand trial for rape in Oz
Melbourne, January 24
Two men accused of blackmailing, abducting and raping an Australian woman will stand trial at a court in Canberra.

Faith factor: US military eases regulations on turbans, beards
Sacramento, January 23
The US military has eased its uniform rules giving troops greater freedom to wear turbans, head scarves, yarmulkes and other religious clothing.

immigration fraud
19 suspects held in UK
London, January 22
Nineteen people were arrested on Tuesday in a series of raids with regard to a suspected immigration scam. It is being suspected that Indians are brought to the UK as Sikh religious preachers, who later disappear.

NRIs can apply for LPG connection
Chandigarh, January 22
Following a complaint filed by two Non-resident Indians, the Punjab State Commission for NRIs today said the complainants could avail LPG gas connection as the Ministry of Petroleum & Natural Gas had informed it that foreign nationals, Persons of Indian Origins (PIOs) and NRIs were eligible for the same.



Youth found dead in Philadelphia


New York, January 21
An Indian-American youth, who found his parents shot dead in their home seven years ago, was found dead in Philadelphia.

Woman charged with son's murder on suicide watch
London, January 21
An Indian-origin woman charged with the murder of her three-year-old son is on suicide watch in a prison in Scotland.

NRIs seek visas for political refugees
New Delhi, January 21
Members of the North American Punjabi Association (NAPA) based in United States today met Union Overseas Minister Vayalar Ravi and raised the matter of issuance of Indian visas and passports to those who had sought political asylum in the US.

Sikh mother in UK charged with 3-year-old son's death
London, January 19
In a case that has shaken up the UK, an Indian-origin mother has been charged with the death of her three-year-old son, who mysteriously disappeared from his home in Scotland last week.

Sikh leader killed in Kabul held high posts
Islamabad, January 18
A British politician of Indian origin was among 21 people killed in a Taliban suicide attack on a popular restaurant in the Afghan capital.

special to the sunday tribune
Indian-origin UK leader dead in attack
The Labour Party has confirmed that a UK-born NRI, Dalvinder Singh, is among those killed in a suicide bomb attack in Kabul on Friday night. Dalvinder, popularly known as Del and who had worked for development projects in Asia and Africa, was also a Labour Party candidate for the next European parliament elections.

Another Punjabi youth shot dead in Philippines
Jagraon, January 16
A Punjabi youth was shot dead by unidentified assailants in Manila, capital of the Philippines, yesterday. This is the second such incident this month.


special to the tribune
Cameron rejects conspiracy theory on Operation Bluestar


British Prime Minister David Cameron has rejected any "conspiracy theory" that the prospects of a lucrative commercial deal may have influenced the British government's decision in 1984 to supply specialist military help for the storming of the Golden Temple.


David Cameron, British pm
UK's MI-5 officers visited Golden Temple: RAW officer's book
New Delhi, January 15
Former Additional Director of the Research & Analysis Wing B Raman notes in his memoirs that at the request of the then RAW Chief RN Kao, two officers of the British Security Service (MI-5) had visited the Golden Temple as tourists and advised then Prime Minister Indira Gandhi to be patient and avoid action or use of police force.
Alberta Premier keen on economic ties with state govt
Amritsar, January 15
Canada's Alberta Province Premier Alison Redford has said that her state is keen on strengthening economic ties with India, particularly Punjab, through industry-to-industry linkages, knowledge sharing and increased trade and investment.
special to The Tribune
Cameron orders probe into Thatcher link
Sikh diaspora expresses outrage, presses for full disclosures


British Prime Minister David Cameron has asked his Cabinet Secretary to urgently look into the government's role in the events which led to the military operation at the Golden Temple in 1984 and establish the facts, said a foreign office spokesman. The documents — suggesting that the Margaret Thatcher government helped India plan Operation Bluestar — have proven deeply embarrassing for the British Government.
Student assaulted in Oz undergoes successful surgery
Hoshiarpur, January 13
An Indian commerce student, who was brutally assaulted in Melbourne, Australia, on December 29 last year, underwent a successful jaw surgery today.
Oberoi meets families of youths in Abu Dhabi jail
Hoshiarpur, January 13
Dubai-based businessman SPS Oberoi, who is known for paying blood money for release of Indians sentenced to death in Dubai, today met the families of 16 Indian youths lodged in the Abu Dhabi jail for over a month after being detained for interrogation on November 30.
US Sikh commerce chamber opens centre in Chandigarh
Chandigarh, January 12
The American-Punjabi community opened the India centre of Sikh American Chamber of Commerce (SACC) in the city today.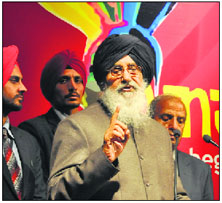 Punjab Diaspora Special: nri sammelan
CM seeks greater partnership
Anandpur Sahib, January 10
With only negligible foreign investment coming to Punjab, Chief Minister Parkash Singh Badal, addressing the NRI Sammelan here today, said the entire exercise would be worth the effort even if one major project came to Punjab every year. As many as 450 delegates from 15 countries participated.
Chief Minister Parkash Singh Badal at the NRI Sammelan at Anandpur Sahib on Friday. Tribune photo: Pradeep Tewari

Soon, platform for US Sikhs keen to invest in state
Chandigarh, January 10
The Punjabi diaspora from North America plans to set up a platform for American Sikhs looking to invest in Punjab. This group of American Sikh businessmen, under the aegis of Sikh American Chamber of Commerce (SACC), will aid Indian youth looking at establishing a foothold in the US.
Deserted wives feel let down
Jalandhar, January 10
Deserted, let down and cash-starved, over 3,500 NRI wives in the state have flayed the NRI Privilege Card Scheme of the state government. Resentful of the elaborate arrangements made to woo NRIs at the NRI Sammelan, they have accused the state government of ignoring them and extending benefits to offenders of the state. They also demanded that the registration for the NRI Special Privilege Card be stopped immediately.
NRI engineer reinvents sewage disposal at his native village
Sanghe Khalsa (Jalandhar), January 10
A qualified civil engineer from the UK, Nirmal Singh, has become a popular figure not just in his native Sanghe Khalsa village but also in nearly 73 villages of Jalandhar and Hoshiarpur.
nri meet
Modi takes a dig at PM
Says good days are just 4-6 months away
New Delhi, January 9
Gujarat Chief Minister and BJP prime ministerial candidate Narendra Modi was clearly the toast of the Indian diaspora on the concluding day of the Pravasi Bharatiya Divas (PBD) today as he mocked at Prime Minister Manmohan Singh for the latter's remark yesterday that the country could look forward to better times.
Hooda wants diaspora to invest in Haryana
New Delhi, January 9
Haryana today showcased its investment potential to Non Resident Indians attending the 12th Pravasi Bharatiya Divas here today. Haryana Chief Minister Bhupinder Singh Hooda called upon the Indian diaspora to become "partners" in the growth model of Haryana. Inviting the Indians living abroad to Haryana to see the development of the state, Hooda said the state was according special facilitation to them.
Meet ends; Prez hails NRIs' contribution
New Delhi, January 9
The 12th Pravasi Bharatiya Divas concluded today with President Pranab Mukherjee hailing the contribution of Non-Resident Indians in the growth and development of the country. "The government will continue to actively engage with the overseas Indian community and explore all possible avenues to make them valued partners in building a strong and prosperous India," Mukherjee said at the concluding ceremony of the three-day meet.
Punjab Diaspora Special
sammelan today
NRIs sceptical of state govt efforts
Chandigarh, January 9
Though most Non Resident Indians (NRIs) from the state appreciate the efforts of the state government to resolve their various problems, they feel much more needs to be done to encourage them to invest here.
philippines murders
Despite direction, govt fails to form probe panel
Jalandhar, January 9
The state government has failed to form a three-member committee to probe the murder of Punjabi NRIs in Philippines even though the state NRI Commission Chairman Justice (retd) Arvind Kumar had recommended it to do so. The NRI Commission had directed the government to form the committee after taking suo motu cognisance of reports of 500 Punjabi NRIs being killed in Philippines in August last year.
Will set up football league at my village: Canadian MP
Jalandhar, January 9
Canadian MP Jasbir Sandhu, who is here to attend the forthcoming NRI Sammelan in Jalandhar, wants to contribute in developing his native village, Rurka Kalan. He has been providing financial support to popular Youth Football Club at the village, where he spent the first 12 years of his life.
Invest in health sector: Chowdhary
Hoshiarpur: At the NRI Sammelan, Minister of State for Health and Family Welfare, Santosh Chowdhary, today urged NRIs to invest in healthcare services in the country. She said the 80 billion dollar healthcare industry in the country, was expected to be worth 160 billion dollars by 2017.
Better times ahead, PM assures diaspora
Opens NRI jamboree, says India's growth rate healthy
New Delhi, January 8
Prime Minister Manmohan Singh today formally launched the 12th edition of the Pravasi Bharatiya Divas, asking the Indian diaspora not to be unduly concerned about the future of Indian economy and social challenges.
NRI court on anvil: Govt
New Delhi, January 8
The state government today announced that it was all set to establish an exclusive court for NRIs. It also asked the Centre to launch a global sensitisation drive to educate the world about the identity of Sikhs to save them from hate crimes.
Khaira asks NRIs to boycott meet
Jalandhar, January 8
Sukhpal Singh Khaira, Congress spokesperson, has urged the NRIs to boycott the NRI Sammelan at Anandpur and Jalandhar as a mark of protest against NRI Minister Bikram Singh Majithia who is facing accusations of drug trafficking.
Toothless NRI police wing has a long way to go
Jalandhar/Mohali, January 8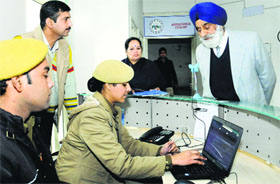 Though the NRI police wing set up by the state government has brought some relief to NRIs, it still has a long way to go. The much publicised project functions on an ad-hoc basis and is yet to be fully institutionalised. In the absence of any international alliance, the wing is not able to work in the extra-territorial jurisdiction, hence failing to bring the NRIs declared as Public Offenders (POs) into its net.
Police personnel at the NRI police station in Mohali on Wednesday. A Tribune photograph

List of POs residing abroad has been pruned, says IGP Deo
Chandigarh, January 8
Updating the list of Proclaimed Offenders (POs) residing in foreign countries, the NRI police wing has deleted at least 184 of the 844 names.
investment initiatives
Red-tape, lack of transparency biggest hurdles for NRIs
Jalandhar, January 8
Even as the state government has all of a sudden started wooing NRIs by promoting its matching grant schemes through the web portal, the NRIs, who have been investing here, rue prevalence of red-tape in government departments, lack of transparency on the part of the administration and the absence of a system to monitor the status of works initiated by them and utilisation of funds through the web.
indians in nigeria jail
Human rights body asks NRI panel to intervene
Hoshiarpur, January 8
The Centre for Human Rights Initiative, Training and Research Association (CHITRA), an NGO dedicated to human rights, has urged the state NRI Commission to intervene in the matter related to the alleged harassment of Indians in a Nigeria jail.
Corruption, atrocities against women, worry NRIs
New Delhi, January 7
The three-day 'Pravasi Bharatiya Divas' (PBD) began here today with some Persons of Indian Origin (PIOs) expressing concern over continuing corruption in India and atrocities against women.
Punjabis in search of their Punjab
NRIs in Punjab face peculiar problems and fear of exploitation keeps expatriate Punjabis from investing in industry in Punjab
Harjap Singh Aujla
Most NRIs are very genuinely reluctant to visit Punjab. According to their perception and actual experiences, the crime as reported abroad in the newspapers and Punjabi television channels, is simply too much in the state and that scares them from visiting their villages.

tribune special
NRI fast-track courts stuck in slow lane
Jalandhar, January 7
Speedy disposal of their legal matters in exclusive courts has been a long-pending demand of the NRIs belonging to Punjab.
Month on, Hayre fails to join as NRI panel member
Jalandhar, January 7
More than a month after his appointment to the Punjab State Commission for NRIs as a member on December 4, former NRI Sabha chairman Kamaljit Hayre is yet to assume charge.
NRI projects under RTS Act soon
Chandigarh, January 7
To expedite clearance to proposals from NRIs for developmental projects in their native villages, the Punjab Government has decided to cover all such cases under the Right to Service (RTS) Act.
Canadian minister visits Pingalwara
Amritsar, January 7
Canadian Minister Tim Uppal along with his family visited the main branch of the Pingalwara Charitable Society here today. He said it was his second visit and that he was impressed with the services being provided by the society to vulnerable persons.
tribune special
NRI fraud marriages still a knotty affair
Chandigarh, January 6
Getting runaway NRI grooms back to Punjab for any settlement with victim brides continues to be the biggest unfinished agenda for the Punjab State Commission for NRIs more than two years after it started functioning in November 2011.
Humiliation at IGI: Months on, doc in US awaits justice


Jalandhar, January 6
Memories of his detention and humiliation by Immigration and police officials continues to haunt California-based Dr Harmandeep Rai (38). He is scared of revisiting India for fear of being implicated in a false case.
Prominent invitees at Sammelan
Chandigarh, January 6
At least three Union Ministers from Canada, including Tim Uppal, Bal Gosal and Manmeet Gosal, will be participating in the NRI Sammelan, an official press release said here today.

Portal for NRIs launched
Chandigarh, January 6
On the pattern of NRI police stations working independently of normal policing in districts, the Punjab Government has initiated the process of instituting separate courts for handling civil cases of NRIs.
tribune special
Amend rent Act, demands NRI body
Says only then can the community members expect speedy resolution of their property disputes
On the eve of the two-day NRI Sammelan being organised by the Punjab Government on January 10 and 11, The Tribune takes a look at some of the issues concerning the NRIs from the region. The Tribune reporters find out if the promises made by the government last year have been fulfilled. Here is the first report of the series.
Jalandhar, January 5
A few days ahead of the two-day NRI Sammelan, the Punjab NRI Sabha has demanded further amendments in the existing laws to ensure speedy resolution of property disputes of the community members.

Indian on Interpol list for wife's murder
Singapore, January 4
An Indian, the husband of a beautician whose decapitated body was found in a canal in Singapore, is now on Interpol's wanted list.
Attack on student: Oz teen gets bail
Melbourne, January 3
A 16-year-old boy, who was charged with attacking a Sikh youth in Australia, was granted bail after he briefly appeared in a court on Friday. The boy, who cannot be named for legal reasons, was granted bail a day after a 17-year-old was remanded in custody in connection with the attack on Manriajwinder Singh in Melbourne on December 29.
Sikh family injured in accident in NZ
Melbourne, January 3
Eight persons of a Sikh family, including a six-month-old boy, were injured when their van plunged 15 metres down a cliff in New Zealand yesterday morning, turning their "celebration" trip into a tragedy. The family was going to Hawke's Bay from the Auckland Airport when the accident took place.
Indians lodged in Nigerian jail being 'harassed'
Hoshiarpur, January 2
Indians lodged in a Nigerian jail are on the verge of dying. They hardly get meal once a day and there is no medication in case anyone falls ill. The abject misery that befell on 10 Indians, including two Punjabis, have been laid threadbare in a letter by Capt Shailesh Kumar Singh, captain of the Indian crew, to the Indian Government. He has sent the letter to the family of Gagan Kumar of Hoshiarpur, one of the two Punjabi lodged in the Nigerian jail. The other youth is from Gurdaspur.
Smartphones enhance attention: US Sikh scientist
New York, January 2
Smartphones, often billed as distractors, can actually help enhance attention and mindfulness, claims an Indian-American researcher. Jasprit Singh, professor of electrical engineering and computer science at University of Michigan, has suggested that smartphones can enhance mindfulness, help users stay attentive and achieve particular goals while at work or home.
Grief, shock at killed NRI's village
Phagwara, January 2
The native village of NRI Jaspal Singh (45), who was shot dead in Bakersfield by the California police officer on Sunday, was in mourning on Thursday. Relatives and family friends of the NRI were in a state of shock at Bharo Majra village.
Former Babbar Khalsa leader hauled before Canadian refugee board
Toronto, January 1
A former leader of the banned Babbar Khalsa terrorist group has been ordered to appear at an immigration hearing to decide whether he should be admissible into Canada. Gurmej Singh Gill arrived in Vancouver to visit relatives in late November and was to return to his home in the British city of Birmingham December 22.
Six Indian tourists die in Nepal mishap
Kathmandu, January 1
Six Indian tourists were killed and five others injured when a jeep carrying them plunged into a river in Tanahun district in Nepal on New Year's Eve. The incident occurred last night when the jeep carrying 10 Indian tourists, all from Kolkata, was heading for Kathmandu from tourist city of Pokhara.