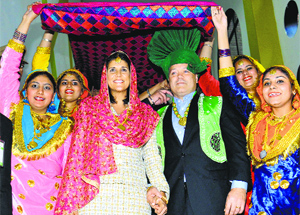 US Guv says transparency won her second term
Kharar/Phagwara, November 14
South Carolina Governor Nikki Randhawa Haley attributes her second gubernatorial term to the pro-transparency measures that she adopted during her first stint.





punjabi welcome: Nikki Haley with her husband at LPU, Phagwara. Tribune Photo Malkiat Singh

Tarn Taran village awaits its daughter Nimrata Nikki Randhawa
Pandori Ran Singh (Tarn Taran), November 14
The third generation of the Randhawa family living in this non-descript village is hoping they would get an opportunity to host their daughter, South Carolina Governor Nikki Haley whom they know as Nimrata Nikki Randhawa.
Mahinder Randhawa shows the ancestral house of Nikki Haley at Pandori Ran Singh village in Tarn Taran on Friday; and (right) Surjeet Randhawa shows old family photographs of Nikki Haley. Photos: vishal kumar
Akali Dal, BJP's love-hate alliance continues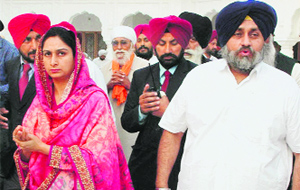 Mansa, November 14
Describing Chief Parliamentary Secretary (CPS) Navjot Kaur Sidhu as a low-rung leader, Cabinet Minister of Food Processing and Bathinda MP Harsimrat Kaur Badal today said the SAD-BJP ties were very strong and both parties would contest the 2017 Assembly elections together.



Firing a salvo: Sukhbir Badal and Harsimrat Kaur. file photo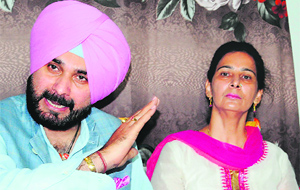 Sidhu targets CM, but retracts on break-up
Amritsar/Tarn Taran, November 14
Dr Navjot Kaur Sidhu, BJP MLA and Chief Parliamentary Secretary (CPS), has taken a U-turn on her statement released only a day before that her party should walk out of the SAD-led state government.



hitting back: Navjot Sidhu and Navjot Kaur. file photo

War of words a media creation: Sampla
Phagwara, November 14
Avoiding to comment on the ongoing war of words between SAD and BJP leaders in the state, Union Minister of State for Social Justice and Empowerment Vijay Sampla today described the so-called differences between the alliance partners as a creation of the media.


Union Minister of State for Social Justice and Empowerment Vijay Sampla (C) in Phagwara on Friday. photo: Ashok Kaura

Probe corruption charges against Joshi, says Bajwa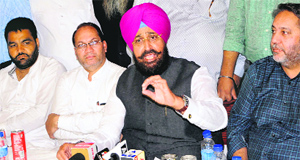 Amritsar, November 14
A day after SAD, BJP leaders levelled serious allegations against each other, PPCC chief Partap Singh Bajwa today lashed out at the BJP saying if the party knew from where drugs were coming to the state then it should take some concrete action, instead of fooling the people. He also asked the SAD whether it would move the Lokpal or judiciary against Local Bodies Minister Anil Joshi.

PPCC chief Partap Singh Bajwa (2nd from right) addresses the media in Amritsar on Friday. photo: vishal kumar

Majithia's men get key YAD posts
Chandigarh, November 14
Revenue Minister Bikram Singh Majithia may no longer be the Youth Akali Dal (YAD) chief, but his stamp on the newly constituted youth wing is evident.
Infighting to fore in Ropar Congress unit
Ropar, November 14
Factionalism in the district Congress unit was evident today when separate functions were organised at Ropar and Anandpur Sahib by rival factions to observe the birth anniversary of former Prime Minister Jawaharlal Nehru.



Dalit factor counts as MPs adopt villages
Chandigarh, November 14
The Saansad Adarsh Gram Yojana (SAGY) initiated by Prime Minister Narendra Modi on Independence Day has finally taken off in the state. Cutting across party lines, some MPs have adopted martyrs' birthplaces, while others have adopted villages infamous for drug addiction or rising crime. There are other adopted villages that have never been heard of. However, the common feature among these villages is that Dalits form the majority of the population.
Haley gives tips to college students
Kharar, November 14
"Time is money. Value it, work hard and remained focused," said Nikki Haley, US Governor of South Carolina, while addressing students of the Rayat-Bahra University. She was giving tips on how to achieve success and touch new heights in life, here today.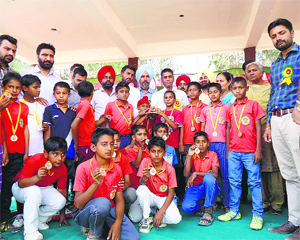 Teachers forced to bear cost of sports event in Muktsar
Muktsar, November 14
The Muktsar district education office, without releasing any funds, told its block-level officers to hold a three-day district-level primary sports championship, which concluded on Thursday.




Winners of a district-level sports championship with officials of the district education office at Doda village in Muktsar. Tribune photo

Officials told to provide services in stipulated time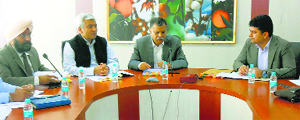 Fazilka, November 14
A day after Deputy Chief Minister Sukhbir Singh Badal announced opening of Unified Civil Services Centres in the state, Chief Commissioner, Right to Service Commission, Punjab, SC Aggarwal said that the services would be provided after constituting clusters, comprising five to six villages each.


SC Aggarwal, state Chief Commissioner, Right to Service Commission, chairs a meeting in Fazilka on Friday. Tribune photo

Even as the state government reportedly tried to keep Children's Day a "low-key affair" as it coincides with Pt Jawaharlal Nehru's birth anniversary, the Congress and NGOs held several functions today.

Surprise checks find 35 teachers absent
Chandigarh, November 14
Thirty-five teachers were found absent while 40 arrived late during surprise checks conducted in 737 schools in Jalandhar, Faridkot and Nabha circles. Twenty-three teachers were found long-time absentees.




2 Punjabi women charged with fraud in Singapore
Singapore, November 14
A Singapore court today charged two Indian-origin Malaysian women clerks for causing nearly SGD 35,000 in losses to a top Sikh body by forging cheques in 2010.




Police remand for terror accused Goldy

Patiala, November 14
Khalistan Tiger Force (KTF) terror accused Ramandeep Singh (alias Goldy) was remanded in five-day police custody by Judicial Magistrate First Class Jagmeet Singh today. He was arrested last week from the Chennai airport in connection with the murder of the Rashtriya Sikh Sangat state president Rulda Singh in 2009. The Rashtriya Sikh Sangat is an affiliate of the RSS.

Ramandeep Singh (alias Goldy) being taken to a court in Patiala on Friday. Tribune photo: Rajesh Sachar

Rs 20 cr not paid, debt tribunal attaches Khangura's house
Chandigarh, November 14
The Debt Recovery Tribunal has ordered the attachment of the palatial house of politically influential Khangura family for their failure to pay a Rs 20 crore debt to a bank.
High Court for jail lok adalats
Chandigarh, November 14
The Punjab and Haryana High Court has conferred the powers of special judicial magistrate (First Class) to the Secretary of District Legal Service Authorities for holding jail lok adalats and camp courts in the jails of Punjab for a year. A notification in this regard has been issued.
Punsup employee booked for fraud
Moga, November 14
The Moga police have booked an employee of the Punsup, a state-owned procurement agency, for allegedly siphoning off 653 bales of new gunny bags worth more than Rs 1.5 core.
Man booked for impersonation
Moga, November 14
The Moga police have booked a man, Joginder Singh Matto of Duneke village, for allegedly impersonating the chairman of the Punjab State Human Rights Council.