Hit by waterlogging, three Mansa farmers end life in two months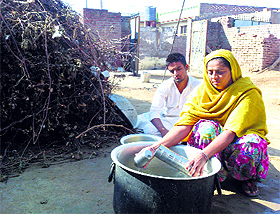 Mansa, November 10
Waterlogging continues to be the bane of the Malwa region. Three affected farmers have committed suicide in the past two months in Mansa alone. Apart from the loss to their crop, mainly cotton, farmer bodies have been blaming the allegedly faulty damage assessment surveys ('girdawri') by the Revenue Department for the deaths. For, the names of two of these three victims did not appear in the 'girdawari' covering affected farmers that was ordered by the state government on September 2.

Sarbjit Kaur with her son at their house in Musa village, Mansa. Life has become a struggle for Sarbjit Kaur ever since her husband Rajwinder Singh committed suicide on November 6. A Tribune Photograph
Ayurvedic doctors booked for practising allopathy
Registrar: PMC can't act against accused doctors
Ludhiana, November 10
Dr Gurdeep Singh Kalyan, Registrar of Punjab Medical Council (PMC) and the chairman of Board of Ayurvedic and Unani Systems of Medicine of Punjab (BAUSMP), is in the eye of the storm. With his volte-face on the complaint against two BAMS doctors practising allopathy, several PMC members are demanding that he should resign from one of the posts.
Cong leader framed in terror plot: Bajwa
Tarn Taran, November 10
Pradesh Congress chief Partap Singh Bajwa and senior Congress leader Harminder Singh Gill today condemned the arrest of party leader Jasbir Singh alias Jas Burj by the Chandigarh Police.
Six leaders from Patiala quit AAP
Patiala, November 10
Six AAP leaders, who were members of the core committee of the party's Patiala unit earlier, resigned from the party along with around 200 volunteers claiming that the party had started working in an arbitrary way.
State's social fabric beyond politics, says Preneet
Ludhiana, November 10
Senior Congress leader and former External Affairs Minister Preneet Kaur today said Punjab's social fabric was too strong to need any political alliances for survival.
local body elections
Rumblings within Congress, BJP grow as lists of candidates released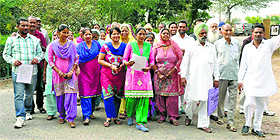 Abohar, November 10
There were growing rumblings of discontent in the ruling BJP party and the Congress as both the parties released lists of candidates for local body elections in Sriganganagar and Hanumangarh districts last night.

A candidate along with her supporters goes to submit papers in Hanumangarh. Tribune Photo

Asiad, CWG medallists to be honoured today
Chandigarh, November 10
The state government would honour the Punjab players, who brought laurels to the country by winning medals in Incheon Asian Games and Glasgow Commonwealth Games, during a function in Tagore Theatre, Chandigarh, at 11 am tomorrow.
Golden Temple repair work nears completion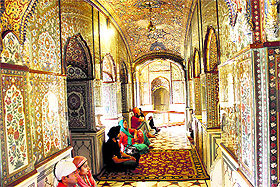 Amritsar, November 10
The restoration work on the interiors of the Golden Temple's first floor is inching towards completion. Sources said the gold work had been restored on the walls and roofs of the 'parikarma'. Now only arches were left. Similarly, restoration work is almost 30 per cent done on one of the staircases leading from the first floor to the second floor of the shrine.


Restoring sheen: A view of the 'parikarma' on the first floor of the Golden Temple in Amritsar. A Tribune photograph
Govt to promote fish farming with help of Chinese experts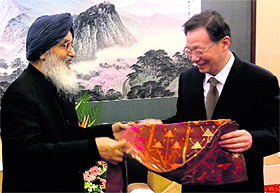 Chandigarh, November 10
The Chinese province of Jiangsu and Punjab are to join hands for promoting fresh water fisheries in Punjab.The former has, in principle, agreed to initiate the project.







CM Parkash Singh Badal gifts phulkari to Li Xueyong, Governor of China's Jiangsu province. tribune photo
Despite crunch, govt splurges on foreign tours
Chandigarh, November 10
It appears that the cash-strapped Punjab government's austerity measures are meant only for its employees. While Chief Minister Parkash Singh Badal, accompanied by a large delegation, is on a tour to China to study pisiculture, Deputy Chief Minister Sukhbir Badal will be in Barcelona, Spain, from November 18-20 to participate in "World Smart City Expo-2014."
Probe begins into sale of dialysis kits to college
Amritsar, November 10
The Director Research and Medical Education (DRME) has started a probe into the sale of dialysis kits to Government Medical College, Amritsar, by a private company allegedly at rates much higher than those prevailing in the market.
Process for widow pension to be made simpler
Chandigarh, November 10
Relentless efforts by an Amritsar-based businessman-turned-social worker, Chaman Lal Setia, and his son Vijay Setia to get reprieve for widowed women have finally yielded fruit. With the intervention of the Prime Minister's Office, the two have managed to get changes affected in the procedure for granting widow pension under the Indira Gandhi National Widow Pension Scheme and the state governments' pension schemes.
Man attempts suicide outside DC's office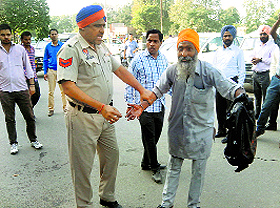 Ropar, November 10
A rickshaw-puller today attempted to commit suicide in front of the Ropar Deputy Commissioner's office alleging that his plot had been usurped by a resident in connivance with revenue officials and his pleadings to seek justice had fallen on deaf ears. He was, however, saved by a journalist present there at that time.




Pal Singh who tried to commit suicide in front of the Deputy Commissioner's office at Ropar on Monday. Tribune photo
Woman jumps into canal, dies
Fatehgarh Sahib, November 10
A woman committed suicide by jumping into the Bhakra canal near Chanarthal village this morning. She was being allegedly harassed and blackmailed by her sister and niece. The woman has been identified as Kanta Rani of Bhawanigarh village.
Vigilance probe begins into hostel construction
Muktsar, November 10
Taking suo motu cognisance of the report "Hostel declared unsafe, even before inauguration" published in The Tribune on September 19, the state Vigilance Bureau has launched an inquiry to check the quality of the material used for the construction of the building.
Punjab parties also want voting made mandatory
Chandigarh, November 10
Most parties in the state have appreciated the Gujarat legislation to make voting in the municipal elections mandatory. The president of the People's Party of Punjab, Manpreet Singh Badal, said that voting should be made mandatory for all statutory bodies such as the Lok Sabha, state Assemblies, municipal bodies and Panchayati Raj institutions. Gujarat is the first state in the country to pass such a law.
Medical body objects to PMC Registrar's statement
Ludhiana, November 10
The Indian Medical Association here has objected to the statement of Gurdeep Singh Kalyan, Registrar of Punjab Medical Council (PMC). He had said the PMC didn't have jurisdiction to act against two BAMS doctors practising modern scientific medicine (allopathy). IMA, Ludhiana, too condemned Kalyan's statement and supported the action taken by the PMC.
Set up ponds for stray cattle, DCs told
Muktsar, November 10
To tackle the menace of stray cattle, the state government has directed all the 22 Deputy Commissioners across the state to lease 25 acres from panchayats for 33 years and establish cattle ponds. In this regard, G Vajralingam, Financial Commissioner, Animal Husbandry Department, has shot off letters to authorities concerned.
IMA opposes proposed amendments to MTP
Muktsar, November 10
The Indian Medical Association (IMA), Punjab, today strongly opposed the proposed amendments to the new Medical Termination of Pregnancy (MTP) Act that allows ayurvedacharyas, homeopaths and nurses to conduct MTP.
Senior citizens honoured in Sriganganagar
Abohar, November 10
The Seth Megh Raj Jindal Charitable Trust and Khatri Seva Samiti honoured over 1,000 senior citizens at separate functions in Sriganganagar today. At the function organised by the Trust, Sriganganagar MLA Kamini Jindal said, "More and more people nowadays don't respect the elderly. We need to teach the youth to respect senior citizens, who need love and care in the twilight years of their life."
1984 anti-sikh riots
Prominent UK Sikh for truth commission
A prominent British Sikh has used a House of Commons ceremony in London to call for a truth and reconciliation commission in India to "identify the guilty and bring a measure of dignity and closure to thousands of grieving families" who remember the killing of Sikhs in 1984.
Court raps Centre for not taking up BSF man's plea
Chandigarh, November 10
The Punjab and Haryana High Court has admonished the Union of India for opposing an order for granting an opportunity of hearing to a BSF official involved in a murder case. Imposing costs of Rs 50,000, a Division Bench has asserted that the challenge to the orders has shaken the "conscience of the Court".
Zira lawyers to go on strike on November 12
Zira, November 10
Lawyers in the judicial courts at Zira town in Ferozepur district are up in arms against the state government since they have reportedly not been allowed to construct chambers. Space for the new judicial complex has been allotted. They have given a call to observe a one-day strike in all judicial courts across the state on November 12.
SAD leader's murder
Police seek arrest warrants against nephew
Moga, November 10
The police have filed an application before Chief Judicial Magistrate (CJM) Pooja Andhotra demanding arrest warrants against Gurpreet Singh Sidhu, Director of a local private school, on charges of hiring contract killers for eliminating his 72-year old uncle, Gurdeep Singh Gill, a local Akali leader.
Sangrur farmer commits suicide, arhtiya booked
Sangrur, November 10
The Chhajli police have booked an arhtiya, Vinod Kumar of Sunam, after a farmer of Mehlan village, Labh Singh, allegedly committed suicide by consuming poison.