Lobbying on for Mayor's post
Chandigarh, November 10
With the election to the post of Mayor a month and a half away, prospective candidates from the Congress and the BJP have started lobbying.
Timely harvesting of eyes a big challenge due to lack of awareness: PGI expert
Chandigarh, November 10
Lack of awareness on the process involved in timely harvesting of eyes still remains an impediment in the successful implementation of the eye donation programme, at least in the northern region.
Remove your pet's poop or pay fine
Panchkula, November 10
Making your dog defecate in the open will soon cost you dear in Panchkula as the pet owner will end up cleaning the excreta himself or else will have to shell out a fine.



Kirron adopts Sarangpur village
Chandigarh, November 10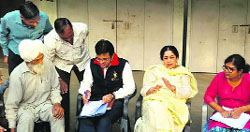 Local MP Kirron Kher today adopted Sarangpur village for development under the Saansad Adarsh Gram Yojana. The BJP MP visited all shortlisted villages last week to assess their developmental needs, and to chalk out a plan with the Administration.

MP Kirron Kher interacts with residents of Sarangpur village. A tribune photograph
Rly station witnesses tight security
Chandigarh, November 10
The Chandigarh railway station witnessed heavy security anticipating large turnout of Sant Rampal's followers in the city owing to his appearance in the Punjab and Haryana High Court here today.



Haryana Police personnel keep vigil at the entrance to the Chandigarh railway station
on Monday. Tribune Photo: S Chandan
Checking at nakas leads to traffic snarl-ups
Zirakpur, November 10
Hundreds of vehicles moved at a snail's pace on the Chandigarh-Zirakpur highway for over four hours with the UT and Punjab Police putting up nakas at the interstate border to check the entry of Sant Rampal's followers.
P'kula cops fail to trace them
Panchkula, November 10
The brutal killing of Mehram Singh Sandhu, a six-year-old resident of Phase IX, Mohali, has brought to the fore the apathy on part of the police in timely tracking down such children who go missing.
Vatsal Chaya gets another bus for underprivileged
Chandigarh, November 10
The Vatsal Chaya Trust today celebrated the arrival of a new second bus for providing free transport to underprivileged children.
Misuse of domestic power supply worries FOSWAC
Chandigarh, November 10
The executive meeting of the Federation of Sectors Welfare Association Chandigarh (FOSWAC) was held at the Sector 21 Community Centre, on Sunday, under the chairmanship of Baljinder Singh Bittu.
NavSankalp donates Rs 70K for child's treatment
Chandigarh, November 10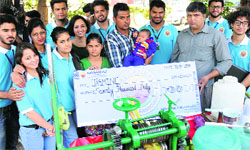 Members of the NavSankalp, Chandigarh, a charity association run by the students, donated Rs 70,000 to Jasmine, a three-month-old baby girl, who is suffering from AV Canal Defect, a severe cardiac condition.

NavSankalp, a student-run charity association, donates a cheque for Rs 70,000 to Jasmine at Sector 10 in Chandigarh on Monday. Tribune Photo: Pradeep Tewari

94-year-old diabetic felicitated
Mohali, November 10
Fortis Hospital today felicitated 94-year-old JS Rai, who has been living with diabetes for over 65 years now, in a function. The event was held to spread awareness about the disease. Over 100 senior citizens attended the event. The additional director endocrinologist of the hospital, Dr KP Singh, gave detailed information on insulin pump therapy.
2,100 patients examined for free
Chandigarh, November 10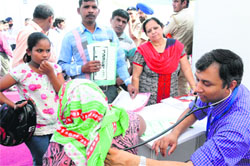 More than 2,100 patients were examined and given treatment for free at a mega health check-up camp organised by the Joshi Foundation at the Sector 15 Patel Market on Sunday.




A doctor examines a patient during a health check-up camp at Sector 15, Chandigarh. Tribune photo: Pradeep Tewari
Tractor-trailer overturns on track, Shatabdi delayed
Chandigarh, November 10
Hundred of commuters travelling in the shatabdi train number 12011 this morning were inconvenienced as they reached Chandigarh 50 minutes late. As per the railway report, the train was delayed as a tractor-trailer had overturned on the track on the unmanned railway-level crossing and it took around 45 minutes to remove it. The train had to halt near Badli, on the outskirts of the New Delhi railway station.
Science Congress begins
Chandigarh, November 10
One-week Regional Science Congress-2014 began today at Jawahar Navodaya Vidyalaya, Sector 25, Chandigarh, under the guidance of NVS Regional Office, Chandigarh.
Rural participation up this year
Chandigarh, November 10
The number of rural participants in the 41st Jawaharlal Nehru National Science, Mathematics and Environment Exhibition for Children has increased this year.
200 attend workshop on biology
Chandigarh, November 10
A two-day workshop on "contemporary topics in biology" was organised by the Department of Bioinformatics and Biotechnology, DAV College, today. It was organised in association with the Indian Academy of Sciences, Bangalore, Indian National Science Academy, New Delhi, and the National Academy of Sciences, Allahabad.
Unhygienic conditions at PU hostels irk inmates
Chandigarh, November 10
A large number of complaints relating to unhygienic hostel premises are being received by the Panjab University authorities from inmates these days.
SSA teachers' assn holds executive panel meeting
Chandigarh, November 10
The Sarva Shiksha Abhiyan Teachers Welfare Association (SSATWA), UT, held a meeting of the executive committee at Lajpat Rai Bhawan here.