KCF head Panjwar smuggling drugs into state, court told
Chandigarh, November 13
Arrested for his involvement in a bomb blast case in Sector 34 of Chandigarh in 1999, 'dreaded terrorist' Rattandeep Singh today agreed to put his statements on record before the Magistrate.


Infighting to fore, Akali group boycotts meeting
Moga, November 13
Infighting among SAD leaders came to the fore during a meeting of the Nihalsinghwala Block Samiti that was held at the BDPO office today.
Congress launches 'Save Punjab' drive against drugs
Amritsar, November 13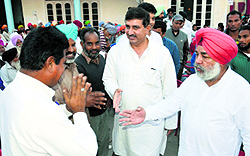 Aiming to curb the rampant drug addiction in the state, the Punjab Congress today kicked off its 'Save Punjab' campaign from Majitha Assembly constituency, the home turf of Revenue Minister Bikram Singh Majithia. AICC secretary Harish Chaudhary and PPCC vice-president Amar Singh said they had selected five constituencies, Majitha, Chabewal, Sanaur, Qadian and Ludhiana (West), for the campaign.


AICC secretary Harish Chaudhary (centre) at a party meet in Majitha on Thursday


Clean-up drive has failed: Jakhar


Abohar, November 13
Congress Legislature Party Leader Sunil Jakhar today said a survey by an independent agency found that the "Swachh Bharat Abhiyan" had failed to take off in the state.




children's day special
Rehabilitation of child labourers low on state agenda
Jalandhar, November 13
The state government has failed to rehabilitate thousands of child labourers.

Come Jan, pension to come in your a/c
Chandigarh, November 13
Over 20 lakh beneficiaries of various social security pensions in Punjab would get their money directly in bank accounts from next January.

Nawanshahr to get its first biomass power plant soon


Jalandhar, November 13
The first biomass power plant of Nawanshahr will soon be set up for Rs 65 Crore at Cooperative Sugar Mill. The plant will have a power generation capacity of 15 MW and will be operational by March 2015.




Sikh pilgrims return from Pakistan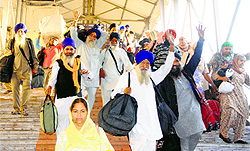 Scores of Sikh pilgrims, including the SGPC jatha, on Thursday returned from Pakistan in special trains after celebrating Guru Nanak Dev's birth anniversary there
A majority of them were satisfied with the security arrangements in the aftermath of the terror attack at Wagah, but they rued their movement was restricted
Khalra Mission Committee chairman Balwinder Singh Jhabal said the event was celebrated with enthusiasm at Nankana Sahib during which an announcement was also made about the construction of a 'sarai' (inn) having 1,000 rooms
2,600 citizen service centres on cards: Dy CM
Fazilka, November 13
Deputy Chief Minister Sukhbir Singh Badal today said the Punjab Government would set up 2,600 unified civil services centres in all villages and 137 towns in the state by May next year.

Row over bus passes
Cancel 'false' cases: Students
Sangrur, November 13
Students today burnt the effigies of the police outside the Akal Degree College, Mastuana Sahib; Government College, Sunam; Government College, Malerkotla; and Government Senior Secondary School, Longowal. They alleged the police had framed students on the complaints of private transporters.

Mann announces grant for Sangrur college


Sangrur, November 13
Sangrur MP Bhagwant Mann today paid a surprise visit to local Government Ranbir College and heard the grievances of students. He also asked about the infrastructural requirements of the college.

Chhattisgarh deaths
Medical tools to be checked
Chandigarh, November 13
The Punjab Health Department today ordered a special checking of medical equipment, operation theatres and general hygiene in all government and private hospitals in the state.



Looking for her roots, Nikki Haley lands in Amritsar today
Amritsar, November 13
South Carolina Governor Nikki Haley will be landing in Amritsar tomorrow as part of her 10-day visit to India. Her sojourn to Amritsar is being seen as 'homecoming' here as she traces her roots to the region.

NRIs feel alienated: British MP
Jalandhar, November 13
Virendra Sharma, a Labour Party MP in the UK, said Punjab could not attract any NRI investment in the last few years owing to "poor" law and order situation in the state.

Govt against tax on NRI remittances fee
Chandigarh: The Punjab Government has opposed the decision of the Centre to charge service tax on foreign remittances fee from NRIs and sought its withdrawal. NRI Affairs Minister Tota Singh said the decision will make it difficult for the NRIs to send money back home. He also said the NRI Sangat Darshan would be held at Ludhiana, Jalandhar and Moga from December to January. — TNS/PTI




Curb campus violence with heavy hand: HC
Chandigarh, November 13
Making it clear that violence had no place on college and university campuses, the Punjab and Haryana High Court has called for curbing it with a heavy hand. "Violence can have no place and must be curbed with strong hand within the educational institutions," a Division Bench has ruled.

HC notice to two policemen for 'handcuffing' former official
Chandigarh, November 13
The Punjab Police is in contempt loop for allegedly handcuffing an accused. Acting on a petition alleging handcuffing of former presiding member of Kapurthala District Consumer Disputes Redressal Forum Surinder Mittal, Justice Augustine George Masih has put two investigating officers on notice.

Paralympics medallist seeks cash reward, moves court
Chandigarh, November 13
The Punjab and Haryana High Court today put Punjab on notice in connection with a petition filed by a bronze medal winner in Paralympics. Visually impaired athlete Balwinder Kaur of Khanna is seeking cash award on a par with bronze medal winners of Olympic Games.





Rs 8 cr paddy scams detected
Moga, November 13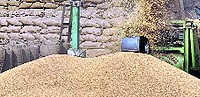 Embezzlement of paddy worth Rs 8 crore has come to light in three rice mills in the district. After inquiries by food procurement agencies and the economic offences wing of the police, separate criminal cases under IPC Sections 406 and 420 have been registered against the owners of these mills.