Take everybody along, Rahul tells PPCC chief
New Delhi, November 12
Alarmed at the mounting rebellion against the party leadership in Punjab, Congress vice-president Rahul Gandhi has told the state party president, Partap Singh Bajwa, to take everyone along. At a meeting with senior Congress leaders today, Rahul heard their views on the state affairs.
SAD core panel to meet tomorrow
Chandigarh, November 12
The SAD has called a meeting of its core committee here on November 14, the day party's chief patron and Chief Minister Parkash Singh Badal returns from China.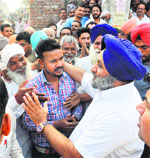 Alliance will win Delhi poll: Sukhbir
Fazilka, November 12
Deputy Chief Minister Sukhbir Singh Badal on Wednesday laid foundation stones of a development project in Jalalabad constituency of Fazilka district. Sukhbir claimed that the SAD-BJP alliance would win a record number of seats in the upcoming Delhi Assembly elections.
Deputy CM Sukhbir Badal greets people at Arniwala village in Jalalabad on Wednesday. Tribune photo

Joshi biased, alleges Bolaria
Amritsar, November 12
The tussle between the SAD and the BJP over the Bhagtanwala dump yard today intensified with SAD Chief Parliamentary Secretary Inderbir Singh Bolaria accusing Local Bodies Minister Anil Joshi of discriminating against SAD constituencies while carrying out development works in the city. He urged the minister not to shirk his responsibility towards "Guru ki Nagri".
Gurdaspur firing: Rs 5 lakh given to kin of deceased
Chandigarh, November 12
More than a year after a youngster, Jaspal Singh, was killed after the police opened fire to disperse a protesting mob in Gurdaspur, a compensation of Rs 5 lakh has been given to his family. Another sum of Rs 2 lakh has been handed over to injured Ranjit Singh from the Chief Minister's Fund. This was revealed as a petition filed in public interest on the issue came up for pronouncement this morning.
Govt may not give in to BJP's demand for VAT cut on diesel
Chandigarh, November 12
Much to the displeasure of the BJP, the state government may not be able to reduce value added tax (VAT) on diesel. With the prices of diesel falling after its deregularisation, the government is losing Rs 225 crore as VAT earned through its sale in the state.
VB begins probe into equipment scam at Amritsar hospital
Amritsar, November 12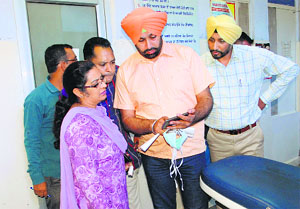 The Vigilance Department has begun probing the matter wherein Government Medical College purchased patient examination tables allegedly at inflated rates. A team, led by Deputy Parveen Kanda, Superintendent of Police (DSP), Vigilance, visited the college today and examined the records pertaining to the purchase. The Vigilance also recorded the statements of various serving and retired officials.
Vigilance Bureau officials at Government Medical College in Amritsar on Wednesday. PHOTO:RK SONI

Bank staff strike work, demand wage revision
Sangrur, November 12

Local employees of the nationalised banks today held a protest outside the main branch of the State Bank of Patiala (SBoP) here. They were demanding revision of wages. Addressing the rally, Sunil Jain, regional secretary, SBoP Employees Union, said 10 lakh officers and workmen throughout the country went on strike as the Indian Banks Association (IBA) had failed to revise their wages.
Members of the United Forum of Bank Unions protest in Patiala on Wednesday. Tribune photo: Rajesh Sachar

Govt to sponsor students for fishery courses in China
Chandigarh, November 12
The state government will soon sponsor students keen to undertake a four-year bachelor degree or three-year master's degree programme in fisheries from China's leading institute, Freshwater Fisheries Research Centre (FFRC), at Wuxi. The decision was taken by Chief Minister Parkash Singh Badal during his meeting with FFRC Director Hu Zhong at Wuxi last evening.
Rising crime in Patiala puts residents on edge
Patiala, November 12
The law and order in the city is rapidly deteriorating with over 400 theft cases having been registered in the past almost 10 months. It seems the police is not keen on cracking down on criminals. Sources confirmed the police was not regularly patrolling in the night even though Deputy Chief Minister Sukhbir Singh Badal had made it mandatory.
Ensure speedy disposal of cases: HC to Chief Secy
Chandigarh, November 12
Taking cognisance of delay by District Magistrates in passing orders on assisting secured creditors in taking possession of secured assets, the Punjab and Haryana High Court has directed state Chief Secretary to issue necessary directions for time-bound decisions. The directions to the Chief Secretary by the Division Bench of Justice Hemant Gupta and Justice Jaishree Thakur came on a petition filed by Punjab National Bank against the State of Punjab and other respondents.
Activists protest, demand fee refund for SC students
Sangrur, November 12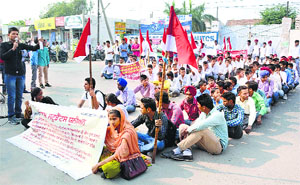 Members and activists of the Punjab Student Union (PSU) protested the delay in the reimbursement of fee to Scheduled Caste (SC) students. Students held a dharna outside the district administrative complex here. Earlier, they took out a march from Banasar Garden to the DC office.

Students hold a protest in Sangrur on Wednesday. a tribune photograph

Norms for nursing courses eased
Chandigarh, November 12
The state government has partially modified the eligibility criteria for candidates seeking admission to the M.Sc nursing and post-basic B.Sc. nursing courses for 2014-15.
State govt to preserve martyr's ancestral house
Chandigarh, November 12
The state government today set in motion the process of preserving the ancestral house belonging to martyr Sukhdev Thapar in Ludhiana as a monument of historical importance by issuing a notification under the Punjab Ancient and Historical Monuments and Archaeological Sites and Remains Act, 1964.
Rural job scheme fails to serve purpose in Moga dist
Moga, November 12
The Mahatma Gandhi National Rural Employment Guarantee Act (MGNREGA) provides the right to work by promising up to 100 days of wage employment per annum to rural households whose adult members volunteer to do unskilled manual work. However, the reality is far from ideal in Moga district.As many as 57,473 households have been issued job cards this financial year, out of which 25,737 households have sought jobs. Although, 22,010 households have been offered jobs but only 38 households got 100 days of work.
SC students end protest
Faridkot, November 12
Scheduled caste students ended their protest after two weeks in Faridkot after the Education Department agreed to fulfill their demands.
6 months on, Faridkot MP holds thanksgiving tour
Muktsar, November 12


Six months after securing victory with the second highest margin in the state, Faridkot (AAP) MP Prof Sadhu Singh began his thanksgiving tour in villages of the Gidderbaha Assembly segment today.Sadhu Singh had defeated SAD's sitting MP Paramjeet Kaur Gulshan with over 1.72 lakh votes in May this year.


MP Sadhu Singh in Gidderbaha segment on Wednesday.

2 drug peddlers get 10-yr jail
Ropar, November 12
A special court today awarded 10-year imprisonment to two drug peddlers for possessing phenotil tablets and bottles of cough syrup without having the requisite licence. The judge, Jatinder Kaur, also imposed a penalty of Rs 1 lakh on Manminder Kumar and Harpreet Singh of Chamkaur Sahib. If they fail to deposit the amount, they will have to remain in prison for another year.
Police book accused in PPSC scam for kidnapping brother
Faridkot, November 12
An accused in the infamous cash-for-job PPSC scam of 2002, Prem Sagar, was today booked by the Kotkapura police for allegedly kidnapping his brother over a property dispute.
EO among five booked for fraud
Hoshiarpur, November 12
The Dasuya police have booked an Executive Officer (EO), a Junior Engineer (JE) and an accountant of the Dasuya Municipal Committee and two contractors on the charges of bungling government funds.