Punjab should not give up on its NRIs
While most states are stepping up the effort to connect with the diaspora, Punjab has taken a backward step. What is the rationale behind the Punjab government's decision to cancel the annual conclave of NRIs in Punjab?
Shinder Thandi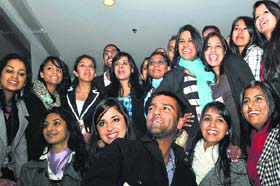 NRI youth delegates at the conference for overseas Indians. Gen Next rarely has a stake in the country of their origin but the future of the ties with India will be decided by the youth.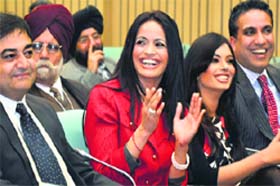 Ruby Dhalla (in red) , the former MP from Canada at the plenary session on "Engaging the global Indian," during the Pravasi Bharatiya Divas. Tribune photo Mukesh Aggarwal
THE Indian community's contribution to India has also been invaluable — from the workers who labour abroad to support their families and communities at home; the professionals who share the fruits of their skills for India's development; the entrepreneurs who bring investments into and promote exports from India; and, the community leaders who interpret India for the world and advance its interests abroad." This is what the former Prime Minister Manmohan Singh said while addressing the Pravasi Bharatiya Divas (PBD), 2014
Punjab and Punjabi society is truly globalised — beginning with the earlier invasions of Punjab, 99 years of British rule, Britain's subsequent expansion eastwards and in Africa, post-War acceleration in globalisation forces and liberalisation of India which integrated Punjab even further into the global economy, especially through labour migration — and this is reflected in the numerous multi-layered transnational practices Punjabis engage in on a daily basis. These are, of course, all voluntary practices, many based around mutual love among families and friends but some also for profit.
Among the diaspora, many Punjabis, individually or collectively, have set up welfare and philanthropic societies which have resulted in material gains for their fellow Punjabis in Punjab, whether in health, education or development of village infrastructure. Furthermore, many Punjabi entrepreneurs, based either in Punjab or the diaspora have made a commercial gain out of transnational linkages. Trade in foodstuffs, clothing and garments, jewellery, cultural products such as music and film among others has grown steadily over the years. As previously mentioned, these developments have occurred through voluntary initiatives and the Punjab government, along with the other state governments, has tried to foster an even closer relationship with its diaspora ever since the Pravasi Bharatiya Divas was instituted by the Central government in 2003, nearly 12 years ago. The PBD was instituted, rather belatedly, according to many commentators, to celebrate the contribution of Non-Resident Indians to the Indian nation.
Yet we now learn that the Punjab government has unilaterally decided to cancel this annual state level event which usually coincides with the Central government event (see The Tribune, "12 yrs on, govt abandons NRI conclave," November 10) and replace it with a more informal, personal, some may say feudal, style of sangat darshan already in use for other political objectives. Only last January the Punjab Chief Minister was talking about organising an All-India Punjabi Sammelan. What has prompted this U-turn and how is it that the Punjab government has taken a step backwards when governments all around the world, including other Indian states, are stepping up their programmes to develop strategies to engage constructively with their diasporas?
Failure to engage
This seems to amount to admission of failure. We can identify many reasons for Punjab's failure in engaging with its diaspora and although not all of these are the fault of government initiatives, the government, especially the ShiromaniAkali Dal must share a large part of the blame.
Let us first consider the characteristics of the Punjabi diaspora. Now well over a century old, it is a 2-million-strong heterogeneous mass, divided by length of settlement overseas, caste, religion, politics, profession and nature of links with Punjab. In countries where migration occurred a long time ago, Punjabis are now of fifth or sixth-generation vintage, with hardly any meaningful linkages to their ancestral homeland, except through occasional heritage tourism.
Interest in home country
In countries where migration occurred in the post-Independence period, the first generation is fast disappearing, with a majority of Punjabis now born overseas and few taking an interest in Punjab except in their ancestral landholdings or houses which are endowed to them by their parents. The more recent first-generation migrants do retain strong links but again very few have an intention to return permanently. Thus many have relatively little genuine stake in Punjab, the largest interest being their ancestral landed assets or real estate, which have seen an astronomic rise in values relative to what was paid to purchase them. It is no wonder establishing ownership rights over their property — perhaps with a view to sell — is a foremost Non-Resident Punjabi concern. Punjab governments' failures in addressing this issue to the satisfaction of NRPs are too well known to be rehearsed again here.
Besides the heterogeneity and stakeholder aspects, there is lack of a critical mass of enterprising diaspora individuals who have the potential to act as catalysts and game changers. Yes, of course, there is a thriving Punjabi diaspora entrepreneurial class but its size, structure and global reach remains highly limited, despite pretensions and close political and social connections with elites in Punjab. Some of these individuals do attend sammelans voluntarily with an inquisitive eye whilst others are cajoled or under moral pressure to do so.
Getting investors
Although many of them can see beyond the rhetoric and the associated rituals, they do enjoy lavish state hospitality offered at these gatherings. These also do no harm in boosting egos and building further networks. The failure in getting these entrepreneurs to invest in Punjab is not unique to Punjab, it is in fact an All-India level failed story, although of different degrees depending on the state being considered. It is remarkable that less than 1 per cent of all inflows of Foreign Direct Investment into India since India began its reforms are accounted for by NRIs.
Of course, NRIs contribute greatly in terms of remittances and through philanthropic giving and other ways as the Prime Minister's quotation given above suggests — but these are individual or family decisions and have existed ever since migration began and not necessarily anything to do with state policies.
Turning to government actions, successive Punjab governments, more recently governed largely by the SAD-BJP alliance, have never really fully understood the Punjabi diaspora, by far the largest component of which is Sikh. Nor has a serious attempt been made to understand it — to identify its characteristics, its potential to contribute in different spheres, different ways of leveraging it etc. It is not surprising, therefore, that diaspora-outreach policies have had an ad hoc and incoherent character, with no minister or administrator serving long enough to develop expertise in engagement policies. What we have witnessed is a policy of revolving ministers and administrators when it comes to Non-Resident Punjabis (NRP) affairs.
Lack of govt support
Even the highly successful NRP village-modernisation programme has been stalled due to lack of government support. There has been some progress in establishing local police stations which can handle NRI affairs, especially relating to property, family and marital disputes but NRPs still feel disappointment at their lack of effectiveness. Many other promises made at various sammelans have turned out to be sheer platitudes. Given that there is a compelling case for engaging constructively with diasporas — otherwise why would so many government would be doing it — it is difficult to understand the government position. Can we put this down to perhaps indifference, arrogance, ignorance or even denial among the political leaders? Or could it be that government policies are too Punjab-centric rather than global in orientation. It is difficult to believe these could be the reasons in this age of globalisation. Other factors at work too could have greater relevance. In an earlier era, Punjab-based political parties had their overseas branches and this was reflected in the nature of diaspora political discourses, for example in contesting gurdwara committee elections. But over time, their role and influenced waned and there came a sharp break after Operation Bluestar of June 1984 and anti-Sikh violence in the aftermath of Mrs Gandhi's assassination in November, 1984. The support base for Overseas Congress waned, except among a small group of die-hards and the overseas Akali Party branches came under sustained attack from both Khalistani organisations and human rights bodies. This process continued in the post-militancy period, with new forms of political advocacy organisations emerging in the diaspora, especially with many embracing the liberal civil and human rights agenda.
Political mileage
Ironically, political support for the BJP, ably supported by many wealthy Hindutva diaspora organisations went from strength to strength — as we witnessed during Narendra Modi's recent visit to the USA. Whereas the Akalis have largely surrendered in the diaspora, except for maintaining personal connections, the BJP prospers and successfully mobilises the youth. By way of contrast, a feeling of deep sense of alienation, disappointment and mistrust of Badals and Akalis is matched by deep affection and goodwill for Modi and the BJP, especially among the Gujarati diaspora.
Given these political constraints, it seems as if the Akalis led by Badal have finally accepted this reality and thrown in the towel. It is a shame because future opportunities for building trust and exploring new ways of unleashing and realising the potential of Punjabi diaspora for mutual benefit would be more difficult to come by.
Let's us hope there will be another U-turn soon, if only through learning from examples of regions and states which have successfully mobilised their diaspora.
Migration matters
Punjabi diaspora refers to the descendants of ethnic Punjabis who emigrated out of the Punjab region to the rest of the world.
Out of the 90 per cent of the early Punjabi immigrants to California & British Columbia, 85 per cent were Sikhs, although they were branded as Hindoos by the White people.
The earliest South Asian immigrants to the US were Punjabis, who mostly immigrated to the West Coast, especially California.
Punjabi migration to various overseas locations reflected changing socio-economic conditions in the Punjab and the changing structure of employment opportunities abroad.
Migration that commenced during the final quarter of the 19th century was a product of Punjab's strategic and influential position within the British Empire.
Pioneer migrants were sikhs mainly from the rural areas who went abroad either through military postings, police service or for economic operations.
The first quarter of the 20th century saw further expansion to East Africa, associated with construction of railways and the new trading and business opportunities which this created.
The writer teaches Economics at Coventry University, UK, and has published widely on Punjabi Diaspora and the home land.