Clean-India drive: Challenges & gains
Considering the amazonian size of the Swachch Bharat Abhiyan, it will be essential to set up a separate ministry to prepare a financial and administrative model. A go-ahead will have to be given to the states to implement this programme by 2019
Ram Niwas Malik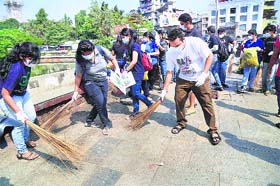 Sweeping away apathy: College students in Mumbai participate in the Swachch Bharat Abhiyan, which requires micro planning
Prime Minister Narendra Modi launched the Swachch Bharat sanitation programme on October 2 , 2014. It was a befitting tribute to the Father of the Nation who was concerned about sanitation issues. After the Shimla Conference in May 1945 got over, Gandhiji went to the nearby quarters and started discussing the problem of poor conditions of latrines with the residents. The ashram at Wardha was set up to teach poor people to build a sanitary environment. He used to teach the people saying, "If you go to defecate in the open, then dig a small pit, do the job and cover it with the excavated soil." This was a unique idea of sanitation in those days.
The proposed sanitation programme will reframe the social and economic face of India and prove to be a great game changer. Sanitation has a direct link with the spread of communicable diseases which are prevalent in India. As a matter of fact, the initiative "Health for All by 2000 A.D" flopped because an effective sanitation programme was not launched simultaneously. The basic cause of frequent epidemics in India is insanitation. The country can attain Health for All by October 2, 2019, if the programme is implemented in totality.
Quality of life
Living in an insanitary environment, like poverty, degrades the quality of human life and it is a curse and a social stigma as well.Therefore, the accomplishment of the Total Sanitation Programme (TSP) will improve the living standard of the poorest of the poor on the one hand and improve the Human Development Index (HDI) of India on the other. Presently, India is positioned 134 in the UN's HDI. Poverty is less painful if one gets a chance to live in a sanitary environment. In fact, a sanitary environment is the basic necessity of human life like air, water and food for its aesthetic and psychological development. That is why we say, "Cleanliness is next to godliness". If India ensures total sanitation by 2019, our stock will rise in the comity of nations.
This important programme was totally neglected in the past and one should give full marks to Narendra Modi for caring about this basic necessity of human life and giving it top priority in his future programme of developing India. Up to the 1960s, carrying human excreta as head load was the worst social stigma. Now open defecation has taken its place. Women go for nature's call at night in the open and they are frequently molested and even raped. The coverage for use of in-house sanitary latrines varies from state to state, depending upon the percentage of BPL families.
According to the proposed Swachh Bharat scheme, the government will build individual toilets in 1.04 crore households and 5 lakh community/public toilets in urban areas. Around 8.8 crore toilets will be built in rural areas and a majority of these are to be provided in individual households. The total sanitation programme includes programmes that are to be executed under the umbrella programme.
Steps towards total sanitation
Provision of 100 per cent sewerage and a drainage system in all urban towns together with innocuous disposal or recycling of the finally treated effluent for irrigation with a total ban on discharge into the drains or rivers. An effective sewerage and drainage system forms the backbone of urban sanitation.
There is need for 100 per cent solid waste management, both in urban and rural areas and recycling of the final waste product. Around 100 per cent coverage of rural households and slum areas with sanitary latrines. All the open areas in urban and rural communities will be either paved or grassed. All the streets to be paved with concrete blocks or paver blocks. There should be zero tolerance to dumping or littering of solid waste matter (mostly paper and plastic matter) in open spaces, both in urban and rural areas. It should be the same for stagnation of sullage or any other waste water in urban or rural areas. There should be daily sweeping of streets, roads or public places both in rural and urban areas. The vacant plots should be provided with boundary walls and kept neat clean and green.
Each element is more important than the other. The accomplishment of this programme by 2019 is an onerous task and will require huge amount of funds. Execution of the TSP will be done by the state agencies. The Central Government will only facilitate and monitor the progress of the programme with partial funding. Therefore, it will be appropriate if the Centre prepares a blueprint and then calls a meeting of state chief ministers to hand over the blueprint to them to prepare rough cost estimates. Considering the amazonian size of the project, it will be essential to set up a separate ministry to prepare a financial and administrative model and give a go-ahead to the states to implement this programme by October, 2019. The first year should be used for financial planning, preparing technical sanction of the project and acquisition of land. The remaining four years should be used for execution under the watchful eye of the Central ministry, with the mechanism of monitoring and course corrections.
Financial challenges
Since the Total Sanitation Programme or TSP, covers the length and breadth of the country. It is bound to face serious financial and administrative challenges. India has 4,041 towns of varying sizes, with population varying between 20,000 to 15 million. Besides this, towns are expanding disproportionately because of an accelerated process of rural migration to urban areas. Presently, 98 per cent towns have been provided with partial sewerage, drainage and water-supply systems only. We have to include the cost of the water supply system because the success of the sewerage system depends upon providing a water supply network carrying 135 litres per capita per day. Providing latrines in 80 million BPL households at a cost of Rs 1,2500, per unit will require an investment of Rs 1 lakh crore for which the families may not be ready to pay individually. BPL families, at best, can agree to meet 25 per cent of the cost.
Waste collection system
Solid waste collection system and its innocuous disposal/recycling leaves much to be desired. Presently, very few cities have scientifically designed disposal plants and upgradation of the whole system needs considerable investment. The cost of paving of streets is still higher. In Haryana, 90 per cent village streets have been paved with concrete blocks. So the cost of providing all these services with 100 per cent coverage is monumental, if not colossal. Basically, the provision of these basic services is a state subject.
The treasuries of most of the states are empty and they are surviving on loans and central grants and are unable to upgrade these services or fast-track them. The private-public partnership or PPP model is already failing and has become dicey because of the capricious attitude of the consumers not to pay the toll tax or service charges, whereas the government is heavily banking on it.
Taking the middle path
A middle path needs to be explored. The government has already set up the Jawaharlal Nehru Urban Renewal Mission, which provides funds to upgrade the urban services to the states on equity basis and that too for limited number of bigger towns like Patna. Therefore, the only way left for the states is to arrange funds from the World Bank and the Asian Development Bank and other donor agencies. Arrangement of required amount of funds will be a herculean task and requires great financial acumen and prudence in order to meet this challenge.
The Government of India, in an affidavit to the Supreme Court on September 9, this year, (PIL for Clean Ganga project) has stated that it will take 18 years to implement the total sanitation project in 118 identified towns and 1,650 panchayats and will require Rs 5,1000 crore for the purpose. It is not known what view the Supreme Court will take but the implementation period of 18 years is not digestible. Going by this figure, the total cost of covering 4041 towns and 4 lakh villages will be a whopping Rs 35 lakh crore.
Administrative glitches
Most towns have been provided with partial sewerage systems but very few have well-designed sewage treatment plant (STPs). STPs and outfall channels carrying treated waste water will require use of public land. Acquisition of public land is a problem because of stringent provision of the new Land Acquisition Act. So timely acquisition of land is a big challenge for the administration.
In market areas, the land between the shopping line and the edge of the road has considerable width and paving this area involves huge cost. Theoretically, shopkeepers should pave this area because they use this land for the sake of their customers. One does not know if they will agree to pave the entire width. The situation in residential areas is almost similar with the difference that the width can be grassed instead of being paved. Therefore, the state government will have to formulate a policy that can be implemented in this regard. Likewise, the state government will have to pass an order to direct plot holders to ensure 25 per cent completion of their plots within a specified period so that the vacant plots do not become dumping grounds for solid waste and growth of wild plants.
Location of solid waste-management plants is a difficult task. Seeking environment clearance from the state environment authority is not as problematic as is dealing with protests from villagers. A proper and clean technology and a method for degradation and recycling of solid waste has not been developed so far in India. Existing plants emit unbearable foul smells during the rainy season and on the windy days.You can feel this nuisance by standing at Karnal bypass in Delhi during the rainy season. The problem in bigger cities is all the more intractable as the space for dumping solid waste at existing locations is reducing day by day because the recycling process has not been taken up simultaneously.
The experiment of using solid waste for power generation has not met with desired success. Location of new solid waste plants at the outer periphery requires long-distance transportation. The process of composting solid waste at the source in bigger houses (350 sq metres or more) has not been initiated yet. Recycling technology for paper and plastic waste too has not been developed so far.
Execution of projects of sewerage, drainage, solid waste management, and providing sanitary latrines in Haryana is done by different government agencies like municipal corporations, Haryana Urban Development Authority (HUDA) and Department of Panchayats. It will be expedient to set up an authority at the state headquarters. The Managing Director of this authority should be a senior IAS officer, with a team of senior engineers and administrative officers at the state level. This authority will be entrusted the job of coordinating the work with departments concerned for timely execution of the project and also to distribute funds to different executing agencies and provide monitoring feedbacks to the ministry.
Nuts & bolts of sanitation drive
The initiative "Health for All by 2000 A.D" flopped because an effective sanitation programme was not launched simultaneously
Acquisition of land for solid waste treatment and disposal plants with the concurrence of farmers is a major issue being faced by municipal corporations.
Solid waste management will become very simple if separation of paper, plastic and kitchen wastes is done at the source itself by the owner and then collected and disposed accordingly. One does not know why this is not practised in India.
Providing latrines in 80 million BPL households at a cost of Rs 1,2500, per unit will require an investment of Rs 1 lakh crore. For this, the families may not be ready to pay individually. BPL families, at best, can agree to meet 25 per cent of the cost incurred.
Cost of cleanliness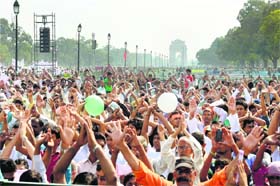 People take a pledge at Rajpath, New Delhi, during the launch of the campaign
The Rs 1.0 lakh crore programme was launched on October 2, 2014 (Gandhi Jayanti). Toilets will be built with private sector investment. Focus areas include better solid waste management facilities for over 30 crore people across 4,041 cities by 2019. The government is exploring ways to to merge this mega project with existing welfare programmes such as MGNREGA and Backward Region Grant Fund. A budget of Rs 1 lakh crore will provide Rs 62,000 crore for urban areas and Rs 38,000 crore for rural areas. The government is banking heavily on private sector investment, through the PPP model. According to Census 2011, out of 6.7 crore urban households, 12 per cent, i.e. 80.4 lakh defecate in the open. About 36 per cent population is covered under the sewerage system and 37 per cent have in-house septic tanks. The proposed Rs 1.0 lakh crore sanitation programme is devoted to providing sanitary latrines, covering all the households in the country and improving solid waste management facilities in urban areas.
— The writer is a former Engineer-in-Chief, Haryana. At present, he teaches civil engineering in Manav Rachna University, Faridabad, Haryana.