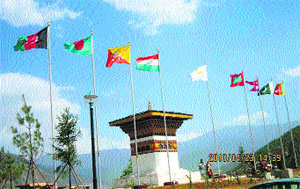 The forthcoming summit in Nepal on November 26, 2014, taking place after a three-year lapse, will be the 18th in the past 29 years, though regular annual summits were ordained by the SAARC Charter. A great deal depends on the Summit's outcome.
The Summit must show results with 'out-of-box' thinking and not be limited to the agenda and programme set by pre-Summit official preparations. Imperatives for SAARC can be divided into three broad areas, namely, to harness socio-economic synergy offered by contiguous geography and shared history for mutual benefit of peoples; bracing up to the challenges of globalisation in the shape of future global economic downturn, pandemics, climate change and natural disasters; to come to terms with the positives as well as the downside of exploding demographics. This makes a vast agenda.
This time, however, the Summit should take a definite step forward and formally declare a categorical commitment to the attainment of a South Asian Economic Union with a definite time-frame and a road map. Working out the inter-connected steps in this regard has been under way but it demands more hard work and unremitting commitment. As was shown by the European Commission in building an Economic Community, the key is forming enduring habits of cooperation.
Enhancing regional trade and transport figure uppermost on the agenda since these have direct tangible gains for all. Several studies have assessed the potential for regional trade, from the present low of $22 billion to grow up to $120-180 billion in a full-fledged Free Trade Area in goods and services buttressed by connectivity and inter-related trade facilitation measures. That this is doable is illustrated, for example, by the growth of India-ASEAN trade from $3 billion in 1991 to $75 billion today. Should the geographical proximity not be more conducive in South Asia? Even the modest mechanisms at hand in SAARC can deliver far more than is the case at present.
With a default process of Ministerial/Secretary level meetings having set the stage, the Heads of State/Government will spend a day with formal speeches, an informal retreat without aids and the adoption of a declaration. The declaration usually takes stock of and subsumes the reports of ministerial meetings and attempts to list priorities and possible focus on select areas.
The last Summit had underlined areas such as the lowering of tariffs and comprehensive trade facilitation in goods under SAFTA and furthering implementation of the agreement on services, energy trade and power grids; facilitation of road and rail transport through motor vehicles and railway agreements; increasing tourism; smoother visa procedures; and upgrading of telecommunication services. In keeping with the past summits this default agenda was incremental; to gradually take South Asian regionalism to levels achieved elsewhere.
The coming Summit needs to enhance regional dynamics to target areas with tangible benefits to peoples of the eight countries. For this SAARC must rise above nationalist prisms or factors distorting a regional perspective. The India-Pakistan chemistry habitually hogs limelight, dwarfing the default SAARC process. A clear imperative is to advance it with priority setting and actionable goals instead of letting differences dominate. The Summit should aim for greater common interest of all stakeholders, not just governments.
There is need to shake the pattern of one-off events involving the higher leadership but ineffective follow-up without timelines, 'action taken reports' or accountability. Since the leaders seem to broadly realise the inherent worth of regionalism, they should lay down steps to monitor, review and spur work on Summit decisions.
Infrastructure is the key. The Summit must consider promoting project-based cooperation and take up even a sub-region if ready for action. The SAARC Charter provides scope for ventures comprising more than two states, with the concurrence of the rest. Much preparatory work has already been done by ADB recommending steps for enhancing all-round connectivity in the north-eastern sub-region of India in sync with Bangladesh, Bhutan and Nepal; enabling border management structures, land customs stations, container transits and immigration, banking and telecommunication networks - standard stuff for regional cooperation elsewhere but missing in South Asia. SAARC must not delay these steps.
To revitalise SAARC, a high-level independent group of eminent persons should be set up for a periodical review and monitoring of the ongoing progress. The forthcoming Summit must clearly instruct existing mechanisms for cooperation to radically improve working, efficiency and accountability to accomplish the goals set.
The SAARC proceedings are not made public at present. This practice should give way to full transparency and public scrutiny. In fact a public campaign is necessary to build a relentless momentum and compelling logic for regional cooperation as was done in Europe. A campaign may also bring out the cost of not doing it; particularly considering the impending threats. Public involvement may engender accountability and encourage shunning of red tape and subliminal misgivings which block traction.
Governments are distracted by domestic compulsions; so a dedicated institution like SAARC Secretariat must be adequately equipped, resourced and mandated to implement the Summit decisions. This is long overdue. According higher status, authority and responsibility to the office of SAARC Secretary General, as in ASEAN and other regional bodies, should not be put off.
Continued sub-critical achievements risk popular apathy. Much more energy, focus, money and human resources are called for to upgrade SAARC's impact. To strengthen SAARC and speed up work India should offer to bear asymmetric burden without increasing it for members not yet prepared to do so.
Goal-oriented South Asian regionalism can make value addition to every one of the regional partners: governments, industry, academia, media and civil society. A problem-solving attitude can make a difference. As developing countries, the SAARC members must make the best of the window of opportunity and improved outlook. Coherence of action, not grandstanding, is the call of the hour.
— The writer is India's Ambassador to Austria and former Secretary General, SAARC (2008-2011)