Jathedar wants expert panel to resolve calendar row
Amritsar, November 21
Amid the debate in Panthic circles over the Nanakshahi Calendar row, the Akal Takht has stated that the SGPC should constitute a panel of experts to resolve the issue regarding Gurpurb dates once and for all.


Municipal poll: BJP may go it alone in Gurdaspur dist
Gurdaspur, November 21
The BJP is in the process of strengthening party units in at least four major towns of the district where it might contest the municipal elections on its own. These towns are Fatehgarh Churian, Gurdaspur, Batala and Dinanagar. At all these places, the divide between the SAD and the BJP is wide and apparent.
Dalit votes on mind, PPCC to highlight 'unkept' promises
Bathinda, November 21
In an attempt to woo back its traditional vote bank of Dalits, the Punjab Congress has summoned an emergency meeting of its legislature party on November 25 to chalk out a strategy.


106 health centres to come up under central scheme
Ludhiana, November 21
The Punjab Government would be starting 93 new primary health centres and 13 Community Health Centres (106 in all) in the state under the National Urban Health Mission.
Start work on PGI centre in Ferozepur, says BJP
Chandigarh, November 21
Punjab BJP chief Kamal Sharma has welcomed the Union Ministry of Health decision to open a 100-bed PGI Satellite Centre in Ferozepur and has thanked Union Health Minister JP Nadda to fulfill this long-pending demand of the people of border areas.
Police step up vigil at Ashutosh's Nurmahal dera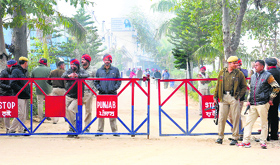 Jalandhar, November 21
The police have been quietly working on a strategy to deal with any kind of trouble at the Divya Jyoti Jagriti Sansthan at Nurmahal following the verdict of the Punjab and Haryana High Court pertaining to the last rites of dera chief Ashutosh Maharaj.

Punjab Police personnel at the Divya Jyoti Jagriti Sansthan in Nurmahal near Jalandhar. Tribune file Photograph

Takht : Efforts on for release of Sikh detainees
Amritsar, November 21
Akal Takht Jathedar Giani Gurbachan Singh today said they were making sincere efforts to meet the demands of Bhai Gurbaksh Singh Khalsa who had resumed his hunger strike for the release of Sikh detainees in Ambala.
student-police clash at Pbi varsity
Badal seeks report on police lathicharge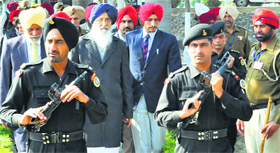 Rakhra/Patiala, November 21
Chief Minister Parkash Singh Badal has sought a report from the Patiala senior superintendent of police (SSP) and the deputy commissioner on the police lathicharge on students at Punjabi University yesterday.


Chief Minister Parkash Singh Badal at a function in Rakhra village near Patiala on Friday. Tribune photo: Rajesh Sachar

PAU seeks regulatory status
Ludhiana, November 21
Punjab Agricultural University (PAU) has asked the state government to declare it an authority that can affiliate government and private colleges offering agricultural courses. The university wants some regulatory authority should be there to keep a check on the infrastructure available at various agricultural colleges coming up in the state.
Poor fiscal mgmt hits varsity working

Patiala, November 21
The financial health of Punjabi University, set up on April 30, 1962, has deteriorated in the past few years owing to the shortsighted policies of the university authorities.


Protesting Punjabi University students in Patiala block the university's main gate on Friday. Tribune photos: Rajesh Sachar

Sacha Sauda Dera head's movie in Dec, police wary
Ferozepore, November 21
Hectic activity is on in the state among followers of the controversial Sirsa-based Dera Sacha Sauda to make the film-MSG-the Messenger of God, featuring the dera head as the lead actor, a smashing hit.
Surewal villagers stage dharna against illegal sand mining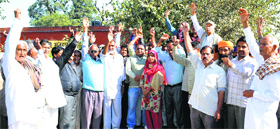 Nangal, November 21
Residents of Surewal village today staged a dharna against the mafia engaged in sand mining in the area. They said the illegal mining in the district had not only hit state revenue and ecology, it had also made the life of people living around sand quarries miserable.

Residents protest against illegal mining at Surewal village near Nangal on Friday. TRIBUNE PHOTO

Govt to wind up all 4 farm councils
Chandigarh, November 21
The state government is all set to wind up the four controversial farm councils that the previous Congress government had set up in 2005 to promote diversification.
Aide alleges CPS backed sand mafia
Jalandhar/Chandigarh, November 21
The problems of Akali Dal MLA from Phillaur and Chief Parliamentary Secretary Avinash Chander are all set to multiply with his close aide Cheetinder Singh alias Ceeta alleging his involvement in the multi-crore drug racket as well as illegal sand mining operations along the banks of the Sutlej.
Canadian province for boosting ties with Punjab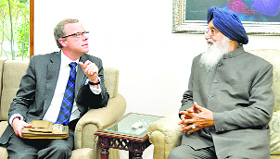 Chandigarh, November 21
Premier of Saskatchewan (Canada) Brad Wall today evinced keen interest in collaborating with Punjab in the fields of agriculture, food technology, skill development, technical education, dairy farming and livestock management.


Premier of Saskatchewan (Canada) Brad Wall with Chief Minister Parkash Singh Badal in Chandigarh on Friday. Tribune photo

SHO among 5 suspended as accused flees
Jalandhar, November 21
The Nawanshahr police have suspended five policemen for alleged dereliction of duty after the accused in the rape case of a 25-year-old B.Ed student escaped from the Banga police station on Friday.
Residents seek land for graveyard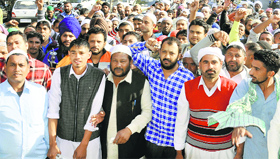 Jalandhar, November 21
Muslim residents of Alawalpur village and activists of the Punjab Muslim Front held a dharna in front of the DC complex here today. They complained that they did not have any land to bury their dead. The district administration was not doing enough to support them on the issue, they alleged.

Alawalpur residents and members of the Punjab Muslim Front protest in Jalandhar on Friday. Tribune photo: Malkiat Singh

Check fog mishaps, officials told
Chandigarh, November 21
Transport Minister Ajit Singh Kohar today issued directions to various departments to take precautionary measures to ensure the safety of commuters and avoid road accidents caused due to the foggy weather.
Chemists allege police harassment, hold dharna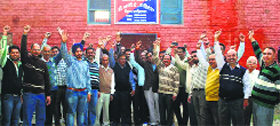 Fazilka, November 21
More than 100 chemists of the town today started indefinite strike to protest their alleged harassment by the police. They claimed scores of chemists were taken into police custody for allegedly selling banned drugs.

Activists of the District Chemists Association raise slogans in Fazilka on Friday. Tribune photo

Attari blast
Tanker was overloaded, says report
Amritsar, November 21
The investigation into the tanker blast at the Integrated Check Post (ICP) in Attari on October 1 has revealed that the tanker was overloaded and it was not fit for carrying a chemical such as hydrogen peroxide.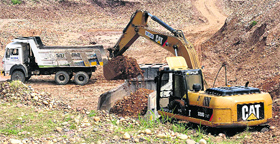 Sand prices down in Hoshiarpur
Hoshiarpur, November 21
The state government's plan to provide cheaper sand to people by mining through the Punjab Small Industries and Exports Corporation (PSIEC) has started getting a good response.

Supply of sand from state-run mine begins in the district.


No agricultural loan sans moneylender's licence: HC
Chandigarh, November 21
The Punjab and Haryana High Court has made it clear that agricultural loan cannot be advanced without a valid licence or a registration certificate. Giving loan without a valid licence is not only illegal, but also bound to result in the prosecution of the loaner under the provisions of the Moneylenders Act.


Moga police book 26 under NDPS Act
Moga, November 21
The Moga police, that were pulled up by the judiciary for blindly relying on informers to book "innocent" persons under the NDPS (Narcotic drugs and Psychotropic Substance) Act early this year, has again adopted the same procedure to curb drug trafficking.
11 booked for fraud
Hoshiarpur, November 21
The district police have booked 11 persons on the charges of fraud, cheating and forgery in two different cases.