281 child labourers rescued, but employers go scot-free
Jalandhar, November 18
As many as 281 children were rescued across the state during the Prevention of Child Labour Week that concluded on November 16. But not even a single FIR has been registered against the employers.


Govt to reline 2 main canals
Chandigarh, November 18
The Punjab government is set to take up the relining of the Rajasthan Feeder and Sirhind Feeder, two main canals often blamed for the devastation of about 85,000 hectares of land in the Muktsar-Abohar-Fazilka belt.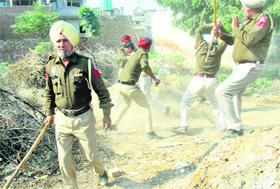 Khaki charge

The Muktsar police on Tuesday lathicharged residents of Khunan Khurd village in Gidderbaha subdivision, most of them farm labourers, when they resisted shifting of power meters outside their residences


Tarsem Singh, an activist of the Punjab Khet Mazdoor Union, said: "We want that display screens be installed at our residences and only then electricity meters be shifted out of our houses. This is mandatory as per the norms"


He alleged that the private company given the task to shift the power meters did not want to install the screens. A tribune photograph
Three different dates for Gurpurb create confusion
Amritsar, November 18
The Sikh clergy's latest move to change the date of Guru Gobind Singh's birth anniversary this year has created an unprecedented confusion among the Sikh community over celebrating the Gurpurb, besides bringing to the fore the shortcomings in the amended Nanakshahi Calendar.
Didn't name anybody, says Sidhu
Chandigarh, November 18
Senior BJP leader and former Member of Parliament Navjot Singh Sidhu today said that while addressing a religious gathering at Ludhiana earlier this week, he had not named any party or politician.
Cong ex-MLA among 30 held during protest
Sangrur, November 18
Around 30 Congress activists, including former Sangrur MLA Surinderpal Singh Sibia, were taken into custody by the police when they tried to forcibly enter the District Administrative Complex here today.
Former Cong minister Henry applies for fresh passport
Jalandhar, November 18
Former Congress minister Avtar Henry, involved in a dual citizen row, has applied for a fresh passport. The matter came to light when the Regional Passport Office (RPO) sent his file (JA2078196956014) for police verification.
Withdraw security to Tytler, Sajjan: DSGMC
Amritsar, November 18
Delhi Sikh Gurdwara Management Committee (DSGMC) president Manjit Singh GK today urged the Centre to withdraw the security cover given to Congress leaders Jagdish Tytler and Sajjan Kumar over their alleged involvement in the 1984 anti-Sikh riots.
Cane price up despite objection by mills
Chandigarh, November 18
The Punjab Government has decided to raise cane price by Rs 5 per quintal for crushing season (2014-15) even as private sugar mills had been asking the government not to go ahead with the hike.
Div Commissioner summons MLA Nagra, Congress fumes
Abohar, November 18
The Congress today condemned the "summoning" of Fatehgarh Sahib MLA Kuljeet Singh Nagra by Patiala Divisional Commissioner in connection with a complaint lodged by Sub-Divisional Magistrate Pooja Syal.
Modi must honour word on tackling drug menace: Bajwa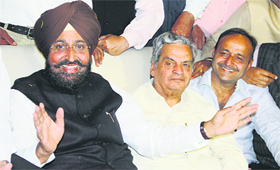 Jalandhar, November 17
Partap singh Bajwa, PPCC president, today suggested that Chief Minister Parkash Singh Badal should take an all-party delegation to Prime Minister Narendra Modi to demand handing over of Chandigarh to Punjab, withdrawal of SLP seeking eviction of Punjabi farmers in Gujarat, a CBI probe into the drug racket and industrial subsidies.

PPCC chief Partap Singh Bajwa (L) addresses mediapersons in Jalandhar on Tuesday. Tribune photo: Malkiat Singh

Soon, online tutorials for rural students
Chandigarh, November 18
The Punjab government will start online tutorials for students in rural government schools pursuing the science stream (medical and non-medical).
Punbus to hire contractual staff
Jalandhar, November 18
The Transport Department is all set to recruit contractual staff for Punbus, including drivers, conductors and workshop personnel. By doing so, the department will be able to save Rs 30 lakh per month.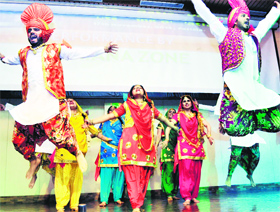 cultural flight:

State Bank of Patiala employees perform during the inter-zonal cultural show in Patiala, on Tuesday. Tribune photo: Rajesh Sachar
10 health officials found absent
Chandigarh, November 18
Punjab Health and Family Welfare Minister Surjit Kumar Jyani found 10 officials absent during a surprise check at the department's head office in Sector 34 here today.
Teachers of aided schools without salary for 2 months
Fatehgarh Sahib, November 18
Resentment prevails among teachers of government-aided private schools in the district as they have not received salaries for the past two months. The cash-starved state government has failed to release grants for these schools.
40 farmers detained
Fatehgarh Sahib, November 18
Forty farmers were taken into custody in Ashqpura village this evening when they tried to stop officials of the Power Grid Corporation of India from installing a 400 KV tower in the village.
Videoconferencing at Faridkot Central Jail fails to take off
Faridkot, November 18
At a time when incidents of criminals escaping from police custody during court appearances are on the rise, the much-hyped videoconferencing in Faridkot Central Jail failed to take off despite installation of the equipment about two years ago.


SAD leader's killing: Arrest warrants against accused
Moga, November 18
Chief Judicial Magistrate of Moga Pooja Andhotra today issued arrest warrants against Gurpreet Singh Sidhu, director of the local Oxford International School, in connection with alleged "contract killing" of his 72-year-old uncle Gurdeep Singh Gill — a local Akali leader.


Three killed in accidents
Fatehgarh Sahib, November 18
Two persons were killed and three injured when a Bolero vehicle (PB 10DF 8316) coming from the Rajpura side rammed into a stationary tempo (PB 12 8477) near Harbanspura village on the Jalandhar-Rajpura national highway this morning.
Robbers pose as CIA staff, snatch car
Phagwara, November 18
Two armed robbers travelling in a red beacon-fitted Bolero snatched a Maruti Swift car (PB08 2521) and two mobile phones from Sandeep Kumar of Miowal village last night.
2 travel agents booked for fraud
Hoshiarpur, November 18
Two travel agents were booked for allegedly duping two persons on the pretext of sending them to the US.