OPED —

Agriculture
A burning problem: Getting rid of stubble
Why do farmers still continue to burn rice/wheat stubble despite the ban imposed on this practice? Perhaps it is the lack of cost-effective alternatives that prevents them from exploring other options.
S. S Verma
Rice or wheat straw, generally termed as stubble, has been in the spotlight for the last few years. As it is being burnt in the fields despite an increasing awareness about the resultant environmental pollution. There are side-effects even at faraway places and many articles appear in the media and suggest measures to control or stop it altogether. Still farmers refuse to pay heed. Scientists and officers of the government come to farmers with many technological innovations and cite laws that prohibit stubble burning, but it is of no avail.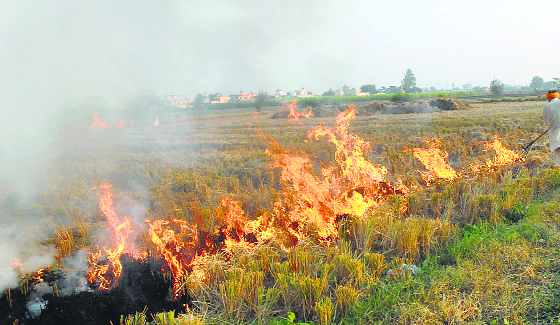 There is a need to offer easy and cost-effective solutions to farmers so that they avoid burning stubble. Farmers take the easy way out due to the lack of awareness about options.
When I remember my childhood days, rice or wheat was grown in our fields but those days stubble was considered a valuable byproduct of agriculture. Not even a single straw was wasted. Though rice cultivation in hills has declined due to the lack of interest of present-day farmers involved in agriculture but not by choice. Rice cultivation needs a lot of labour/hard work, water and its management.
Stubble as fodder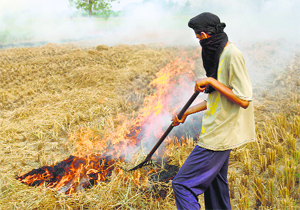 The practice causes many respiratory ailments to those in the vicinity
What is the law-&- order scenario?


The burning of stubble is a punishable act under the law. The Punjab Pollution Control Board and the state Agriculture Department have been spending crores annually on awareness campaigns against the menace.


When the state harvests paddy or wheat, the government issues advertisements in major newspapers, appealing to the farmers not to burn the left-over stubble. These orders, however, go up in smoke as farmers do not care two hoots for such diktats.


Despite the imposition of Section 144, the police is yet to book even a single farmer under Section 188, though it is a bail able offence.


Paddy stubble burning seems to have acquired political colours as police officials claiming that they are under pressure from politicians not to book erring farmers.
Going up in smoke: There are adverse effects on the environment, health and soil fertility


Agriculture experts say burning the stubble threatens soil fertility, kills eco-friendly worms and lowers the content of organic carbon in the soil, which results in low yield.


Stubble burning not only pollutes the environment, but it also causes health ailments. Because of stubble burning, dense smoke even engulfs residential areas, thereby causing respiratory problems to inhabitants.


Fumes of toxic smoke rise from the burning fields. They not only give rise to fog but agriculture experts say this pollution plays havoc with the environment of the area.


The smoke emanating from the burning of stubble can lead to several health problems, including bronchitis, respiratory problems, skin ailments and conjunctivitis.


Physician say stubble burning also depletes the red blood cell (RBC) count and adversely affects the oxygen-carrying capacity in the body.


The burning of stubble leads to formation of thick clouds of smoke, which affect the visibility on the roads nearby, consequently putting the lives of motorists and bikers at risk. It is pertinent to mention that due of stubble burning, accident cases were also reported from various parts of the state.


During the burning of stubble in the fields, "friendly" pests, which benefit the crops, also get killed. The fertility of the fields also decreases.


Stubble burning near fuel stations, houses or trees may result in a major tragedy, resuting in loss of lives.
People now are going in for other cash crops like ginger, arbi, and maize which are less labour intensive and also do not need much water. In the past too, rice cultivation was less but enough for many people to sell large quantities to wholesalers. There were many means, well-tested and developed with time, to make the best use of stubble as a fodder for cattle (it is to mention here that rice-straw is a fodder that is hard to digest. Cows, buffalos, goats and sheep cannot digest it easily). Every household had to have a minimum of two bullocks in those times, making rice bales. These were put to many uses, such as to collect many items like grass, maize, fire wood etc. from the fields to make cushions for sitting and sleeping. These were used in winter to help in firing the wood (it catches fire easily and sustains fire for longer period as compared to other lighting material). Covers for houses were made and many more uses as per the requirement and expertise of the people were found.
Technological options
There are many rice and wheat-producing states in India but it is true that stubble burning is more prevalent in Punjab and Haryana as compared to other rice-producing states in India. This menace is not there to such an extent in rice-producing states like Bihar, UP, MP, Tamil Nadu, Kerala and Andhra Pradesh. The extent to which the practice of paddy straw burning was affecting the air quality emerged from satellite images released by NASA, which showed large number of fires over agriculture fields of Punjab. People's mindset and their use of rice straw in these states is still in coordination with its meaningful use. But farmers in Punjab and Haryana find burning of stubble the easiest way out to get rid of this waste product.
Making use of stubble
Many countries like Vietnam, Japan, Korea (South & North), Malaysia, Indonesia and Philippines are the largest producers of rice, which is their staple food. But stubble burning is not a problem in these countries because they have taken recourse to technology for making best use of the stubble.
No doubt, technological developments have provided many alternatives which can be put to use to make best use of waste rice straw. This includes making fire pallets from rice straw (charcoal), paper, cardboard, extracting oil and even using it for mushroom cultivation.
It can also be cultivated into fields. An agriculture expert claims that farmers have an option to sow wheat with the help of zero-till drill, also called as "happy seeder", rotavator or a roto-drill, cutting and mixing it with fodder. The burning of paddy stubble in the fields will soon be a matter of the past if biomass-based co-generation power plants are being set up in localities in which the paddy stubble, cotton sticks and other agricultural waste shall be used as fuel. Companies can collect biomass fuel from farmers within a viable radius or set up three fuel-collecting centres.
From burning to earning
Things have changed with time and now people do not have time for traditional art and craft. Mud houses have changed to concrete ones. Neither do farmers have the patience to collect the rice straw and convert it into useful end products and sell it to industries or factories, nor do they have the desire to use this agriculture waste efficiently.
Farmers take the easy option of burning stubble instead of using these devices. They term burning as the cheapest and the easiest way to get rid of the stubble and prepare the field for the next crop.
It is not that they do not acknowledge the harmful effect of this burning on the environment.
Ultimately, they know that they are harming themselves only. the fact remains that the available choices are more unattractive to them in one way or the other and they are not motivated. It is not that farmers are reluctant to leave the practice. They themselves are the worst affected due to the burning of straw in fields and the consequences of the pollution thus caused.
The farmers said they no other option but to burn the paddy to grow other crops. As the sun sets, one can notice the stubble in the fields along the roads being set on fire. There is no check or vigil by the officials concerned, especially during the night. Despite the ban on the burning of paddy stubble and availability of so-called technological alternatives, farmers will still continue to burn stubble as there is no other easy and cost-effective alternative.
Cost-effective machines
Private companies are charging a hefty amounts to collect the stubble as well as to hire out the machinery. Buying and using machinery on hire for stubble collection is not economical, even if the farmers buy it collectively. The farmers say that it is the lignin and silica in the stubble which prevent it from developing into cattle feed. The problem arises when the stubble fails to decompose due to the low temperature and it requires a spray of chemicals for the stubble to decompose. On the transportation of paddy for biomass, the farmers' regret is that it requires labourers to chop the stubble and pack it to far-off places. The need is to develop cost-effective machines that chop the stubble and then distribute it in the fields.
There is an immediate need to create awareness among farmers not on the issue of burning stubble but how to make best use of it at a low cost and with less labour. Unless and until farmers are made aware about the ill-effects of stubble burning as well as offered other easier alternatives available that can help them to get rid of waste stubble and also enable them to earn some money without hard work, the practice will continue. There is a need to develop a market for stubble collection from fields and use it to make byproducts. NGOs can thus be roped in to procure the stubble from fields as was done in the milk revolution.
The writer is a Professor, Department of Physics, Sant Longowal Institute of Engineering and Technology. Longowal, Sangrur