Akal Takht, SGPC pass the buck on calendar row
Amritsar, November 20
Though the SGPC and Akal Takht today said in unison that the confusion caused by Nanakshahi calendar row should end, they appeared to be passing the buck on initiating corrective measures. However, both of them didn't rule out the possibility of further amendments to the Nanakshahi calendar.


CM inaugurates centre of excellence for citrus fruit
Khanaura (Hoshiarpur), November 20
Chief Minister Parkash Singh Badal inaugurated the centre of excellence for citrus fruit at Khanaura village on Phagwara Road, 21 km from district headquarters. It was set up at cost of 10.4 crore. India had signed a pact with Israel to set up the centre.
(From left) Chief Minister PS Badal with Daniel Carmon, Ambassador of Israel, Cabinet Minister Tota Singh and Union Minister of State Vijay Sampla in Hoshiarpur on Thursday. Tribune photo: Malkiat Singh
Shrinking govt grant leaves Pbi varsity in a mess
Patiala, November 20
Shrinking state government grant and increasing expenditure has landed Punjabi University in a fiscal crisis, especially as it does not have income-generating resources. At the same time, student unrest has increased with the university raising tuition fee.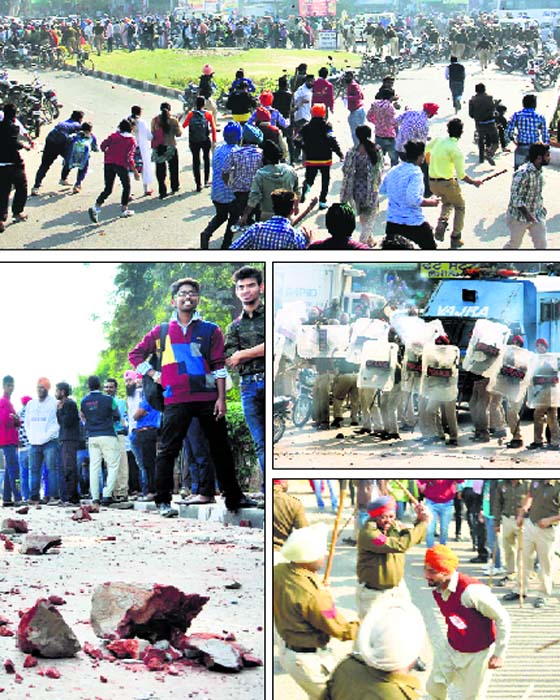 (Clockwise from top) Protesting students hurl stones at police personnel at Punjabi University in Patiala on Thursday; policemen shield themselves from students' attack; a student argues as police resort to a lathicharge; students regroup themselves after clashing with the police. Tribune photos: Rajesh Sachar
unbundling of fci
State govt wants more time to put across its views
Chandigarh, November 20
Not satisfied with the time allocated to Punjab to discuss the unbundling of the FCI, the state government has urged the officials concerned to give it a day to discuss the issue threadbare.
Realtors eye Shivalik foothills; land prices surge in Pathankot
Pathankot, November 20
Real estate owners are viewing the hitherto dead and dry Shivalik foothills in the state as a gold mine. Ever since Deputy Chief Minister invited top executives of the hospitality sector to the twin islands of Masarba and Kalara, located in the middle of Ranjit Sagar Dam Lake earlier this month, the Dhar block area has suddenly sprung to life.
Few people in BJP creating rift: Cheema
Ludhiana, November 20
State Education Minister and SAD spokesperson Dr Daljit Singh Cheema today denied any friction between the SAD and BJP top leadership. "It is only a handful of people in the BJP who are creating trouble between us," he said.
BJP's Amritsar unit defends CPS Sidhu
Amritsar, November 20
The BJP's Amritsar unit today came out in support of Chief Parliamentary Secretary Dr Navjot Kaur Sidhu, rejecting the charges levelled against her by local SAD leaders on Wednesday.


Get Centre's nod for foreign tours, IAS officers told
Chandigarh, November 20
The Punjab Government has issued fresh instructions pertaining to foreign visits by IAS officers. All departments have been asked to put up cadre clearance recommendations regarding an IAS officer's foreign visit to the personnel department 15 days prior to the visit.
State seeks Central package for cleaning rivers
Chanmdigarh/Delhi, November 20
Punjab today sought a package on the pattern of the Ganga cleaning project for rejuvenation and cleaning of all rivers in the state. It also sought a one-time allocation for relining and redesigning the archaic canal system that was responsible for success of Green Revolution in the country.
Mann visits adopted village Benra, promises assistance
Benra (Sangrur), November 20
Sangrur MP Bhagwant Mann today visited Benra village, which he had adopted under Sansad Adarsh Gram Yojna. He announced that Block Development and Panchayat Officer (BDPO), Dhuri, would conduct a door-to-door survey in the village, about 10 km from Sangrur.
Irregularities at NIT: Director told to go on leave, several officials replaced
Jalandhar, November 20
Director of the Dr BR Ambedkar National Institute of Technology SK Das has been asked to proceed on leave following allegations of irregularities against him. A number of senior officials of the institute have also been replaced.
Framing of charges against cops adjourned again in drugs case
Moga, November 20
Moga Additional District and Sessions Judge Manju Rana today once again adjourned the framing of charges against the policemen facing allegations of selling drugs at a police post. The court fixed December 8 as the next date of hearing in the case.
Cops told to crack down on illegal lotteries
Jalandhar, November 20
The state government has written to the Director General of Police (DGP), Punjab, seeking action against illegal lotteries. The government found that illegal lottery systems such as darra, satta and matka were affecting state-run paper lotteries.
shaheedi jor mela
Liquor sale banned
Fatehgarh Sahib, November 20
With the annual Saheedi Jor Mela around the corner, Deputy Commissioner Arun Sekhri has banned circuses, sale of intoxicants, meat, fish, etc. The mela will be held from December 26 to 28. He said the ban would remain in force till December 31.


Watchmen demand better wages
Sangrur, November 20
State president, Pendu Chowkidar Union, Satgur Singh Majhi's fast today entered its third day outside the district administrative complex here. Over 11,000 rural watchmen have been demanding minimum wages of Rs 8,635 per month.

For a better life: Rural watchmen on a dharna in Sangrur on Thursday. Tribune photo
Sugarcane crushing season begins
Jalandhar, November 20
The sugarcane crushing season started today. Sukhvir Singh Vahla, chairman, Sugarfed Punjab, said the Cooperative Sugar Mills of the state had set a target of crushing of 1.75 crore sugarcane. He said the target would be met easily since a bumper crop was expected this year.
Stir off as e-trip goes in Mandi Gobindgarh
Mandi Gobindgarh, November 20
The steel re-rolling industrialists in the town here this evening ended their 65-day dharna after the state government agreed to do away with e-trip system. Rajeev Sood, president, Small Scale Re-rollers Association, said the decision had been taken during a four-hour long meeting between senior Akali leaders and Excise and Taxation Commissioner Anurag Verma at Chandigarh.
Engineers oppose appointment of advisers
Chandigarh, November 20
Engineers working in various departments have formed the Punjab State Engineers' Forum. They expressed concern over staff shortage, specifically that of junior engineers and assistant engineers and the appointment of retired engineers as "advisers" with status over and above the serving chief engineers of various departments.


Authorities impound unregistered vehicles
Faridkot, November 20
Scores of unregistered three-wheelers today staged a dharna in front of the Deputy Commissioner's officer in Faridkot after the Transport Department impounded over a dozen such vehicles.


Drivers of customised three-wheelers stage a dharna in Faridkot on Thursday. A Tribune photograph

Five rocket launcher shells found in drain
Ferozepur, November 20
Five rocket launcher shells were recovered from a drain, while it was being cleaned, near Adda Lal Kurti in Ferozepur Cantonment today. The workers who were cleaning Sukhbar Nala raised an alarm, after which police officials cordoned off the area.

The recovered shells in Ferozepur Cantonment


Colony's road link with Abohar cleared
Abohar, November 20
Residents of Ram Nagar today felicitated Congress Legislative Party Leader Sunil Jakhar for paving the way for clearing a blockade on the road link with Abohar. The colony was raised by economically weak families, most of whom are migrants from other states, on the outskirts of Abohar in 1990s by purchasing small pieces of land.
Shops offered to traders near Golden Temple
Amritsar, November 20
The state government has offered alternative shops to traders with shops near the Golden Temple entrance. These traders have been offered shops in the Golden Temple Entrance Plaza.
Women burn Bajwa's effigy
Muktsar, November 20
Women activists burnt an effigy of PPCC chief Partap Singh Bajwa at Kotkapura Chowk in Muktsar today. They were protesting Bajwa's alleged derogatory comments on former Chief Minister Rajinder Kaur Bhattal's niece Rosy Bhattal on the latter's induction in the BJP.


A sufferer herself, she assists domestic violence victims in US
Jalandhar, November 20
Ramanpreet Kaur (27), who belongs to the city, was allegedly left stranded by her in-laws in New York barely five months after her marriage in November last year. The police had arrested her husband Kulwarn Singh initially on the charges of domestic violence with physical abuse, but the case was closed recently and he was released on conditional discharge of one year after he pleaded guilty.


Vidhu case: State can't escape responsibility, says High Court
Chandigarh, November 20
Nearly a year after Malerkotla boy Vidhu Jain was burnt to death, the Punjab and Haryana High Court today made it clear that the state of Punjab "cannot be allowed to wash off their hands from the responsibility entrusted to them" by requesting a CBI probe.


16 dera followers booked for clashing with Sikh groups
Ferozepur, November 20
Around 16 followers of Sirsa-based Dera Sacha Sauda were booked in a cross case registered by the police in the aftermath of a clash between dera men and Sikh groups near Jogewala village in Makhu block on Sunday.