OPED

Governance
Using social media for effective policing
Rohit Choudhary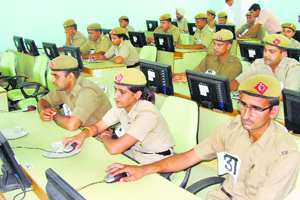 A timeline should be developed to train police in the use of social media to help them in community outreach services as well as to spread the message of their department

There is a significant vibrant community on social media which offers new opportunities and challenges to the police. Today if the police have no voice on social media, they risk having information about their activities distorted, sensationalised or circulated irresponsibly by someone else shaping the way that information from the police is presented on social media.
Social media gives the police an opportunity to have a two-way conversation and engagement with the community and transmit and update information very rapidly. It offers the police new and powerful ways to enlist the public's assistance and ensures direct access to the section of community which hitherto has never been in contact with police. The scope and speed of social media make it an attractive way for police departments to reach out to the public.
Global trend
A 2013 social media survey of the International Association of Chiefs of Police conducted in USA found that 96 per cent of police departments use social media in some capacity, and more than 80 per cent say it has helped them solve crimes. Three-quarters of those on social media have joined since 2010. The most frequently used social media platforms are Facebook (92.1 per cent), Twitter (64.8 per cent), and YouTube (42.9 per cent). Nixle, Flickr, Linkedln, MySpace, Apps, Google+, Instagram, Pinterest, Foursquare, Vimeo, Blog, SMS Notification and Nextdoor. 80.4 per cent of agencies report that social media has helped solve crimes in their jurisdiction. 73.1per cent of agencies state that social media has improved police-community relations.
Today, many police forces around the world are using social media for purposes of criminal investigations, listening/monitoring, intelligence, soliciting tips on crime, notifying the public of crime problems, providing emergency or disaster- related information, crime-prevention activities, community outreach/citizen engagement, public relations or reputation management, in-service training and virtual policing.
Varied usage and benefits
The Oakland Police Department now uses Facebook and Nextdoor, in addition to Nixle and Twitter, and considers social media an important tool in keeping the general public in the loop. The Boise Police Department has been using social media since 2009, all officers in Boise have undergone social media training and new officers are required to do the same. Sacramento Police in USA, even uses YouTube and Instagram to show the public behind the scenes officer training, and recently posted a Day in the Life series on Instagram.
Beyond individual cases, crowd sourcing has become the central tool to identify suspects in the aftermaths of the 2011 riots in the United Kingdom. The Metropolitan Police (MET) and the Greater Manchester Police (GMP) of UK, used Twitter extensively to support investigations and to seek information on offenders. Both forces also used the photo-sharing site Flickr to publish photos of perpetrators captured on CCTV. The general public was asked to help in the identification of these people.
At an English Defence League protest in Birmingham, UK, the police used Twitter to talk to protesters and point them to the department's Website and YouTube sites. Those sites featured officers telling the protesters the tactics the police would be using and also informing the protesters where they could peacefully protest. For many forces in the United Kingdom or the Netherlands, publishing search warrants on social media for daily operations has become a standard activity and is a common part of an overall social media or communication strategy.
Virtual warnings
A community police officer of the North Yorkshire Police, UK, as an early adopter on Twitter, is tweeting when he is out on patrol and what he is investigating, publishes crime appeals, gives crime-prevention advice, publishes good news stories of police work and engages in conversations with the public. Helsinki police, Finland does virtual community policing on the networks Facebook, IRC-Galleria, Messenger, Hommaforum and Demi. The virtual police station in 2011, for Helsinki alone, has recorded 246 acts of which were about 51 sexual crimes, another were 50 "virtual warnings", usually related to bullying each other.
Nextdoor application on social media connects the residents of particular neighbourhoods, allowing police officers to engage more personally with citizens in their jurisdiction. For example, an officer could alert a specific neighbourhood of a robbery or break in without alarming nearby neighbourhoods. Nextdoor is seen as the 21st century evolution of neighbourhood watch, giving police officers the most positive engagement directly with the neighbourhoods they serve.
Better emergency response
On April 15, 2013 in Massachusetts, USA, two devices detonated in quick succession near the finish line of the Boston Marathon, causing three deaths and approximately 280 injuries. Boston Police Department (BPD) successfully used Twitter to keep the public informed about the status of the investigation, to calm nerves and request assistance, to correct mistaken information reported by the press, and to ask for public restraint in the tweeting of information from police scanners from the blasts (correcting inflated fatality reports by some media sources) and that no suspect was in custody (in response to media speculation that a Saudi Arabian man had been arrested).
All of the BPD tweets about the bombings on April 15 were sent on the department's official Twitter account, which was directly overseen by BPD's Public Information Bureau chief. By the time the second suspect was captured on the evening of April 19, BPD's Twitter account had more than 300,000 followers, up from about 40,000 prior to the week's events. The official tweet reporting the suspect's capture was retweeted more than 140,000 times. In the aftermath of the investigation, BPD was "applauded for leading an honest conversation with the public during a time of crisis in a way that no police department has done before."
Communication with the public
In cases of large-scale crises or in cases of investigations that receive special attention by the public, police systems for communication with the public come under stress. One successful way of dealing with the high demand has been the use of various social media sites that can better balance high loads in their global infrastructures. During the 2011 riots in London, the Metropolitan police (MET), for instance, used Flickr to publish images of suspects. With announcements on Twitter, the photos were extremely popular. The MET's website traffic increased dramatically during and just after the riots. Hosting images on a separate server through Flickr helped ensure their site was not overloaded and could run at optimal levels, thus ensuring the public could still gain policing information and advice.
After almost every major incident since the 2001 terrorist attacks, emergency responders have cited communications and information-sharing failures. Social media tools allow emergency managers to disseminate information to wider audiences, interact with the public, monitor social media networks to get a better sense of what's happening on the ground during a crisis, get better situational awareness and improve collaboration for sharing information during an emergency. It provides a flatter, less hierarchical approach for information-sharing suited for crisis situation.
Strategy for social media
For the police department it is important to have a strategy to plan, implement, and manage the social media programme. Plan which tools (Twitter, Facebook, MySpace, YouTube, blogs, and so on) to use and how to use them considering the attributes, advantages, and disadvantages, of each tool. Work out the manpower need, some dedicated team needs to be assigned solely for this purpose, while others can be trained to create media content and feed the social media centre. Ideally, at an advanced stage other gazetted officers at all levels should be able to post content concerning their area. It is essential to plan how to use the tools to enhance the department's message and how the tools will relate to each other. Also, a timeline for rolling out the new media and a plan for training all gazetted officers should be developed.
Providing content
As the site or tool is essentially about the content, the department should engage in social media only when it can regularly provide content. Until then, it is best to wait. Since the social media allows two ways communicate with the public. Some people will also say negative things about the police department, unsolicited and abusive feedback will occur. However, all that negative activity would happen whether the department is using the social media or not.
By using social media, departments can at least see what people are saying — and have the opportunity to rebut criticisms and engage the community. If the department creates a social media presence and then walks away from it, the department loses credibility—making future attempts to create such a presence difficult. Setting up a Facebook page requires a face or faces on the page. Post an identified officer within the department with profile information, and make the page human. The content shared is only good and the public is engaged when a real person is standing behind it.
Due to the legal risks and management concerns associated with participating in social media, a social media policy is essential. Sites such as Facebook and Twitter have their own terms of use and when users sign up, even police departments must agree to abide by those rules. Train the staff on how to use the tools effectively and encourage them to do so. Creating a presence in these areas is just the beginning. It takes time, sincere efforts, perseverance and commitment to build a following and reap benefits.
For a (social) media-savvy force
Use social media as a means of community engagement and not just for information collection and dissemination.
Focus on the content, update regularly and do not abandon efforts.
Have a strategy to plan, implement, and manage the social media programme.
Formulate a department social media policy for internal coordination and control.
Assign manpower and resources and train the staff on how to use the tools effectively.
Identify benchmarks to measure outcomes.
Social media users in India
As per the latest statistics available, there are 243 million internet users in India and the total users may increase to 500 million by 2018. Facebook is the most- browsed social network on social media, with a large base of 100 million users, total Twitter users in India are 33 million, LinkedIn has 26 million India users and Pinterest has 5.5 million users from India.
The writer is ADG in Punjab Police and author of the book Reinvention Strategies in a Marketing framework