Fake marksheet found from HPU official's son
Shimla, November 20
A case of a fake marksheet allegedly obtained by the ward of a Himachal Pradesh University (HPU) employee has surfaced here. The matter came to light when he reportedly applied for a clerical job in the university and submitted the detailed marks certificate (DMC).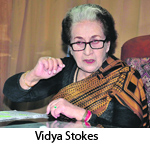 Restore 90:10 aid under flood control plans: Stokes
Shimla, November 20
The state Irrigation and Public Health Minister Vidya Stokes today urged the Union Ministry of Water Resources to restore the financial assistance on 90:10 basis under the Flood Control Programme. She said the amendment in financial assistance of 70:30 under the programme was not beneficial to special-category states such as Himachal.
Sobha Singh Art Festival
Workshop on 'Likhnu', card-making inaugurated
Palampur, November 20
A workshop on folk art of courtyard and wall writing 'Likhnu' and another on making of greeting cards was inaugurated during the ongoing Sobha Singh Art Festival at Andretta, 12 km from here, today. Dr Shiv Kumar, a social worker and the personal physician of late Sobha Singh, inaugurated both the workshops. He recollected his association with the saint-artist, which began at Amritsar when he was a student of medical college.
CID seizes 396 cement bags meant for govt works
Solan, November 20
A team of CID, Sirmaur, confiscated 396 bags of cement meant for use by the Paonta Sahib municipal committee, from the residences of three contractors, last evening at Paonta Sahib. A pick-up vehicle was also seized.
Winter session from Dec 5
Shimla, November 20
The extended winter session of the Assembly having seven sittings will be held in Dharamsala from December 5. The dates for the winter session were notified today. The session will commence on December 5 and will conclude on December 12 as the House will also meet on Saturday, a deviation from the past practice.
Donate land for road connectivity in state: Bali
Kangra, November 20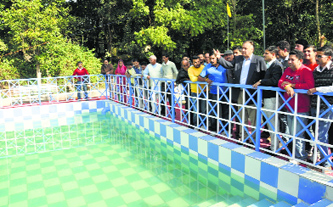 Himachal Transport Minister GS Bali today gave a call to people of the state to come forward and donate land for roads to have a better road connectivity which was the priority of the government. Bali was addressing a public meeting at Mumta village here today after he inaugurated a swimming pool in the Machiyal temple complex for the visiting pilgrims at a cost of Rs 12 lakh.

Transport Minister GS Bali inspects a swimming pool after inaugurating it at the Machiyal temple in Kangra on Thursday. Photo: Ashok Raina

32 trees felled in Shimla green belt
Shimla, November 20
A landowner felled 32 trees of poplar and saru and made a bid to torch the stumps in a green belt here today. The illegal felling was detected by a team led by Deputy Mayor, Shimla, Tikender Panwar after the fire tender was rushed to the spot in the Benmore ward on the Ritz-Ramchandra Chowk forest road.
State mulls filing contempt case over Pong Dam oustees issue
Shimla, November 20
Himachal Pradesh may file a contempt of court case in case the Rajasthan Government fails to provide suitable piece of land to Pong Dam oustees. Revenue and Health Minister Kaul Singh Thakur today said he would be meeting Rajasthan Chief Minister Vasundhra Raje next month to seek land allotment to the remaining oustees.
Cases of injuries caused by animals rise
Shimla, November 20
Meher Chand Jairath (65) of Shaithla village in Kotgarh succumbed to his injuries inflicted by a bear at the Indira Gandhi Medical College (IGMC) here on Monday. Rukmani Devi (88) of Tara Devi remained in the IGMC after she suffered multiple fractures after a langur jumped on the chimney of her house yesterday, which fell on her.
12,000 additional pension cases sanctioned in HP
Shimla, November 20
As many as 3,04,921 eligible persons are being provided social security pension in the state for which a provision of Rs 218.70 crore has been made in the Budget during the current fiscal. A government spokesperson, in a press release, said the present government had sanctioned 12,000 additional pension cases in the state.
BJP gives memo to Governor
Shimla, November 20
The BJP today sought the intervention of Governor Urmila Singh for early completion of the 80-km long Theog-Hatkoti road and submitted a memorandum, urging her to issue directions for expediting the work. A delegation led by former BJP minister Narender Bragta, who led the six-day padyatra from Rohru to Theog that culminated yesterday, presented a memorandum to the Secretary to the Governor as the she was out of the town.
Govt not giving respect to PM, says Dhumal
Shimla, November 20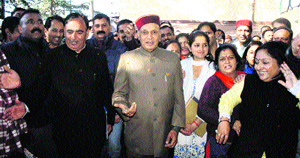 Former Chief Minister PK Dhumal took on the state government for not displaying the photographs of Prime Minister Narendra Modi in offices and said, "It appears that the Congress government does not recognise Modi as Prime Minister".

Former Chief Minister PK Dhumal with BJP MLAs before giving a memorandum on Theog-Hatkoti road to the Governor in Shimla on Thursday. Photo: Amit Kanwar

12 judicial officers transferred
Shimla, November 20
The High Court has transferred 12 judicial officer in the state judiciary.
Kullu police rescue 5 kids working in dhabas, shops
Kullu, November 20
Kullu DSP and nodal officer of Anti-Human Trafficking unit Sanjay Sharma today said the district police had yesterday rescued five children working in dhabas and shops in the district.
Follow traffic rules, SP tells youth
Kullu, November 20
Surinder Verma, Superintendent of Police, Kullu, said the number of road accidents was alarming and there was an urgent need for commuters to abide by traffic laws and adhere to road safety norms to prevent these. He stated this while presiding over a seminar on road safety awareness, organised by the police at Kala Kendra on Tuesday.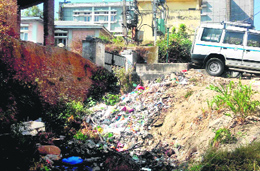 Garbage in front of hospital exposes MC
Hamirpur, November 20
The garbage dump at the main gate of the eye hospital here has not only exposed the working of the Municipal Committee, but also the indifference of the Hamirpur zonal hospital towards cleanliness and hygiene.

Garbage dumped near the main gate of the eye hospital in Hamirpur. Tribune photo


Padyatra a drama: CPS
Shimla, November 20
Chief Parliamentary Secretary (CPS) Rohit Thakur, who also represents the Jubbal and Kotkhai Assembly constituency, has dubbed the padyatra of his political rival Narender Bragta as a political drama to divert the attention of people from the core issue of development.
stone-laying ceremony
Probe violation of HC order, says ex-MLA
Nurpur, November 20
The controversy over the stone-laying ceremony of a potable water scheme meant for Finna Singh project's rest house and junior engineer's office at Madanpur village in Pandrer gram panchayat has taken a new turn.
DC takes stock of mid-day meal scheme
Mandi, November 20
Deputy Commissioner (DC) Sandeep Kadam inspected many schools and took stock of the mid-day meal scheme today. He also interacted with students during his visit to Siyoon, Jilhan, Dhamchyan and Sudhar panchayats of Padhar sub-division of the district.
Survey to avoid disasters along river banks soon
Hamirpur, November 20
The construction of houses and other buildings along the banks of the rivers will be restricted to avoid recurrence of disasters in the state.
Patwari booked for using casteist remarks
Mandi, November 20
The police have registered a case against a patwari for using casteist remarks against a woman. In a complaint to the police, Kunta Devi of Mandi town alleged that on November 14, patwari Kehar Singh along with Dheeraj Kapoor entered the land in her possession at Nela village and started unauthorised demarcation.
File fresh report on house tax recovery, DC told
Shimla, November 20
The HP High Court today directed the Deputy Commissioner, Shimla, and the Tehsildar (Recovery) to file a fresh status report indicating the process initiated for effecting recovery of house tax from defaulters and inform the court about the stage of recovery process within four weeks.
IGMC don gets US fellowship


Shimla, November 20
Dr Jatinder Mokta, Associate Professor, Department of Medicine, Indira Gandhi Medical college (IGMC), has been conferred the Fellow of American College of Physicians (FACP), after his research on insulin injected in patients at 14,000 ft in Kaza made waves at the recent congregation of the American Diabetes Association in San Francisco. The FACP fellowship was awarded to him for his contribution to development of internal medicine on November 5. There are a selective few FACP fellows in India. TNS
'Streetlights in wards must'
Mandi, November 20
Senior police officials today discussed various issues, such as streetlights and community policing, with councillors of the Municipal Council in a meeting here. The officials asked the councillors to ensure proper streetlights in their wards and said traders should be asked to hire watchmen to keep a vigil. The police said the street vendors should be asked to display rates of their items. The councillors also suggested that the beat constables should be asked to stop people from throwing waste in the open and use dustbins. TNS