Neighbour held for killing Mohali boy
Mohali, November 19
Twelve days after the recovery of six-year-old Mehram Sandhu's body from a dump yard, the Mohali Police claimed to have cracked the case. They have arrested the victim's neighbour, Tajinder Singh alias Ganju, here today.



Paramjit Gill, Inspector General, Patiala zone, in Mohali on Wednesday. Tribune photo: Vicky Gharu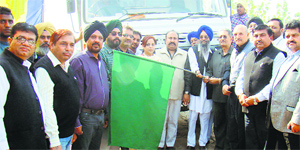 Cheaper sand on cards, state govt begins mining at another quarry
Nawanshahr, November 19
The state government started mining operations at its second state-run quarry at Burj Tehal Dass village here today. The quarry is spread over 53 acres.


Officials of the Punjab Small Industries Export Corporation at the opening of a state-run sand quarry at Burj Tehal Dass village in Nawanshahr on Wednesday. Tribune photograph

Growth story only half truth: Experts

Chandigarh, November 19
The economy of Punjab has grown over the years as the state has managed to shift its economic system from being entirely agrarian based to include services (traditional and modern). The industry has also contributed to improvement in the state gross state domestic product. But this growth has failed to facilitate inclusive development, which continues to elude Dalits, women and the rural population.

Financial Commissioner (Development), Punjab, Suresh Kumar (L) and IDC Director Pramod Kumar in Chandigarh on Wednesday. Tribune Photo: Manoj Mahajan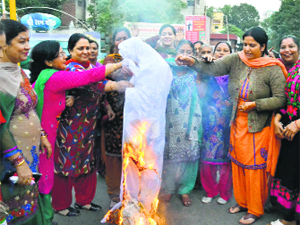 Bajwa's remarks on Bhattal's niece triggers protest
Jalandhar, November 19
Activists of the BJP Mahila Morcha today burnt an effigy of Punjab Pradesh Congress Committee chief Partap Singh Bajwa for his comments on Congress leader Rajinder Kaur Bhattal's niece Rosy Bhattal, who joined the BJP recently.


BJP Mahila Morcha activists burn an effigy of PPCC chief Partap Bajwa in Jalandhar on Wednesday. Tribune Photo: Sarabjit Singh

local body poll
Punish the corrupt, BJP minister tells people
Abohar, November 19
Rajasthan Minister of State for Home, Gulab Chand Kataria, on Wednesday urged the people to "blacken the faces of the corrupt and throw them out of office". While campaigning for BJP candidates for the upcoming civic bodies elections in Sriganganagar in Chahal Chowk, Kataria blamed UPA ministers for the poor fiscal health of the nation. "We should learn from the past and punish the corrupt," he said.
BJP leaders skip YAD roadshow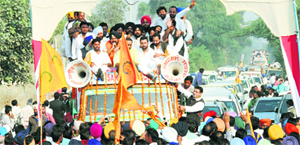 Muktsar, November 19
Akali leaders today gave a rousing welcome to the Muktsar constituency in charge, Kanwarjit Singh 'Rozy Barkandi' on his appointment as Youth Akali Dal president, Malwa Zone-I. But BJP leaders kept away from the Akali roadshow.


Youth Akali Dal workers at a roadshow in Muktsar on Wednesday. A Tribune photo

Turn straw into manure, experts to farmers
Moga, November 19
The Punjab government had come out with a legislation to tackle the menace of stubble burning in the state a few years ago. But it failed to yield the desired results.
Work on PGI centre gets underway
Sangrur, November 19
The work for the construction of a 300-bed PGI satellite centre at Ghabdan Kothi, near Sangrur, has been set in motion.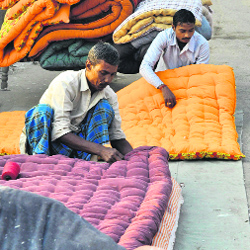 weaving warmth:

Quilt makers busy in work ahead of winters alongside a road in Patiala on Wednesday. Tribune photo: Rajesh Sachar
Govt slashes budget for Kabaddi Cup ceremony
Muktsar, November 19
The inaugural ceremony of the fifth World Kabaddi Cup would be held in Jalandhar and the closing ceremony at Badal village in Muktsar district. The tournament would be held from December 6 to 20.
Finally, NRI gets land back
Chandigarh, November 19
After four years of struggle, Toronto-based Nirmal Singh has finally got relief with the help of the NRI wing of the state police. The NRI had accused state NRI Affairs Minister Tota Singh of helping the land mafia to grab 14 acres of his land in Moga. Those who had fraudulently got ownership of his land with the aid of a revenue official have been booked.
Steps to check pollution of Kali Bein
Chandigarh, November 19
Chief Minister Parkash Singh Badal has asked his Principal Secretary SK Sandhu to personally monitor the ongoing works in Hoshiarpur, Kapurthala and Jalandhar districts to check the flow of contaminated water into the holy Kali Bein.
State to get centre of excellence for citrus fruits today
Chandigarh, November 19
Israel will help Punjab farmers in upgrading technology to improve the quality and production of citrus fruits. Speaking to The Tribune here today, Ambassador of Israel Daniel Carmon said there was an effort on part of his country to share its best farm practices, especially in horticulture, with Indian farmers to improve yield and quality. He said there was a complete synergy between the governments of Israel and India to achieve the objective.
Pipe network to save canal water in Barnala
Barnala, November 19
Under the National Krishi Vikas Yojna, 8,850 metre-long underground pipe network has been laid in Barnala district. Barnala Deputy Commissioner Gurloveleen Singh Sidhu said canal water would be supplied through the network on 715 hectares. He said this underground network of pipes would minimise water seepage from the embankments of canals and benefit 280 farmers. The network would save 15 to 25 per cent canal water and increase yield by up to 15 to 20 per cent.
Cheaper treatment for street vendors
Nawanshahr, November 19
Non-Motor Transport Society, an NGO supported by Deputy Commissioner Anindita Mitra, today arranged for discounted treatment for street vendors and rickshaw pullers.
Rs 149 crore for scholarships to SC students
Chandigarh, November 19
The Union Government has released Rs 149.67 crore to the Department of Welfare of Scheduled Castes (SC) and Backward Classes (BC), Punjab, as its share for the Scheme of Post-Matric Scholarships for Scheduled Castes. This was stated by Union Minister of State for Social Justice and Empowerment Vijay Sampla in a statement issued here today.
Commuters bypass Gurdaspur towns, hotel industry hit
Gurdaspur, November 19
Though the six bypasses constructed by National Highway Authority of India (NHAI) on the 104 km stretch of road from Pathankot till Amritsar have made travel hassle-free for commuters, trade in the towns is hit.
Road vacuum cleaner gathers dust in Fazilka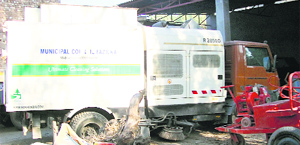 Fazilka, November 19
It seems that the Rs 25 lakh spent on purchasing road vacuum cleaner has gone to waste. The machine that was bought by the Municipal Council is gathering dust at the scrap yard at the MC office complex. Despite facing financial crisis, the MC had bought the machine without assessing its viability about five years ago.
The Rs 25-lakh machine isn't cost efficient. Tribune photo

Protest after cops beat up mechanic
Faridkot, November 19
Members of the Motor Mechanics' Union today blocked traffic when the Faridkot police beat up Gurpreet Singh (30), a motor mechanic, for using a mobile phone while driving a motorcycle. They demanded that action be taken against the erring police personnel.



Rs 45 cr released for firefighting equipment, state tells court
Chandigarh, November 19
More than a month after the Punjab and Haryana High Court disposed of a petition on inadequate fire-fighting services in Punjab with directions to the authorities concerned to deal with the matter within a month, Rs 45 crore have been sanctioned by the Finance Department.
'Bahi khata' not enough to prove loan given to farmers, rules High Court
Chandigarh, November 19
In a significant judgment expected to prevent exploitation of farmers by commission agents, the Punjab and Haryana High Court has made it clear that entries in the "bahi khata" are not enough to prove that loan has been sanctioned to cultivators. The court has also said that farmers cannot be convicted in cheque bounce cases for non-payment of loans entered in the "bahi khata."



Scorpion smuggling racket busted, 5 held
Ferozepur, November 19
The police have busted an international scorpion smuggling racket. Over two dozen venomous scorpions seized by the police from four Madhya Pradesh residents were to be smuggled to Pakistan and then to Europe.