Fifty Fifty
Thanksgiving or bargain hunting?
This time in New York, things look a little different. Enormous turkeys are waiting to be stuffed and basted, but what the city is geared up for, more than anything else, are the Black Friday sales.
Kishwar Desai

THE last time I was in the US for Thanksgiving was more than a decade ago, and we were in Chicago where everyone was talking turkey. There was little else that anyone spoke about or discussed. It was all about the size of the turkey, how to stuff it and then finally, cook it. Recipes were exchanged with a fervour, as though these were Angelina Jolie's latest photographs. And then of course there was the whole excitement about the Thanksgiving parade, where the city would turn out to watch.
If in the past the pilgrims had celebrated a good harvest and offered prayers and hoped for blessings, now many more things, mostly to do with food and clothes, are celebrated. It often seems as though we offer Thanksgiving through the power of our credit cards. And why not? Festivals all over the world have become ways in which we invent rituals in order to spend money. And that's how we bond and reach out to each other.
And so, many years back in Chicago, we had also decided to venture out for a turkey, except that the sheer size of all of them was fairly daunting. They were and still are huge. Ultimately, we decided to buy a large chicken and pretend it was the real thing. We picked up all the other ingredients, stuffed the chicken and had our family get together. It was pleasant, one has to admit, to follow the customs and rituals of the land we happened to be in at the time.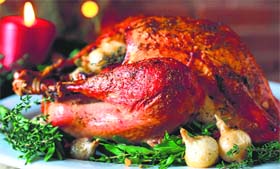 Turkeys can wait.
This time in New York, things look a little different. Of course, the enormous turkeys still lie waiting to be stuffed and basted in every grocery and meat store, but what the city is geared up for, more than anything else, are the Black Friday sales, where everything will be available at cutthroat prices. This is the major excitement all around, and all that anyone discusses is that they are going to be meeting at midnight at Macy's next week. And perhaps that will be actually followed up by breakfast at Tiffany's and brunch at Bloomingdales.
Yes, the tradition now is that the shops will open at midnight on Thursday, just after Thanksgiving to allow the crowds to shop all night into the early morning hours. So the buzz is where does one begin... as there are many rival department stores offering more and more alluring prices. A feast of riches! An invitation to splurge.
Thanksgiving Day will begin with its traditional parade, which will eventually wind its way onto the high street. So that the real purpose of Thanksgiving does not escape anyone: shop till you drop.
The pragmatic few who don't want to join the street hordes say it is also possible to just sit at home and shop online, and seek out the perfect bargain. But where is the fun? With a long weekend looming ahead, the actual bustle on the streets of New York is preferable, where all, like competing crusaders after the Holy Grail, hunt for the perfect bargain.
So how did Thanksgiving become just quantified by turkeys and sales and bargain hunting? Of course it's a major festival, and no doubt President Obama will send out a message to the people of the US of peace, harmony and so on, but in reality, many of them would have been scouring the streets of New York, fighting each other for Prada shoes, YSL dresses and Gucci handbags, like modern gladiators.
Yes, we all love the razzle dazzle of New York! Even more at a time like this when we are all geared to attend a major festival.
But at the end of the day, one wonders how commercially driven this entire exercise is going to be, even if this is hugely enjoyable because all the streets around Columbus Circle and beyond are lit up with Christmas lights. The trees are wrapped in luminous bulbs, while stars twinkle large all along the street.
How jolly it all looks. And what perfect timing, because with all the bargains that we can pick up, many Christmas stockings will overflow.
The reality is that no one can miss a good bargain, and whoever invented the Black Friday sales was a clever marketing man. He knew that somehow the four letter word 'sale' would make every Thanksgiving more unforgettable than the last. We no longer are looking at turkeys but trying to make lists of what to buy and from where. The excitement is palpable.
So can one complain about the 'good old days' when Thanksgiving meant exactly that and no one had as yet thought of sales where prices fall so fast that you barely notice as they whoosh through the floor?
Should one even wonder if the whole meaning of the festival has been lost? And would it be better if President Obama simply called it a bargain hunters' weekend?